International student at STCC receives DeMarco Scholarship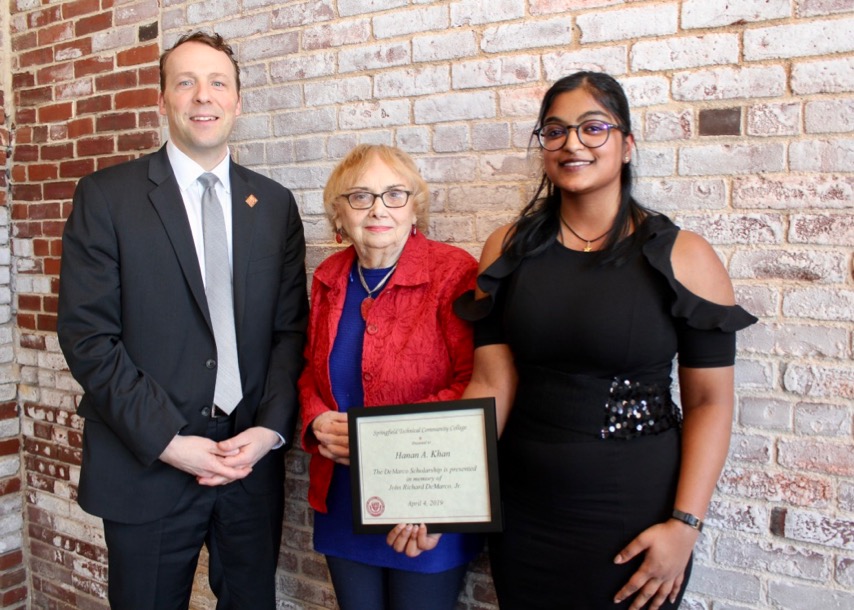 SPRINGFIELD, Mass. – A Springfield Technical Community College nursing student from Saudi Arabia was chosen as this year's John Richard DeMarco Jr. Scholarship recipient.
Joan DeMarco, of Suffield, Conn., presented the scholarship to Hanan Khan, 24, who said her goal is to one day earn a doctorate in nursing.
"Nursing is something I'm passionate about," said Khan, who lives in Springfield while attending STCC. "I love being in the hospital … being there for the patient. When there's no family next to them, I like to be there emotionally and be supportive."
STCC President John B. Cook congratulated Khan for winning the scholarship, noting that nursing is a difficult and highly competitive program.
"I am amazed at the level of commitment that the students in our program have," he said. "It's almost like they give their lives to it."
Khan is the 33rd student to receive the DeMarco scholarship, which is given in honor of Joan DeMarco's son. The award goes each spring semester to one student who has submitted an essay about the importance of an associate degree, their goals or transfer plans and why the scholarship would help them in their academic endeavors.
DeMarco said she loved the essay by Khan, who wrote that she wants to work in a hospital as a registered nurse after she receives her associate degree from STCC in 2020. She also hopes to continue her education while working.
She now is working as a clerk in the Student Activities office at STCC while studying nursing.
STCC's diversity was a big draw when Khan decided to enroll as an international student in 2016. She noticed a wide range of age groups in her class and felt comfortable talking to her classmates and professors.
"You learn more than you would being in a class where everyone is the same age and from the same background," she said.
Khan's brother, Fahad Khan, who teaches at the college, recommended STCC to his sister.
She found STCC to be affordable, especially for international students. She would have had to pay a higher tuition rate if she started at a four-year institution.
Khan said her decision to travel to the United States to pursue her education is paving the way to opportunities she wouldn't have experienced in Saudi Arabia.
"I'm getting a new experience in another country," she said. "I came here, and I loved it."
Interested in applying to STCC? Visit stcc.edu/apply or call Admissions at (413) 755-3333.
About Springfield Technical Community College
Founded in 1967 and located on 35 acres of the Springfield Armory National Historic Site, STCC is a major resource for the economic vitality of Western Massachusetts. As the only technical community college in Massachusetts, STCC, a designated Hispanic Serving Institution and an Achieving the Dream Leader College, offers a variety of career programs unequalled in the state. STCC's highly regarded transfer programs in business, engineering, liberal arts, science and technology continue to provide the most economical options for students pursuing a four-year degree. With an annual enrollment of more than 5,000 day, evening, weekend and online students, STCC is a vibrant campus rich in diversity.
For more information about STCC, visit www.stcc.edu. Follow us on Facebook, Twitter (@S_T_C_C) and Instagram (@stccpics).
MEDIA CONTACT:
Jim Danko, (413) 755-4812, jdanko@stcc.edu