Job Corps helps STCC student land job at MGM Springfield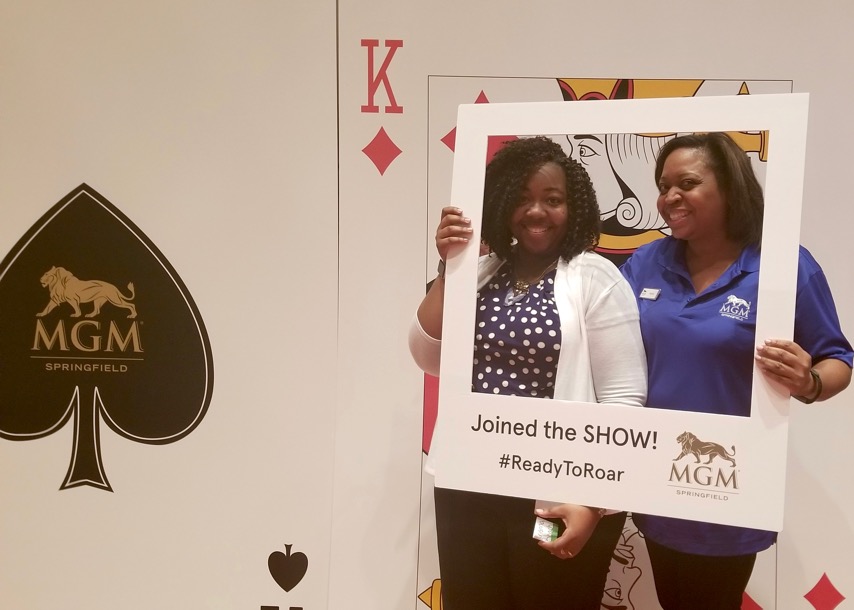 SPRINGFIELD, Mass. – When she was offered a position at MGM Springfield, Karisma Roach was overcome with emotion.
"I'm really happy to have this job," Roach said. "When they told me I was hired I started to cry. I came a long way to get a good job – and I found one that I really wanted."
On July 9, Roach starts work as a full-time cage cashier at MGM. She will help guests with a variety of transactions including check cashing, slot tickets, chip cash outs, to name a few of her responsibilities. The casino is scheduled to open Aug. 24.
Roach arrived in Western Mass in March 2016, at the age of 21. She had attended the University of the Virgin Islands and earned an associate degree in accounting. She relocated to the mainland for better opportunities. Hoping to get a foot in the door, she enrolled in Job Corps.
At Westover Job Corps Center in Chicopee, Roach completed two trades: culinary arts and office administration. She served as the treasurer of the Student Government Association and as a dorm captain. She completed Advanced Leadership training.
Roach then applied to Springfield Technical Community College through the Advanced Career Training program at Westover. This program allows students to enroll at STCC while living at Job Corps, saving on living costs.
Roach took a part-time job at the Chicopee World Class Big Y, working as a cashier and at the Courtesy Booth. She will graduate May 31 from the STCC Professional Office Administration Assistant program with another associate degree.
"Job Corps prepared me for college and work because of the time management skills I had to do," Roach said. "Westover had good staff who were supportive. I'm always early for work. If a co-worker calls out, I'm the first one they call. I show up. I am able to pay bills on time. I'm living in my own apartment. Humility is the key to success. I came from nothing, and I'm leaving with more than enough. Hard work pays off in the end. My dream is to one day have my own business."
Karisma clearly has a passion for service, and she took the right steps to reach her goal by committing herself to the appropriate training and education. Wanda Gispert,

MGM Resorts' RVP of Talent & Workforce Development
While studying at STCC, Roach attended an MGM Springfield information seminar and applied for a position. She was called in for an interview a few days after submitting an application.
"I got hired on the spot," she said. "I'm very excited. You can build a career working for them."
Wanda Gispert, MGM Resorts' Regional Vice President of Talent and Workforce Development, said, "Karisma clearly has a passion for service, and she took the right steps to reach her goal by committing herself to the appropriate training and education. This isn't a case of luck; Karisma diligently followed a path designed to help her earn a place at MGM Springfield. Karisma is a success story in the making."
STCC President John B. Cook said, "The door used by Karisma that connects Job Corps to STCC, and on to MGM-Springfield, is powerful, and she offers a tremendous example to so many others."
Roach credited her professors at STCC for supporting her during her two semesters at the college. "It's really a good college," she said. "The professors work with you. They give their time to help you out."
She received excellent grades and is looking forward to commencement day on May 31. She said her mother will travel from the U.S. Virgin Islands to watch her shake hands with President Cook and receive her diploma.
About Springfield Technical Community College
Founded in 1967 and located on 35 acres of the Springfield Armory National Historic Site, STCC is a major resource for the economic vitality of Western Massachusetts. As the only technical community college in Massachusetts, STCC, a designated Hispanic Serving Institution and an Achieving the Dream Leader College, offers a variety of career programs unequalled in the state. STCC's highly regarded transfer programs in business, engineering, liberal arts, science and technology continue to provide the most economical options for students pursuing a four-year degree. With an annual enrollment of more than 7,700 day, evening, weekend and online students, STCC is a vibrant campus rich in diversity.
For more information about STCC, visit www.stcc.edu. Follow us on Facebook and Twitter (@S_T_C_C).
About Job Corps
Job Corps is a no-cost education and career technical training program administered by the U.S. Department of Labor that helps young people ages 16 to 24 improve the quality of their lives through career technical and academic training. The Job Corps program is authorized by Title I-C of the Workforce Innovation and Opportunity Act of 2014 (supersedes WIA 1998). For more information about the Job Corps program at a national level, please visit our Official Public Web Site.
Westover Job Corps Center has an articulation agreement with STCC that allows students of Westover's Office Administration trade to earn three to fourteen credits to be applied toward certificate or degree programs in advanced Office Administration at STCC.
About MGM Springfield
MGM Springfield covers three city blocks in the heart of downtown Springfield, Mass. Igniting a cultural and economic renaissance in a historic New England city, the approximately 2 million square-foot development, which combines new construction with revived historic buildings, will offer more than 125,000 square feet of gaming space, a 250-room boutique hotel on Main Street and superior spa services, inspired dining and diverse retail. MGM Springfield also will feature a luxury cinema, high-energy bowling complex, a seasonal skating rink and outdoor marketplace displaying local art, events and talent. MGM Springfield is scheduled to open August 24, 2018. For additional information, please visit mgmspringfield.com.