Lessons learned in STCC's fire technology program could save a life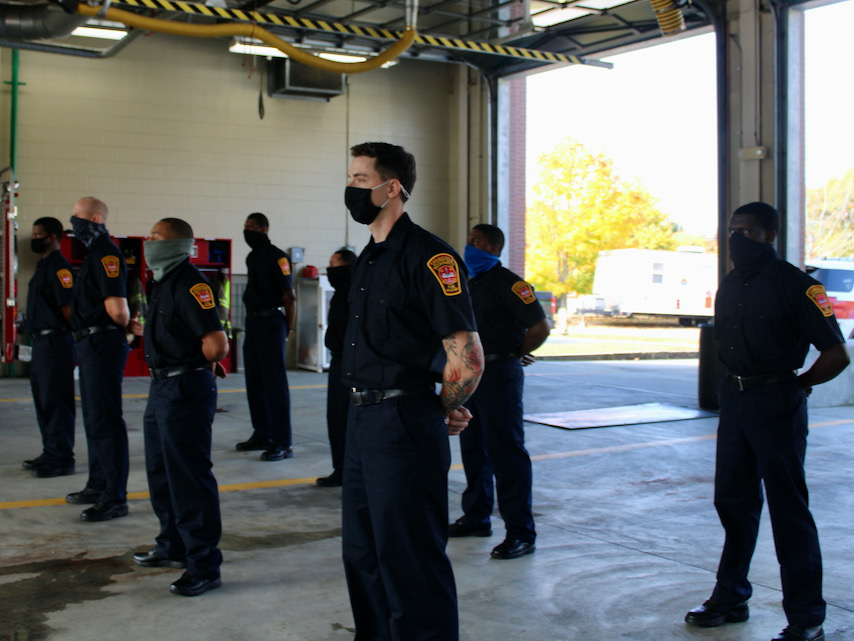 By LAURIE LOISEL
SPRINGFIELD, Mass. – Springfield Technical Community College student Dominic "Dom" Grilli is a full-time firefighter in Springfield's station 4 on Carew Street. Still, he's working on his associate degree in STCC's Fire Protection and Safety Technology program at night.
Though he's been through the state's 10-week firefighter training academy, Grilli believes the two-year program will increase his skill levels as well as his earning potential. The Springfield department, like many others, offers educational incentive pay for its firefighting crews.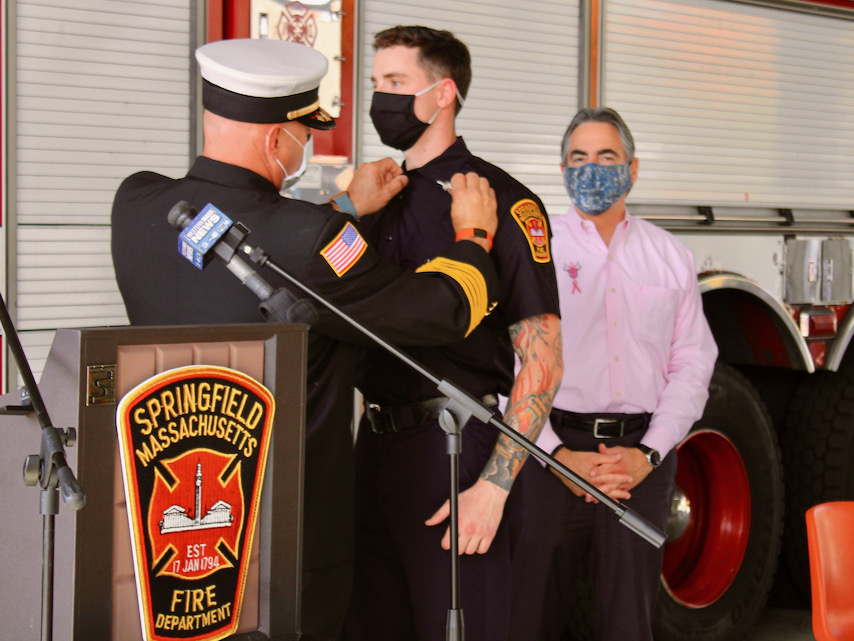 Grilli, 26, who lives in the Sixteen Acres section of Springfield, actually graduated from STCC with a criminal justice degree in 2015. But when he went on to Western New England University for his bachelor's in criminal justice, he realized the field was not for him.
"Being a police officer just isn't my personality," he said. "Growing up, things change, goals change."
A competitive high school hockey player who worked at a public skating rink after high school, Grillo also continued playing hockey after high school. It was at the rink that he met Julian "Skip" Tenczar, who has worked at STCC in a variety of positions for 40 years and has been involved with the fire science program for many years.
Naturally, the two talked about the program. For Grillo, something clicked. He decided firefighting was a career that appealed to him, an interest he attributes, surprisingly, to his hockey career.
"Firefighting is kind of like a team sport – we work as a team at all times," he said.
Meanwhile, Grillo realized that he had friends in the Springfield Fire Department. "I look up to those guys," he said.
So, after leaving WNEU, he set about pursuing a firefighting career, taking three classes at STCC while he continued working at the rink. Eventually, he landed a job last fall with the Springfield department, which sent him to the state training academy where he earned Fire 1 and 2 certification, hazardous materials and first responders certifications.
And now, even though he works full time on a fire truck, he's looking forward to earning his associate degree.
Why?
"The big one – not to be that guy – is the money," he said. "Obviously, that's the big one."
But there are other reasons, he said. First and foremost, safety and professionalism.
"I'm a big fan of learning on the job, but there are some things you can't learn until you have the foundation," he said.
His STCC classes, taught by people with deep firefighting expertise, have so far introduced him to firefighting history, the concepts of fire service and, importantly, building construction technology and fire behavior. These classes helped him better understand what can happen in a building fire, phenomena like backdraft, flash overs and the fire triangle.
This understanding gave him an advantage when he was at the training academy.
"Once you get to the fire academy, they actually put rubber to the road and they actually put things on fire," he said. He credits STCC with preparing him not only for the academy but what he encounters working on a fire truck in Springfield.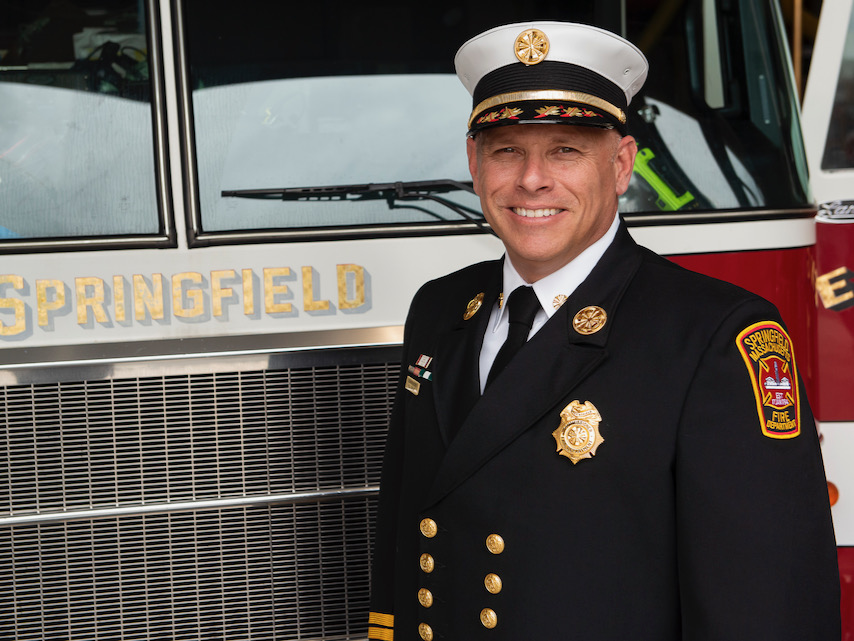 "It's a great program, some of the information you learn could save your life one day," he said.
Grillo acknowledges that his first weeks on the job were scary as he waited to be called out to fires. His STCC training is serving him in good stead in high-adrenaline situations. During his first year on the job as a probationary firefighter, he is working closely with his captain, instructed to never leave his side at a fire.
"I trust him and the other guys with my life, and I hope they trust me with theirs," he said. "That's the confidence boost you need to get over those initial fears."
Fire Commissioner Bernard J. "BJ" Calvi, who earned an associate degree from STCC, recommends the Fire Protection and Safety Program at the college as a way of advancing in a career.
"The degree provides not only an opportunity to get a pay raise, but will make you stand out as a candidate for promotion," Calvi said. "If you want to advance through the ranks of the fire department, all the way up to fire chief, the degree can help get you there. STCC's program opens doors for firefighters and also is a good value. My degree from STCC paved the way for me not only to further my education but to also become Fire Commissioner."
Tenczar said the program is particularly strong because of the caliber of its instructors, who include people with long, distinguished careers in firefighting, including Peter Buonome who served as fire chief at Bradley International Airport for many years. Others include Enfield Connecticut Fire Chief Edward Richards and Laurence Brandoli, retired from the Springfield fire department who is now a nationally recognized fire investigator.
"The teachers are real world, they've been active firefighters," he said. "They've been in leadership roles in the firefighting community."
Tenczar says the program is suitable both for those new to the field and firefighters already advanced in their careers. In addition to the pay boost of an associate degree, it offers courses on advanced fire investigation and leadership skills that help people move up in the ranks.
Because the instructors understand about the job's unique demands, such as rotating shifts, they are flexible, which is helpful for working firefighters.
For people right out of high school, the program offers a glimpse into a possible career as well as a good foundation for that career.
"Having these classes is a huge advantage," he said. "They have knowledge going in that can be helpful once at the academy."
Meanwhile, working as a firefighter in the city where he grew up, Grillo looks forward to earning a second associate degree at his alma mater in his chosen career. It's work he loves for many reasons. No two days are the same. That's a big plus. But there are many others.
"You get the opportunity every day to help somebody," said Grillo. "That's the motivator."
Interested in applying to STCC? Visit stcc.edu/apply or call Admissions at (413) 755-3333.
About Springfield Technical Community College
STCC, the Commonwealth's only technical community college, continues the pioneering legacy of the Springfield Armory with comprehensive and technical education in manufacturing, STEM, healthcare, business, social services, and the liberal arts. STCC's highly regarded workforce, certificate, degree, and transfer programs are the most affordable in Springfield and provide unequalled opportunity for the vitality of Western Massachusetts. Founded in 1967, the college – a designated Hispanic Serving Institution – seeks to close achievement gaps among students who traditionally face societal barriers. STCC supports students as they transform their lives through intellectual, cultural, and economic engagement while becoming thoughtful, committed and socially responsible graduates.
MEDIA CONTACT:
Jim Danko, (413) 755-4812, jdanko@stcc.edu