Love 101: STCC class explores matters of the heart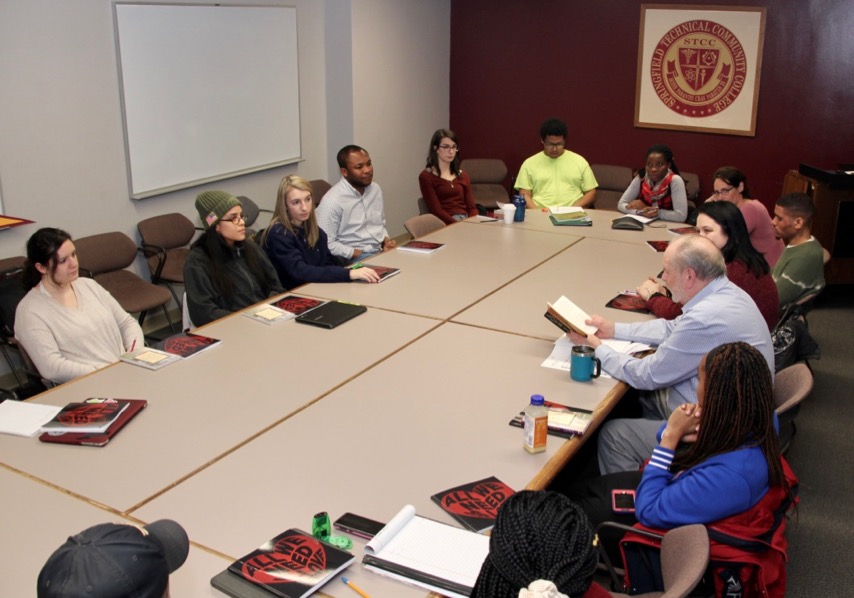 SPRINGFIELD, Mass. – On the first day of class, professor Eric Brown asks students to finish the sentence, "Love is ...."
"It's amazing to see what they write," Brown said. "You get 'love is hurtful,' 'love is painful.' You can see the hurt already coming out. At the end of the semester we look to see if their perspective has changed."
Brown teaches the Psychology of Love at Springfield Technical Community College, an honors class that explores the mysterious and powerful emotion in detail. The course takes a scholarly yet humanistic approach to studying how love shapes elements of psychology, sociology and anthropology. While there are a handful of love-themed psychology classes at four-year colleges and universities in the United States, Brown said STCC may be the only community college that offers such a course.
A mixture of self-help and academic study, the class examines love from biblical times to the present. Students learn how the brain processes love and its effect on glands.
Brown asks students to read the book "Love" by the late Leo Buscaglia, a professor, author and motivational speaker who has inspired Brown for decades. Brown's goal is to see students transform, grow and develop throughout the semester.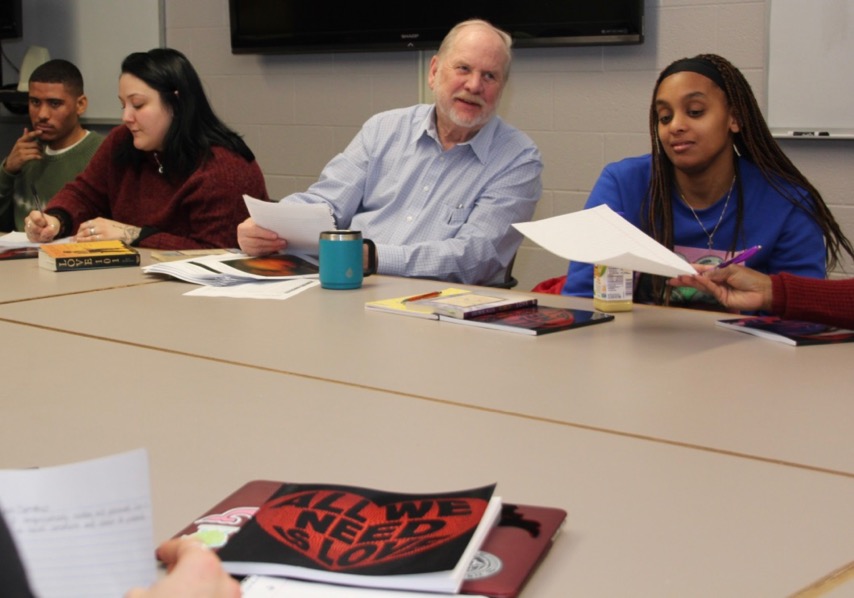 "Even though Buscaglia's book was written in 1971, you read it today and you feel like he's talking about today's world," he said. "We need love. We definitely need love today," Brown said.
Brown posted a sign on the door to his office that quotes The Beatles: "All you need is love. Love is all you need."
A Vietnam veteran who served as a field medic in the Army, Brown came of age in the 1960s, a time of war and deep political divisions in the country. "I didn't know the Summer of Love was going on because I was in Vietnam," he said.
"I really believe most human misery is caused by people either not receiving love or not having an avenue to give love," he added. "I believe love is the answer."
Students in Brown's class talk about how to rid themselves of negativity. It's a theme they explore throughout the semester. For many, the class pushes them outside of their comfort zones. Brown asks students to approach strangers with an act of kindness. "They might help someone having trouble paying for their groceries. One of the rules is you're not supposed to tell people it's for a class."
STCC student Lylandria Wills, of Springfield, who took the course in the spring 2019, the first year it was offered at STCC, said Psychology of Love was one of her favorite courses.
"I saw the description and it looked interesting," she said. "I wanted to know more about myself and how to love, and love others. Plus, I heard stellar reviews about the professor."
As part of his mission to focus on the positive, Brown asks students to record something new and good that happens to them each day.
I really believe most human misery is caused by people either not receiving love or not having an avenue to give love. I believe love is the answer. Eric Brown,

Professor of the Psychology of Love class at STCC
"I never know what I'm going to get," he said. "I have people say, 'Nothing good ever happens to me.' I say, 'You got up this morning, and you're alive.' Just write down you're alive. Try to change your way of thinking. When you go out that door, instead of thinking about everything negative that's going to happen to you that day, think about everything positive."
Wills appreciated the exercise, noting that the class helped her develop and grow. "It was an enriching environment," she said.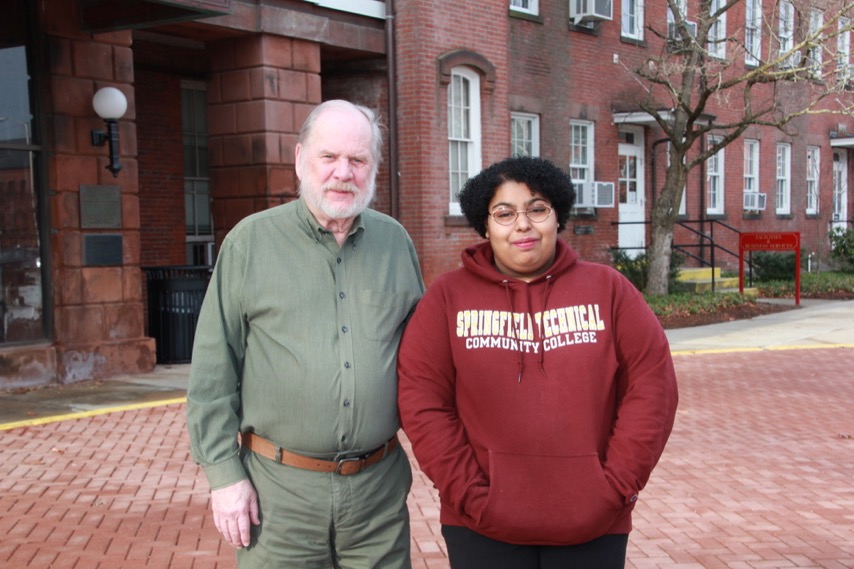 In an exercise of self-validation, students approach someone in their personal or professional environment and ask, "What's my best quality?"
"We're used to hearing criticism. We're not used to hearing validation from people," Brown said.
Craig Cox, a nontraditional student who enrolled at STCC after retiring from the military, thought the class would be an opportunity to experience new ideas and learn about himself.
"I'm interested in introspection, looking inward and seeing how it applies, and what is love in my life," the Springfield man said. "Any class that takes a student out of their comfort zone and opens them to new possibilities – I'm all for it. That's what this class is about. It's not about arithmetic and normal studies that we all have to do for our degree paths. This is something wide open, and it gives us an opportunity to open our minds and be exposed to new things."
Brown first taught the course at Holyoke Community College in the 1990s. He accepted his present position at STCC in 2005, and hoped to one day bring back Psychology of Love. In 2018, Richard Greco, the Dean of Liberal Arts and Professional Studies, approached Brown and asked him if he'd be interested in reviving the course.
Greco said students need a class like the Psychology of Love today more than ever.
"During such tumultuous times as we see today with a nation divided and constant infighting, we need to remember that, as beings, we are programmed to love," Greco said. "Our brains need it, and science shows us that. Eric's course looks at parental, partner, and even neighborly love in a way that we come to understand that we should all love more and hate less."
Amanda Santerre, a nursing student at STCC from Chicopee, said she wanted to take an honors course and was fascinated by the description of Brown's class.
"Growing up in a broken home, I wanted to get an idea of why people love the way they do," she said, on the first day of class. "I was intrigued that I was going to learn about love."
What did she write when asked to finish the sentence, "Love is …"?
"I wrote that love is special, and that love is kind," she said. "Love is what keeps our world moving. Love is around us everywhere. Love can be cruel, and love can be tricky."
Interested in applying to STCC? Visit stcc.edu/apply or call Admissions at (413) 755-3333.
About Springfield Technical Community College
Founded in 1967 and located on 35 acres of the Springfield Armory National Historic Site, STCC is a major resource for the economic vitality of Western Massachusetts. As the only technical community college in Massachusetts, STCC offers a variety of career programs unequalled in the state. STCC's highly regarded transfer programs in business, advanced manufacturing, healthcare, liberal arts, and STEM fields continue to provide the most affordable options for students pursuing a four-year degree. With an annual enrollment of about 7,000 day, evening, weekend, and online students, STCC is a vibrant campus rich in diversity.
For more information about STCC, visit www.stcc.edu. Follow us on Facebook, Twitter (@S_T_C_C) and Instagram (@stccpics).
MEDIA CONTACT:
Jim Danko, (413) 755-4812, jdanko@stcc.edu