MIT-based agency helping STCC to develop proposal for cutting-edge photonics 'factory'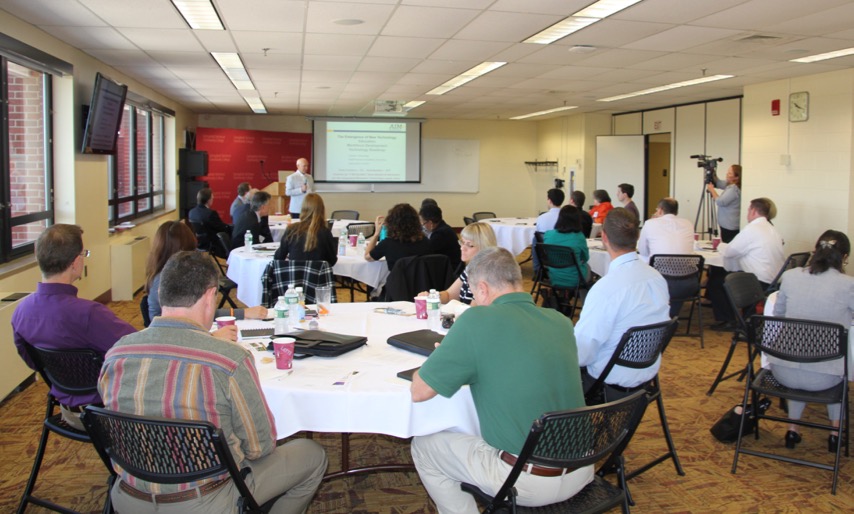 Dr. Lionel Kimerling, executive director, MIT AIM Photonics Academy, discusses the growing field of integrated photonics.
SPRINGFIELD, Mass. – In partnership with the Massachusetts Institute of Technology's AIM Photonics Academy, Springfield Technical Community College is planning a proposal for a state-of-the-art facility that would represent a step forward in the development of photonics manufacturing along the I-90 corridor from Boston to Rochester, N.Y.
Greater Springfield-area industry representatives joined a planning meeting on Sept. 8 to help define the focus and mission for a proposed Photonics Education and Practice Factory at STCC.
MIT's AIM Photonics Academy this spring launched the first Education and Practice Factory on the MIT campus in Cambridge. The facility enables professors to incorporate integrated photonics manufacturing insights and laboratory lesson plans. Photonics companies can use the factory to work with MIT students on research projects.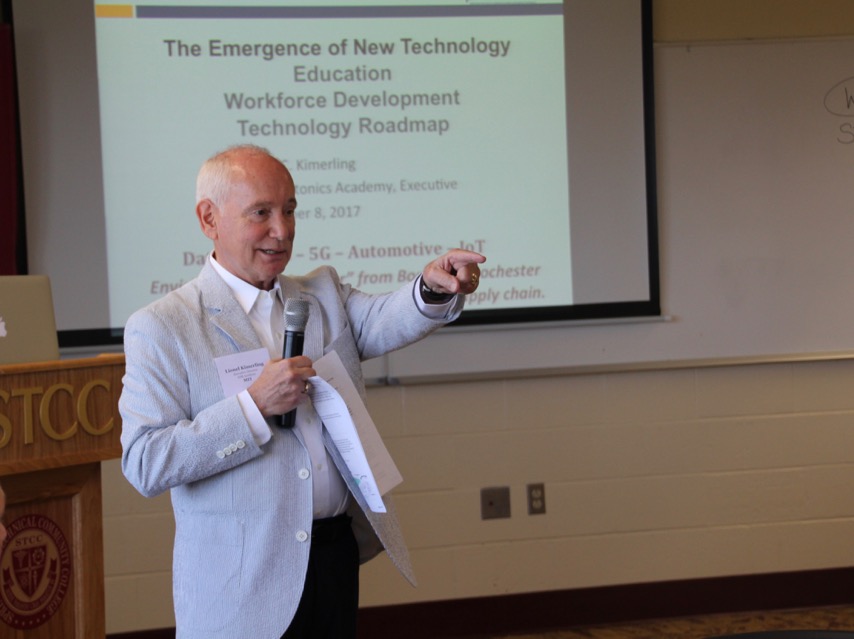 Quinsigamond Community College and Worcester Polytechnic Institute, both based in Worcester, are planning the second Education and Practice Factory. The proposed STCC facility would be the third, while a fourth facility is being considered in the Rochester, N.Y., area.
The facilities would prepare students for careers in the rapidly growing field of integrated photonics, which involves the science and application of light in areas such as cloud computing, higher-bandwidth wireless communication, sensors and driverless cars.
STCC graduate Richard LaCroix, a senior development tech at Coherent-Nufern in East Granby, Conn., who attended the session, welcomed efforts to train more technicians.
"We can't get enough people where we are working," LaCroix said. "This is a great opportunity for people in the area."
STCC is the only degree-granting Optics and Photonics Technology program in New England, said Dr. Nicholas Massa, department chair for Optics and Photonics Technology at the college. Photonics Media, which publishes magazines, guides and websites for individuals working in the photonics industry, this year honored Massa with a Photonics Industry Beacon award. He was one of three educators honored.
STCC is uniquely prepared to support the MIT's AIM Photonics Academy in educating the next generation of highly skilled technicians for the emerging integrated photonics manufacturing industry. Both our students and the companies that hire them are very excited about this opportunity. Dr. Nicholas Massa,

Department Chair, Optics and Photonics Technology
The proposed facility at STCC would include state-of-the-art photonics equipment for teaching integrated photonics manufacturing and testing. Additionally, the proposed facility would support the design and delivery of education and training programs to enhance the technical education and skills of students and employees within this emerging manufacturing sector.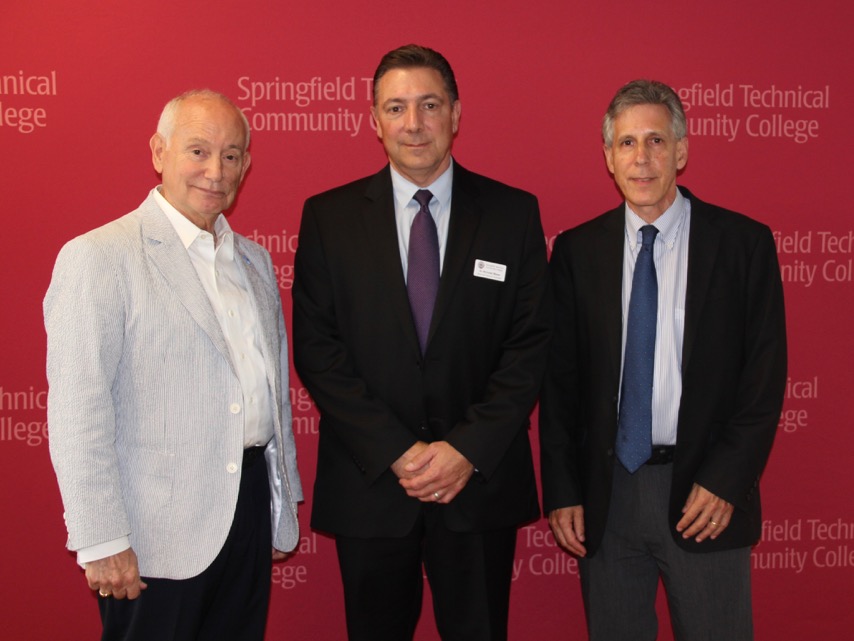 Area employers would be able to use STCC's Education and Practice Factory to develop projects with students and work on projects that will help them expand their businesses.
"As a technical community college, photonics is one of those programs that makes STCC unique," said Dr. John B. Cook, President of STCC. "I am particularly grateful to Dr. Massa for all his collaboration efforts, and we are pleased to continue our dialogue with the MIT AIM Photonics Academy."
At the Sept. 8 planning session, STCC educators were joined by Dr. Lionel Kimerling, executive director, MIT AIM Photonics Academy, and by business representatives from the Greater Springfield area who were invited to help define the knowledge, skills and equipment needed to support the growth of integrated photonics in the region.
"STCC already has an excellent program, and I am delighted that our collaboration might lead to new facilities and programs at STCC in the emerging field of integrated photonics," Kimerling said
Also in attendance was Ira Moskowitz, director of Advanced Manufacturing Programs at the Massachusetts Technology Collaborative, the state agency managing the Massachusetts Manufacturing Innovation Initiative (M2I2), a grant program that works with the Commonwealth's academic, research, and manufacturing sectors to support advanced manufacturing projects under the federal Manufacturing USA program.
"These types of meetings are critical, particularly in a sector like integrated photonics, where new innovations are coming out almost daily," Moskowitz said. "A proposed facility like this must be planned and designed to evolve with the innovations, incorporating new technologies and training methods so that students are getting the best hands-on education possible. There's lots of potential given Springfield's long manufacturing history and the M2I2 team are excited to see collaboration among the partners from around the Pioneer Valley to develop this concept."
About Springfield Technical Community College
Founded in 1967 and located on 35 acres of the Springfield Armory National Historic Site, STCC is a major resource for the economic vitality of Western Massachusetts. As the only technical community college in Massachusetts, STCC, a designated Hispanic Serving Institution and an Achieving the Dream Leader College, offers a variety of career programs unequalled in the state. STCC's highly regarded transfer programs in business, engineering, liberal arts, science and technology continue to provide the most economical options for students pursuing a four-year degree. With an annual enrollment of more than 8,500 day, evening, weekend and online students, STCC is a vibrant campus rich in diversity.
For more information about STCC, visit www.stcc.edu. Follow us on Facebook and Twitter (@S_T_C_C).
Media Contact:
Jim Danko, Coordinator of Media Relations, (413) 755-4812, jdanko@stcc.edu