President-elect of Society of Women Engineers shares her experience with STCC students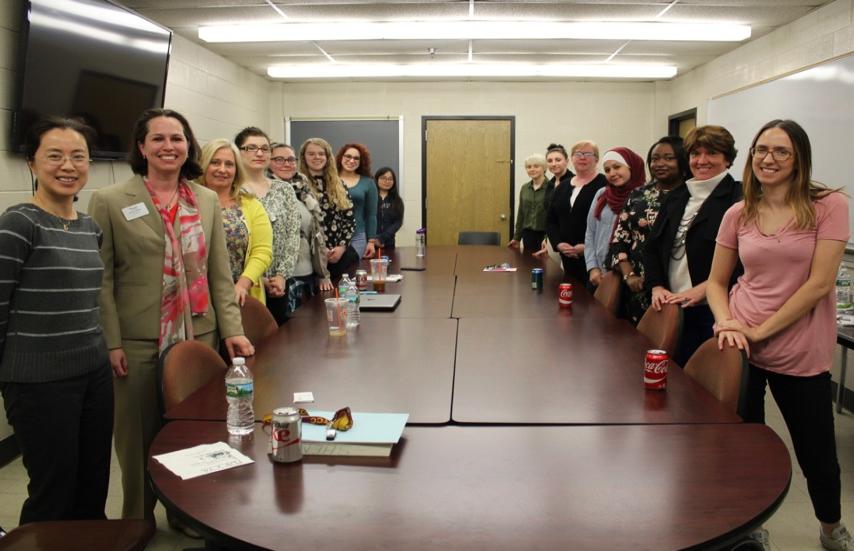 Jonna Gerken, president-elect of the Society of Women Engineers, second from left, stands with the STCC affiliate of SWE.
SPRINGFIELD, Mass. – A group of Springfield Technical Community College (STCC) students heard career advice from the president-elect of the Society of Women Engineers, Jonna Gerken, who also discussed diversity in engineering and the importance of networking.
Gerken, a project manager at Pratt & Whitney in East Hartford, Conn., sat down with 10 student members of the SWE Collegiate Interest Group at STCC. Gerken takes the helm of SWE on July 1.
STCC is one of only 11 community college SWE affiliates in the country, said the group's faculty advisor, Beth McGinnis-Cavanaugh, professor of physics and engineering at STCC. Chartered in 2014, the STCC group offers its members the opportunity to participate in SWE-related events including K-12 outreach and local and national professional conferences.
During the course of the hour-long discussion, Gerken said while getting good grades in school is important, students should not forget about developing strong communication skills.
"Communication is lacking in many of the students who apply for jobs," she said.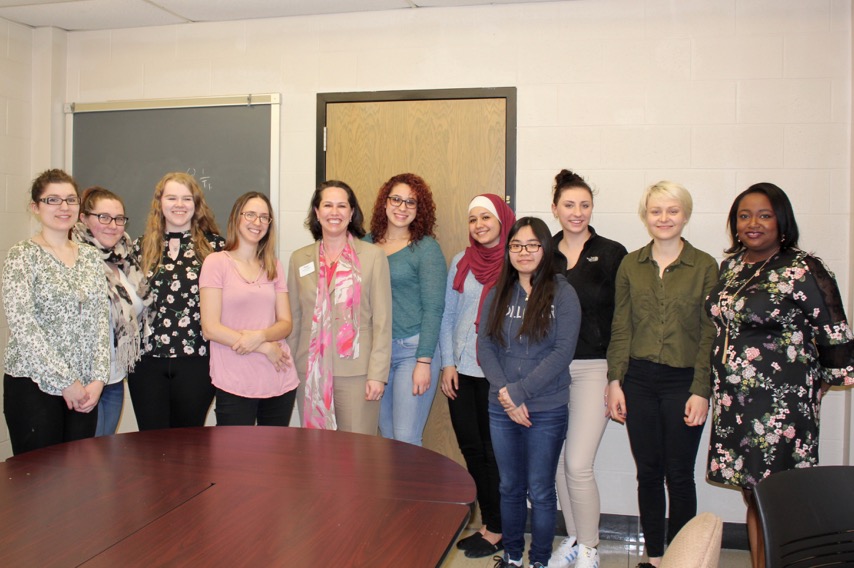 The round-table discussion with Gerken also included comments from STCC President Dr. John B. Cook, McGinnis-Cavanaugh, Dean of the School of Science & Engineering Transfer Robert Dickerman and Megan Piccus, a former STCC professor who now works for Pratt & Whitney.
Piccus told the students that job recruiters will take note of how they present themselves. "If you walk up to a recruiter with your head down and not offer a confident handshake, we're going to remember that," Piccus said.
It helps to have a good GPA, internships and projects to discuss when applying for jobs, but applicants also should research the company before the interview, Piccus said.
"Be prepared and know your facts, because that's how you're going to make an impression," she said.
Women make up only 9 percent of the engineering workforce, according to a 2015 survey published by the Institute of Engineering and Technology. Most companies want more diversity, which means women at STCC – and at other colleges – will be in demand after they graduate, Gerken said.
But that doesn't mean female engineering candidates can expect to coast into any job. Gerken stressed the importance of networking with other professionals.
"I've been in the Society of Women Engineers for over 20 years," she said. "That's one of the best things I ever did. Having the SWE network is invaluable."
Student Kirstie Bailey-Shaw, SWE collegiate member and engineering transfer major from Ludlow, said, "This meeting was a great opportunity to make important connections and also learn some things about working in the engineering field. Thanks to Jonna and Megan for visiting. It was nice to be recognized as a community college SWE group."
Established in 1950, SWE offers women a voice within the engineering industry. The organization's mission is to stimulate women to achieve their full potential in careers as engineers and leaders, expand the image of the engineering profession as a positive force in improving the quality of life and demonstrate the value of diversity.
Interested in an engineering career? Apply today to one of STCC's engineering programs. Call the STCC admissions office at (413) 755-3333 or visit www.stcc.edu/apply.
About Springfield Technical Community College
Founded in 1967 and located on 35 acres of the Springfield Armory National Historic Site, STCC is a major resource for the economic vitality of Western Massachusetts. As the only technical community college in Massachusetts, STCC, an Achieving the Dream Leader College, offers a variety of career programs unequalled in the state. STCC's highly regarded transfer programs in business, engineering, liberal arts, science and technology continue to provide the most economical options for students pursuing a four-year degree. With an annual enrollment of more than 8,500 day, evening, weekend and online students, STCC is a vibrant campus rich in diversity.
For more information about STCC, visit www.stcc.edu. Follow us on Facebook and Twitter (@S_T_C_C).
Media Contact:
Jim Danko, 413-755-4812, jdanko@stcc.edu