Professional engineer enrolls at STCC to get hands-on experience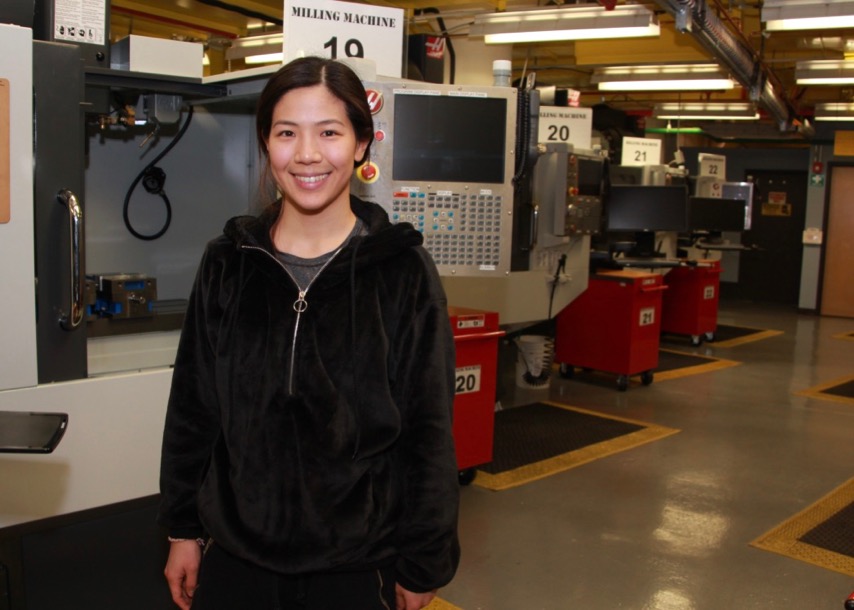 Robin Song, a working engineer, takes classes in the Mechanical Engineering Technology program as part of professional development.
SPRINGFIELD, Mass. – Robin Song had graduated with a mechanical engineering degree from Carnegie Mellon University and was working as a design engineer in Amherst when she decided to expand her knowledge of manufacturing processes by going back to school.
She chose Springfield Technical Community College.
Song, a Northampton resident, designs Small Angle X-Ray Scattering (SAXS) instruments at SAXSLAB in Amherst. Approximately 90 percent of the parts she designs are machined parts. She realized that a better understanding of machining processes and tools would help her design parts that were easier and thus cheaper to manufacture.
Song searched for programs in Western Massachusetts that teach computer numeric control (CNC) machining and decided STCC was the best match for her.
"I had some background from an introductory machine shop class and wanted a class that would teach beyond the basics. I thought STCC's class provided the most challenge and variety," Song said.
With her employer's support, Song signed up for two consecutive classes in CNC and learned about the automated control of machining tools. She continued to work during the day, and would drive from Amherst to Springfield for an early evening class, sponsored by SAXSLAB.
The class allowed her to gain experience operating CNC mills and lathes in the Mechanical Engineering Technology lab.
"I really enjoyed my classes. I learned how to set up and operate CNC machines, and inspect parts," Song said. "I thought the hands-on experience was really valuable because I now understand the amount of effort it takes to do all these processes, such as multiple setups, tool changes, and special tolerances, and why I should try to reduce them as a designer."
These courses at STCC have improved my skills as an engineer. I've been very happy with the quality of the classes and the resources available. Robin Song,

professional engineer who is taking STCC classes
Song also learned about the variations in a real world part versus in CAD (Computer Aided Design). For example, a shaft may not be perfectly straight, but actually may be tapered because the unsupported end deflects when cut in a lathe. As a result, not as much material is removed.
"I also learned that you can use a tailstock (a part of the lathe) to mitigate this problem. Knowing this, I can anticipate some of the problems that could arise," she said.
The following semester, she took Manufacturing Processes, a course that teaches students methods used to create parts. The instructor, Joseph Sipitkowski, brought in examples to showcase different processes, and organized two field trips to local manufacturing shops.
"These were valuable experiences that I could only get by attending STCC, opposed to solely learning the material from reading textbooks," Song said.
This spring, Song registered for another class in the Mechanical Engineering Technology program, Metrology & Geometry.
"These courses at STCC have improved my skills as an engineer," Song said. "I've been very happy with the quality of the classes and the resources available. The instructors show a lot of enthusiasm and explain things well."
While working in her office, Song discovered another application, not related to machining, of her classroom lessons.
"One day I had to modify my G-code (a numerical control programming language) of a 3D-printed part, and I recognized that these were the same commands I learned in the CNC class at STCC," Song said. "I'm happy that I'm seeing the connection between school and work. From the perspective of a working engineer, these classes are applicable to my everyday responsibilities, and I see the importance of continuing my education."
Song, who grew up in Brookline, graduated from Carnegie Mellon University in Pittsburgh with a bachelor's degree in mechanical engineering in 2016. She moved to Northampton after accepting her first job out of college at SAXSLAB in Amherst.
With over 90 programs, STCC offers professional development opportunities for people working in a variety of fields, said STCC President John B. Cook.
"Robin is a sterling example of what professionalism looks like in a time of technology and change," Cook said. "It says a lot when a talented engineer pursues additional hands-on education in manufacturing design and equipment operations with us. STCC has the labs and equipment, and we have the talented faculty, to ensure we remain responsive to industry."
Gary Masciadrelli, chair of the Mechanical Engineering Technology department, said he welcomes working engineers like Song who want to take advanced manufacturing classes as part of their professional development.
"We have a very diverse student body, from young adults just out of high school to working professionals who may be changing careers," Masciadrelli said. "We have students enrolled in two-year degree programs and one-year certificate programs. We also have people who take just a few classes. It's not unusual for companies to contact us and ask how we can help them improve the skills of their employees. We may suggest their employees take a class or two."
"Our program is driven by industry needs," Masciadrelli added. "If you complete our program, you will understand CNC machining. Our students get hands-on experience using state-of-the-art equipment – from CNC milling machines and lathes to coordinate measuring machines. Many companies are looking to hire our graduates because they know how to use this high tech equipment."
Interested in applying to STCC? Visit www.stcc.edu/apply or call Admissions at (413) 755-3333.
About Springfield Technical Community College
Founded in 1967 and located on 35 acres of the Springfield Armory National Historic Site, STCC is a major resource for the economic vitality of Western Massachusetts. As the only technical community college in Massachusetts, STCC, a designated Hispanic Serving Institution and an Achieving the Dream Leader College, offers a variety of career programs unequalled in the state. STCC's highly regarded transfer programs in business, engineering, liberal arts, science and technology continue to provide the most economical options for students pursuing a four-year degree. With an annual enrollment of more than 7,400 day, evening, weekend and online students, STCC is a vibrant campus rich in diversity.
For more information about STCC, visit www.stcc.edu. Follow us on Facebook, Twitter (@S_T_C_C) and Instagram (@stccpics).
MEDIA CONTACT:
Jim Danko, jdanko@stcc.edu, (413) 755-4812