Scholarships awarded to 2 veterans attending STCC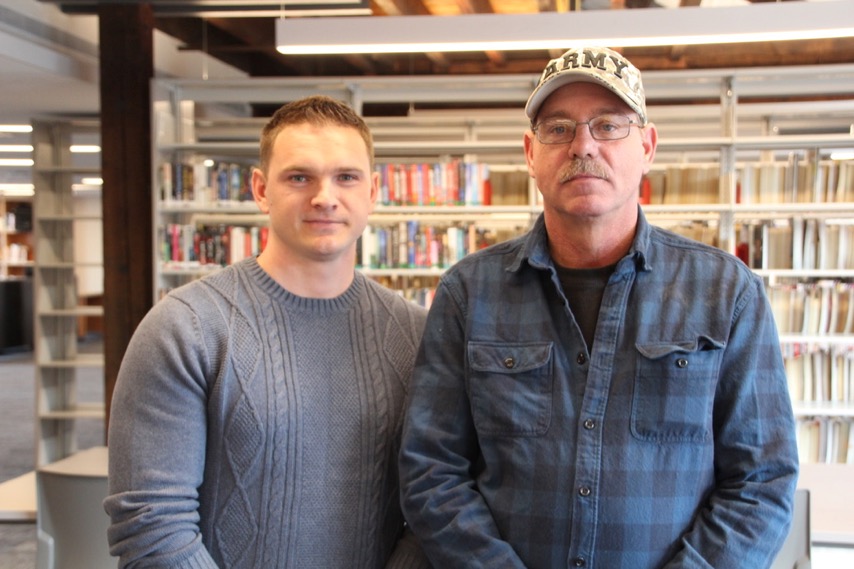 Students Valentin Titenko, left, and James Chesnis are military veterans who received scholarships.
SPRINGFIELD, Mass. – Two veterans attending Springfield Technical Community College were awarded scholarships from the Better Business Bureau of Central New England and its Consumer Education Foundation.
James Chesnis, of Ludlow, and Valentin Titenko, of West Springfield, were two of eight veterans and military service members attending area colleges to receive $500 each in textbook scholarships. The BBB distributed a total of $4,000 in scholarships.
Both veterans said they were honored to receive the scholarship, but didn't expect to be selected.
"I was very surprised that I won because I never win anything," Titenko said.
"I was shocked that I got it," Chesnis added. "I was excited that I was picked."
To be eligible for the award, the students were asked to test their financial literacy with a consumer quiz and subscribe to the Better Business Bureau's "Trusted Scout" Military Consumer Newsletter, according to the Better Business Bureau's website. Students also needed to attend a college or university located in the BBB of Central New England service area of Central and Western Massachusetts and Northeastern Connecticut.
Chesnis retired from the Army in 2013 after 25 years of service that included two tours in Iraq. He sustained brain trauma on Oct. 15, 2004, after an improvised explosive device went off.
"I only have 11 percent of hearing in my left ear and 13 percent in my right ear," Chesnis said. "I'll never forget the day. It was kind of weird, because it seemed like everything went into slow motion when it went off."
Chesnis said the experience in Iraq left him appreciating what he had when he came back home. He didn't want to work as a cable TV installer anymore, so Chesnis decided to enroll at STCC. He's studying biomedical engineering technology to learn how to repair and maintain medical equipment.
He said he loves the program.
"It's almost like being back in the military," he said. "It's comradery. Sometimes my classmates and I study together. We help each other. We can call each other if we have a question. I really like it."
Titenko served for six years of active duty in the Air Force. After leaving the Air Force, he joined the Massachusetts National Guard and enrolled at STCC to study Computer and IT Security.
There were not many people in the state who received this award, so I think it's awesome that two of our guys got it. Akeilee Murchison,

veteran academic counselor at STCC
"I looked at some other schools before deciding on STCC," he said. "I felt I made the right choice."
Akeilee Murchison, veteran academic counselor at STCC, said she is proud of Chesnis and Titenko.
"There were not many people in the state who received this award, so I think it's awesome that two of our guys got it," she said.
Chesnis and Titenko expressed their gratitude to Murchison for informing them about the scholarship. They also thanked the BBB for supporting veterans.
"These scholarships not only help veteran and military service members with their college expenses, but also increase their financial literacy," Nancy B. Cahalen, president and CEO of BBB of Central New England, said in a prepared statement. "We want to do our part to prevent service members and veterans from being targets for fraud."
According to the website, the BBB's Military Line program works to increase the level of financial literacy within military communities and reduce the number of military personnel who fall victim to predatory practices such as high interest auto loans, expensive insurance sales, risky real estate deals and work-from-home scams. The program is funded in part by BBB Accredited Business dues and in partnership with the U.S. Department of Defense Financial Readiness Campaign. Specific programs include financial readiness training, fraud and scam alerts, company and charity reviews, and dispute resolution services.
Interested in applying to STCC? Visit www.stcc.edu/apply or call Admissions at (413) 755-3333. For information about veterans services, contact Akeilee Murchison at 413-755-5343 or email her at agmurchison@stcc.edu.
About Springfield Technical Community College
Founded in 1967 and located on 35 acres of the Springfield Armory National Historic Site, STCC is a major resource for the economic vitality of Western Massachusetts. As the only technical community college in Massachusetts, STCC, a designated Hispanic Serving Institution and an Achieving the Dream Leader College, offers a variety of career programs unequalled in the state. STCC's highly regarded transfer programs in business, engineering, liberal arts, science and technology continue to provide the most economical options for students pursuing a four-year degree. With an annual enrollment of more than 7,400 day, evening, weekend and online students, STCC is a vibrant campus rich in diversity.
For more information about STCC, visit www.stcc.edu. Follow us on Facebook, Twitter (@S_T_C_C) and Instagram (@stccpics).
MEDIA CONTACT:
Jim Danko, (413) 755-4812, jdanko@stcc.edu