Soccer gets a big bounce at STCC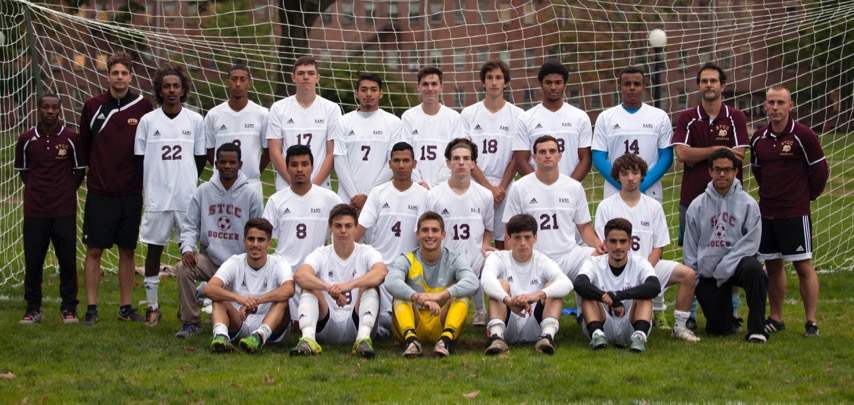 Recruitment efforts help build a diverse, talented, winning team
SPRINGFIELD, Mass. – Some 2,300 miles east of Springfield Technical Community College lies the city of Horta in the Azores, where young Joao and Jorge Soares learned how to skillfully kick a ball around on a soccer field.
"We started at 7 years old," Joao Soares recalled. "We just grew up playing soccer."
Located on an island, Horta is part of Portugal, where no other sport is more popular than soccer – or football as it is known there. By the time the Soares brothers moved with their family to Palmer, Mass., two years ago, with a love for soccer in their hearts, they already had developed into talented, competitive players.
That certainly was clear to William Sweidel, STCC's men's soccer coach who recruited them after seeing the brothers play at Palmer High School.
"They stand out," Sweidel said. "It's pretty apparent immediately."
At STCC, the Soareses started practicing with the team in August, knocking the ball around on the campus green. "They were very competitive with each other," Sweidel said. "The most competitive moment all season was when they first matched up one on one in a practice. They really went after it. The team just stood there and watched in amazement. That's how they got good."
It's the most diverse group I've ever coached. William Sweidel,

STCC's men's soccer coach
STCC's recruitment of the Soares brothers and other talented players gave the soccer team the competitive edge needed for a winning season. Since Sweidel began recruiting players like the Soares brothers last year, STCC's program has begun to blossom. Sweidel said the team's overall record for 2016 was 10 wins, 3 losses and 2 ties, a significant improvement over prior years.
This season, three players were named to first team, all-regional, and three to second team. Two players – Joao Soares and Joshua Rogowski of Chicopee – made national player of the week.
In a season packed with many highlights, the players like to talk about a key game against Bristol Community College.
"We were down 2-0. We won 3-2," Rogowski said. "Joao got in good positions to score. Jorge was playing great defense."
Sweidel added: "That win put them second place in the league."
The team made it to the first round of the semi-finals before being eliminated. Now, Coach Sweidel and his players are looking forward to an even stronger season next year.
Players say STCC provides an affordable path to a college degree and career options
The soccer program is attracting students who love the game and want to enroll in a school that provides an affordable option. Players say they come to STCC knowing the college's programs open doors to employment opportunities in a variety of fields. What's more, they say a degree from the college provides a variety of transfer opportunities if they want to continue their educations.
The team comprises a diverse group of students, many of whom are freshmen this year and will return to STCC next fall. After they graduate, some might continue with their educations, while others may seek jobs.
Rogowski, the team's 19-year-old goalie from Chicopee, studies psychology at STCC. "It's very affordable," said Rogowski, who one day would like to become a therapist.
Another player, Benjamin Brennan, 18, of Wilbraham, enrolled at STCC to play soccer and study computer science. He's following in the footsteps of his father, who used to play the game and eventually graduated from STCC with a computer science degree.
"He came here and did very well," Brennan said. "I want to transfer to UMass and continue there."
With young men like the Soares brothers from Portugal playing next to teammates like Faisail Manahi from Iraq, Diego Ramirez from Colombia and Mohamed S.E. Gabriel from Malaysia, the diverse 2016 team represents a cross-section of the STCC student population – and the Greater Springfield area as a whole.
"It's the most diverse group I've ever coached," Sweidel said. "You've got Portuguese, Middle East, Russian players (among other nationalities).
"Speaking for myself, it's really an educational experience," Sweidel said. "The Soares brothers are from an island in Portugal that I never knew existed."
Players welcome the team's diversity
Dominic Rosario, 18, a freshman who is majoring in computer IT and security, remembered his high school team as being diverse.
"But this team had much more diversity," Rosario said. "I got to meet multiple people from other countries who became very close friends of mine. Being from other countries, they brought different styles of play to the team, and this made us stronger."
Athletic director Vincent Grassetti said the diversity on the team reflects the community. "We have a lot of international flavor on that team, certainly. They're from everywhere. Springfield is like the old melting pot," Grassetti said.
Grassetti, who referees high school games, noticed the Soares brothers playing at Palmer High School and asked Sweidel to check them out. "I had seen them when they were 11th-graders, and they were probably the two best kids. When I found out they were in 11th grade. I said, holy mackerel, pay attention to them!"
During his first two years as coach, Sweidel did not recruit players. He decided it was time to try to turn around the soccer program at STCC.
"I thought if I was going to change the program around I've got to recruit the best," Sweidel said.
Grassetti added: "Coach (Sweidel) made a really concerted effort."
On the heels of the best soccer season for STCC in years, Sweidel and Grassetti hope to continue building the program. STCC's team is young, but loaded with potential, the coaches said.
Sweidel's hard work and dedication to building a successful team does not go unnoticed by players.
"I enjoyed being part of a hard-working and successful team," Rosario said. "I also enjoyed being coached by a serious and knowledgeable head coach, as well as being surrounded by multiple assistant coaches who love the game as much as the players."
If you're interested in the soccer program at STCC or applying to the college, call Admissions at (413) 755-3333. You can also apply online: www.stcc.edu.
About Springfield Technical Community College
Founded in 1967 and located on 35 acres of the Springfield Armory National Historic Site, STCC is a major resource for the economic vitality of Western Massachusetts. As the only technical community college in Massachusetts, STCC, an Achieving the Dream Leader College, offers a variety of career programs unequalled in the state. STCC's highly regarded transfer programs in business, engineering, liberal arts, science and technology continue to provide the most economical options for students pursuing a four-year degree. With an annual enrollment of more than 8,500 day, evening, weekend and online students, STCC is a vibrant campus rich in diversity.
For more information about STCC, visit www.stcc.edu. Follow us on Facebook and Twitter (@S_T_C_C).
Media contact:
Jim Danko, Coordinator of Media Relations