Springfield police officer looks back at his 'Rowdy' days at STCC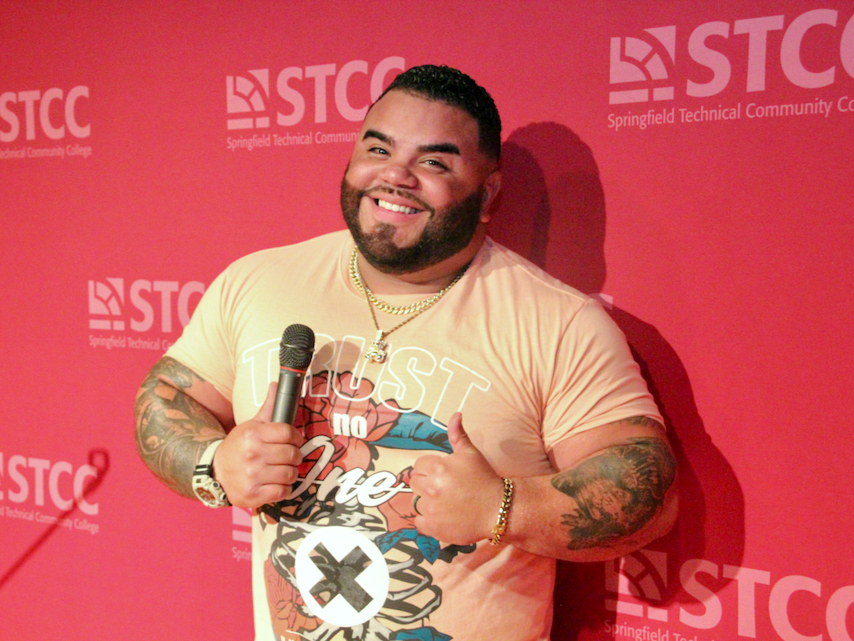 SPRINGFIELD, Mass. – Eddie Sierra used to be "Rowdy."
Now a Springfield police officer, Sierra laughed as he remembered the day he wore the STCC "Rowdy the Ram" mascot outfit and led a parade from the Springfield Technical Community College campus to the South End.
"I danced the day away," he said. "I did not stop dancing from here to the South End. People were saying, 'Who is that mascot?' It was amazing. It was so much fun."
The experience playing Rowdy was not only exhilarating and memorable, but transformative for Sierra '12.
As an STCC student, he earned money wearing the mascot outfit and helping in the Student Activities office through the federal Work Study program. He couldn't get enough of playing Rowdy and performing as part of the Theater Club.
"I spent more time at school than I did at home," he said. "Those were the best times of my life. I took trips with friends. I was in plays. I still remember those days like they were the good old days.
Sierra earned his associate degree in Criminal Justice and today works as an officer for the Springfield Police Department, a job he has held since 2016. He enjoys serving the public and applying what he learned at STCC.
But he continues to find joy and fulfillment as an entertainer. Sierra has performed in comedy clubs in the Springfield area and even gets paying gigs in New York City. He was excited to share that he recently auditioned for "America's Got Talent."
While at STCC, his experience playing "Rowdy" and acting in plays helped build his confidence and connect with other students.
I started falling in love with the college experience. This was the moment where I wanted to become more involved. Eddie Sierra '12

Graduate of the Criminal Justice program at STCC
"Everything fell into place," he said. "I started falling in love with the college experience. This was the moment where I wanted to become more involved. Being involved in Student Activities taught me how to set up events, how to manage the marketing aspect, how to become more involved as a student. It really motivated me to put myself out there even more."
In October, Sierra returned to STCC to perform his comedy act for students in the Scibelli Hall auditorium. On stage, he tells funny and poignant stories about his personal life. He's not afraid to talk about his struggles and problems. He remembered his first time on stage.
"It was therapy for me," he said. "I was able to talk about my problems and make people laugh, because a lot of people had gone through what I went through."
Sierra was born and raised in Springfield mostly by his grandmother. He admits he was not a good student at the High School of Commerce.
"I came from a family that didn't have any college graduates," Sierra said. I didn't know how to apply for scholarships. I didn't know how to apply for schools."
His grandmother encouraged him to go to college. He was accepted into STCC and decided to go into criminal justice because he has family members in law enforcement.
During his first semester, he said he did not get good grades. Sierra wasn't used to doing homework and term papers. But he said he always had the support and encouragement of the STCC faculty.
"As the semesters went on, the environment changed me. I started walking around and exploring campus," Sierra said.
One day, he walked past the Student Activities office and saw the Rowdy the Ram outfit on a coat rack. He was intrigued and asked if he could use it.
"I wanted to put myself out there some way, somehow," Sierra said.
Andrea Tarpey, coordinator of Student Activities at STCC, was excited to find out a student was interested in performing as the mascot. She was impressed with his attitude. Sierra happily accepted her invitation to work as the mascot.
"Eddie was a joy to work with. He brought a lot of enthusiasm and spirit," Tarpey said. "I'm delighted to hear that he is still entertaining others and pursuing his dreams. I wish him the best of luck."
Sierra made the best of his STCC experience and is grateful for the education he received in the Criminal Justice program. Many of his fellow officers in the Springfield Police Department graduated from the STCC criminal justice program.
Seth Dupuis, associate professor and coordinator for the Criminal Justice Program at STCC, said the program offers opportunities to anyone interested in working as a police officer. The program also opens the door to other law enforcement careers. Some graduates have gone on to law school to become prosecuting attorneys. Others have secured positions in the court and correctional systems."
"Our Criminal Justice Program at STCC serves as an affordable pathway to a law enforcement career," Dupuis said. "Graduates of the program like Eddie Sierra understand the legal, technical and practical aspects of law enforcement procedures. We prepare them for demanding yet rewarding careers where they can make a meaningful difference in their community."
Sierra said the professors brought real world experience and opened his eyes to the excitement and challenges of a career in law enforcement.
"There were a lot of people at STCC who were passionate about criminal justice," Sierra said. "Out of all of my years at STCC, all of my professors were amazing."
Interested in applying to STCC? Visit stcc.edu/apply or call Admissions at (413) 755-3333.
About Springfield Technical Community College
STCC, the Commonwealth's only technical community college, continues the pioneering legacy of the Springfield Armory with comprehensive and technical education in manufacturing, STEM, healthcare, business, social services, and the liberal arts. STCC's highly regarded workforce, certificate, degree, and transfer programs are the most affordable in Springfield and provide unequaled opportunity for the vitality of Western Massachusetts. Founded in 1967, the college – a designated Hispanic Serving Institution – seeks to close achievement gaps among students who traditionally face societal barriers. STCC supports students as they transform their lives through intellectual, cultural, and economic engagement while becoming thoughtful, committed and socially responsible graduates.
MEDIA CONTACT:
Jim Danko, (413) 755-4812, jdanko@stcc.edu