Springfield Preservation Trust to Host Annual Preservation Awards Ceremony at STCC's Student Learning Commons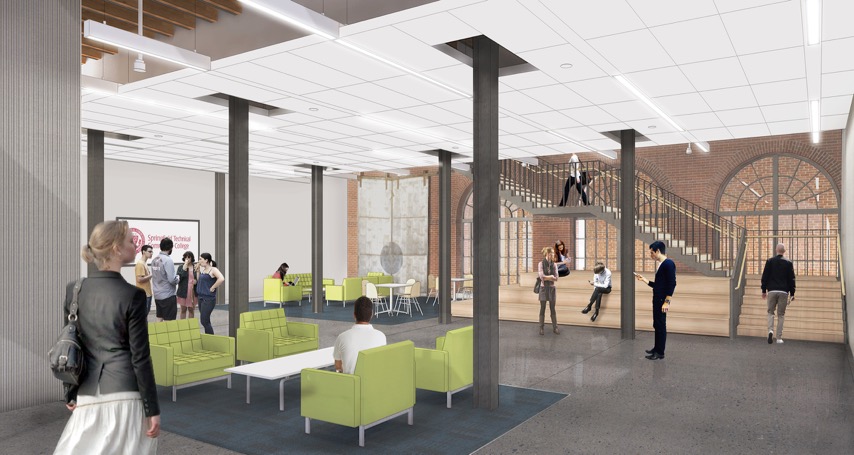 SPRINGFIELD, Mass. – The Springfield Preservation Trust on Tuesday, May 14, will host its Annual Preservation Awards Ceremony to honor individuals and organizations that help restore and preserve historic places in Springfield.
The event, which is open to the public, will take place at 5 p.m. in the "Forum" at the Ira H. Rubenzahl Student Learning Commons at Springfield Technical Community College.
STCC and the Massachusetts Division of Capital Asset Management & Maintenance are among the recipients for 2019. They are receiving an award for the rehabilitation and transformation of Building 19 into the Learning Commons, which has a modern and inviting interior that maintains the historic character of the structure.
"We are honored to receive recognition from Springfield Preservation Trust for the Student Learning Commons," said STCC President John B. Cook. "The building offers welcoming interior spaces for our current and prospective students to enjoy. I have heard so many positive comments about the Learning Commons since our ribbon-cutting in December. This space will serve our students for many years to come."
Also known as Building 19, the Learning Commons has been honored by other organizations for the quality of work and attention to preservation and sustainability that went into the renovation.
The following is a round-up of awards, nominations and other recognition for the Learning Commons:
The 2019 People's Preservation Choice Award (nominee): "This project makes the preservation of our national history and architectural and engineering heritage a part of this broad and diverse college community's everyday life, and it visibly demonstrates to students, faculty, staff, and visitors how creative and thoughtful preservation can support development, innovation, and sustainability," project nominators wrote.
Preservation Massachusetts' Robert K. Kuehn Award: This award recognizes extraordinary projects that meld collaborative partnerships with creative and cutting-edge ideas for the rehabilitation and active reuse of historic buildings. Preservation Massachusetts is the statewide nonprofit historic preservation organization dedicated to preserving the Commonwealth's historic and cultural heritage.
Feature article in Building Design and Construction: The magazine put a spotlight on the Learning Commons on April 22, 2019. The article begins: "Combining historic preservation, adaptive reuse, and contemporary architecture, Springfield Technical Community College's new Campus Center repurposes a 764-foot-long by 55-foot-wide warehouse building originally constructed (in the 19th century)."
Honor Award for Excellence in Planning for a District or Campus Component: The Society for College and University Planning (SCUP) honored STCC and Ann Beha Architects of Boston with this award in 2017.
Honorable Mention for Excellence in Architecture for Building Additions or Adaptive Reuse (SCUP).
Listed on the National Register of Historic Places, the Learning Commons was designed by Ann Beha Architects. Consigli Construction Co. of Hartford was the construction manager. The facility, which opened in December 2018, is named after retired STCC president Ira H. Rubenzahl.
The structure was built between 1847 and 1863 as a storehouse for supplies and tanks as part of the Springfield Armory. The building was closed by Congress in 1968.
The plan to renovate Building 19 commenced after a space-needs assessment found that STCC was sorely lacking in student-focused spaces. Critical student resources and services were scattered throughout campus. The transformation of Building 19 into the Student Learning Commons brings Student Administrative Services, the Library and social spaces under one roof.
Other recipients of Springfield Preservation Trust's 2019 Preservation Awards:
MGM Springfield for restoration of 95 State St. and the French Congregational Church at 94 Union St.
Valley Real Estate for the restoration of the St. James Building at 573 State St. and the Wigglesworth Building at 23 Oak St.
Viva Development for the restoration of 263-267 Central St.
Icarian Real Estate Advisors for restoration of 175 Mill St.
Gary & Stephanie Erbe for restoration of 115 Sumner Ave.
Dan Rodriguez & Bill LaPorte for restoration of 102 Maplewood Terrace
The Edward Sims Award for Stewardship will go to Elliot & Kay Stratton for 174 Buckingham St.
The George Pooler Award for Stewardship will go to Daniel & Kateri Walsh for 42 Magnolia Terrace
The Robert Holbrook Award for Stewardship will go to James & Linda Bartlett and Ruth Dumont for 280-282 Pine St.
Photographs of 2019 and previous award winners will be on display at the STCC Student Learning Commons through the end of May. Photo galleries of previous year's awardees can be found online at springfieldpreservation.org/preservation-awards.
About Springfield Technical Community College
Founded in 1967 and located on 35 acres of the Springfield Armory National Historic Site, STCC is a major resource for the economic vitality of Western Massachusetts. As the only technical community college in Massachusetts, STCC, a designated Hispanic Serving Institution and an Achieving the Dream Leader College, offers a variety of career programs unequalled in the state. STCC's highly regarded transfer programs in business, engineering, liberal arts, science and technology continue to provide the most economical options for students pursuing a four-year degree. With an annual enrollment of more than 6,400 day, evening, weekend and online students, STCC is a vibrant campus rich in diversity.
For more information about STCC, visit www.stcc.edu. Follow us on Facebook, Twitter (@S_T_C_C) and Instagram (@stccpics).
About the Springfield Preservation Trust
The Springfield Preservation Trust is a nonprofit, 501(c)(3) organization founded in 1972 to help preserve, protect, and promote historic places in Springfield, MA. The organization focuses its efforts on raising awareness of historic preservation through annual Preservation Awards, House Tours, and the Most Endangered Historic Resources List. When a historic place is threatened by demolition, SPT advocates for preservation by contacting elected officials, stakeholders and local media with the belief that historic preservation is a key part of making Springfield a great place to live, work, and visit.
MEDIA CONTACT:
Jim Danko, (413) 755-4812, jdanko@stcc.edu