STCC 3rd Leadership Conference offers insights and ideas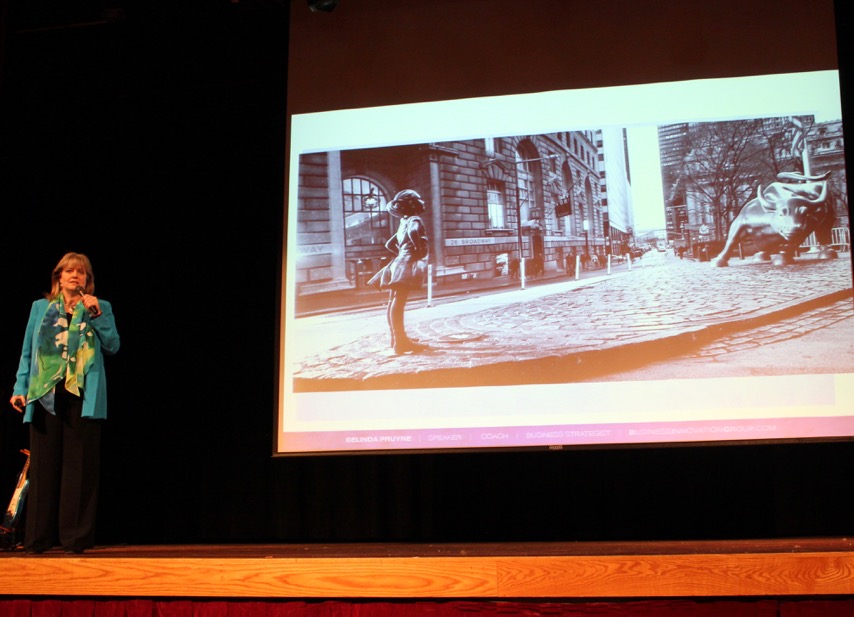 Entrepreneur Belinda Pruyne says great leaders are "fearless in the face of fear."
SPRINGFIELD, Mass. – The 3rd Annual Leadership Conference at Springfield Technical Community College offered a platform for a dozen speakers to air their "big ideas" about how to lead successfully.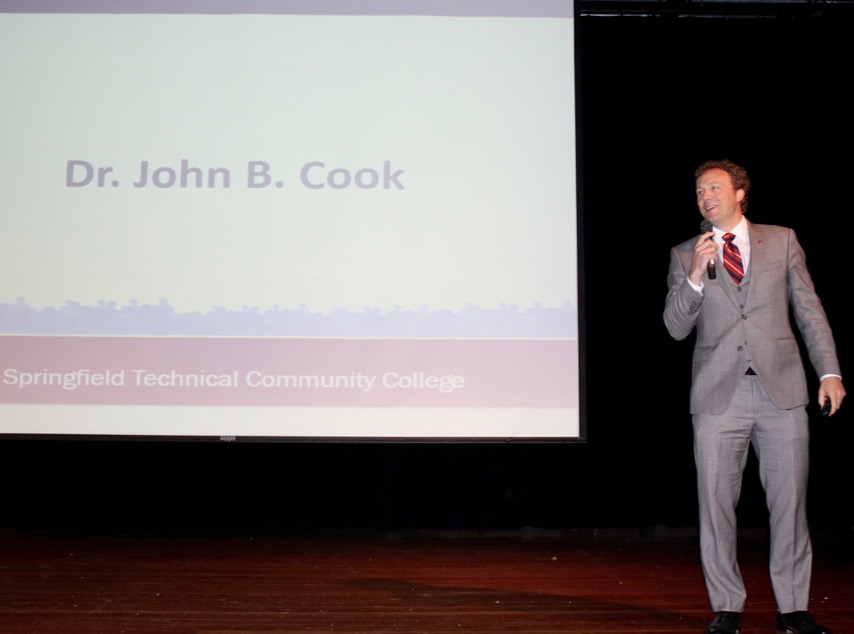 The conference on June 16 featured speakers from a range of leadership positions in the community, including entrepreneurs and leaders from government, colleges and area businesses.
Event coordinator Paul B. Thornton, an STCC professor and tri-chair of business administration in the School of Business and Information Technologies, asked speakers to talk about how they influence, inspire and motivate people.
As one of the speakers himself, Thornton shared effective public speaking strategies, such as using body language, pauses or adding emphasis to key words to make a point.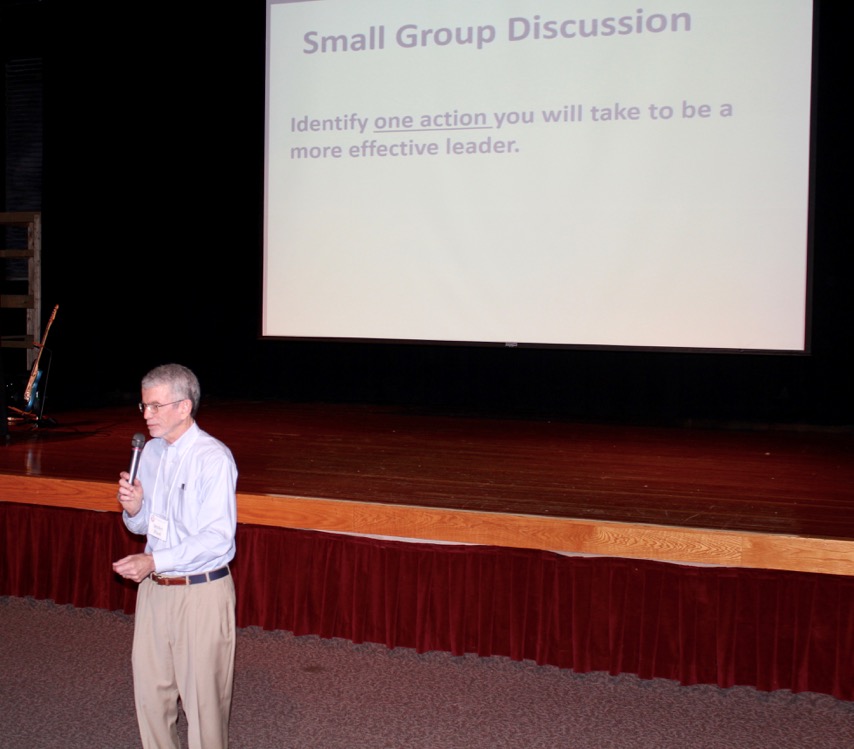 STCC President Dr. John B. Cook focused on how caring about others can build stronger professional relationships. Cook quoted Nel Noddings, who writes about the ethics of care: "(Although) most people agree that the world would be a better place if we all cared more for one another . . . we find it hard to say exactly what we mean by caring."
Cook asked audience members to turn to each other and share what they personally care about in a professional context.
Domenic J. Sarno reflected on his experience as Springfield mayor during good times and difficult times. As mayor, he said he surrounds himself with good people and encourages constructive criticism.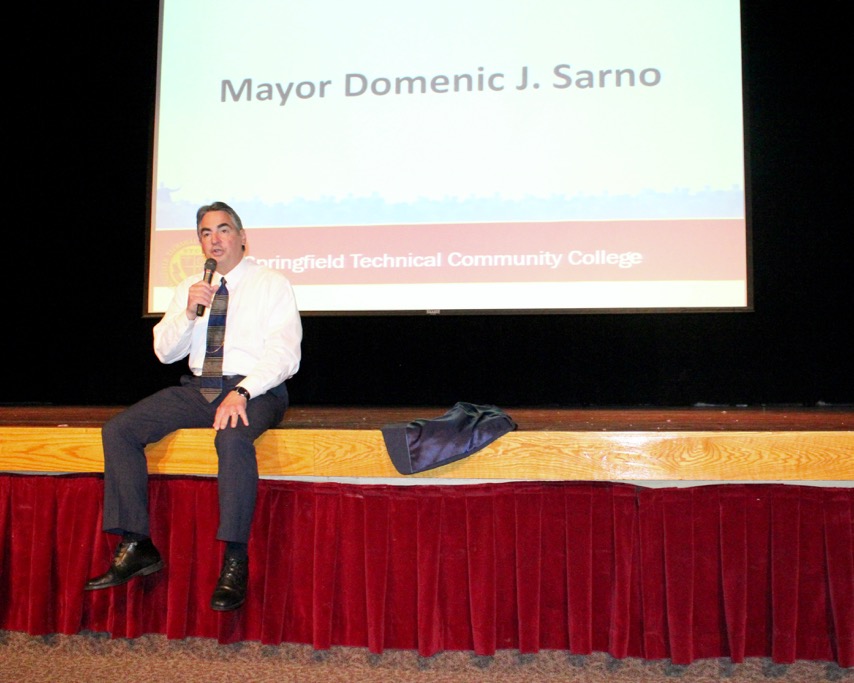 "I have a great team," said Sarno, seated on the edge of the stage. "That's the most important thing – to surround yourself . . . with good, knowledgeable people."
Another speaker, Belinda Pruyne, founder and CEO of Business Innovation Group, a strategic coaching and consulting firm, said great leaders are "fearless in the face of fear."
Pruyne said she learned early in her career it was more important to be herself than to try to be "a clone" of others.
Recalling advice she received from her father, Pruyne said, "It's more important to be respected than liked. It won't always be easy, and it clearly won't always be fun, but be true to who you are and consistent in your actions, and over the course of time they will learn the truth of you and the value that you bring."
Thornton said the free conference is designed to give professionals and students a chance to network and hear ideas from proven leaders. He said 95 registered to attend the conference, which was held in the theater at Scibelli Hall.
Next year's conference is planned for June 15, 2018.
About Springfield Technical Community College
Founded in 1967 and located on 35 acres of the Springfield Armory National Historic Site, STCC is a major resource for the economic vitality of Western Massachusetts. As the only technical community college in Massachusetts, STCC, an Achieving the Dream Leader College, offers a variety of career programs unequalled in the state. STCC's highly regarded transfer programs in business, engineering, liberal arts, science and technology continue to provide the most economical options for students pursuing a four-year degree. With an annual enrollment of more than 8,500 day, evening, weekend and online students, STCC is a vibrant campus rich in diversity.
For more information about STCC, visit www.stcc.edu. Follow us on Facebook and Twitter (@S_T_C_C).
Media Contact:
Jim Danko, jdanko@stcc.edu, (413) 755-4812