STCC again named best local college in 'Reader Raves'
SPRINGFIELD, Mass. – For the second year in a row, Springfield Technical Community College has been named best local college in the 2021 Reader Raves poll, presented by The Republican and MassLive.
STCC also won the 2020 award, besting UMass Amherst which had previously been the sole winner since Reader Raves' inception in 2009.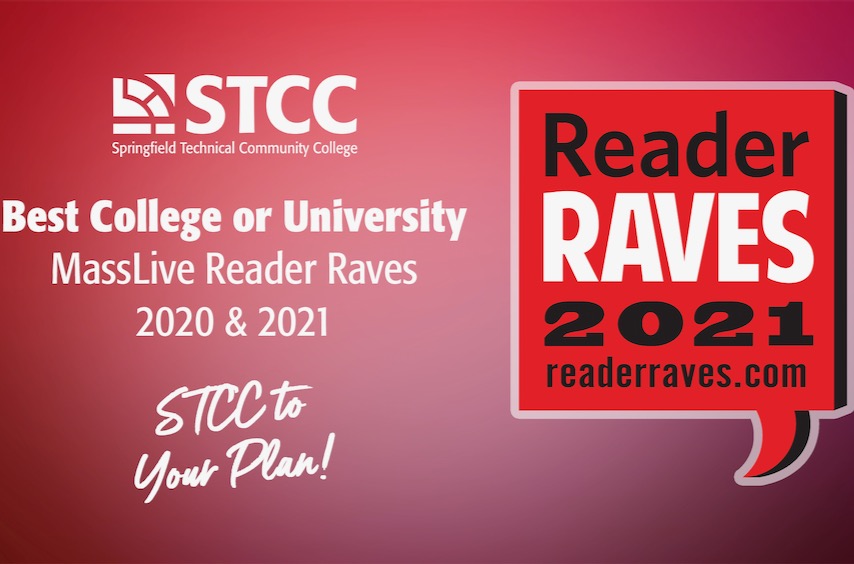 The Republican will formally announce the 2021 Reader Raves winners in the Sunday Republican on Sept. 20.
Mark French, advertising director for The Republican and MassLive, congratulated STCC on the win.
"Despite living in a world of uncertainty due to the ongoing pandemic, print and digital audiences reached by The Republican and MassLive took the time to share their Reader Raves 'faves' to the tune of 58,677 votes across the 100 categories," he said.
"Best local college" is not the only accolade bestowed on STCC. For 2020, STCC also won the Valley Advocate's Best of the Valley reader poll.
President John B. Cook said the college is honored to receive recognition and thanked voters for their belief in STCC. He said STCC will continue to provide flexibility and affordable options to best serve its diverse student population.
Classes for the fall semester start Sept. 8. The college, which has an open enrollment policy, is accepting applications at stcc.edu/apply.. To keep students, faculty and staff safe during the COVID-19 pandemic, STCC will offer online classes with a mix of low-density on campus labs.
"This is wonderful news to hear as we start a new academic year, and I thank the readers for their belief in STCC," Cook said. "We are looking forward to the fall semester. Our talented faculty put in much thought and hard work over the summer to get ready for online teaching. I think our students will be impressed and will find that we are well prepared to compete in the online learning environment."
The only technical community college in the state, STCC helps to fuel the Western Massachusetts workforce in fields that include engineering, manufacturing, healthcare, public service and technology. The college offers 76 degree and certificate programs.
Area business leaders say they are eager to interview STCC graduates for positions.
In a MassLive and Republican article published in February 2020, Pia Kumar, co-owner and chief strategy officer at Universal Plastics, a Holyoke manufacturing firm specializing in custom thermoforming, said STCC is an asset when it comes to finding new employees.
"The person that goes to STCC is the person we want," Kumar told The Republican and MassLive. "They are looking to make their lives better."
Interested in applying to STCC? Visit stcc.edu/apply or call Admissions at (413) 755-3333.
About Springfield Technical Community College
Founded in 1967 and located on 35 acres of the Springfield Armory National Historic Site, STCC is a major resource for the economic vitality of Western Massachusetts. As the only technical community college in Massachusetts, STCC offers a variety of career programs unequalled in the state. STCC's highly regarded transfer programs in business, advanced manufacturing, healthcare, liberal arts, and STEM fields continue to provide the most affordable options for students pursuing a four-year degree. With an annual enrollment of about 7,000 day, evening, weekend, and online students, STCC is a vibrant campus rich in diversity.
For more information about STCC, visit www.stcc.edu. Follow us on Facebook, Twitter (@S_T_C_C) and Instagram (@stccpics).
MEDIA CONTACT:
Jim Danko, (413) 799-4812, jdanko@stcc.edu