STCC and Westfield State University announce partnership in biotechnology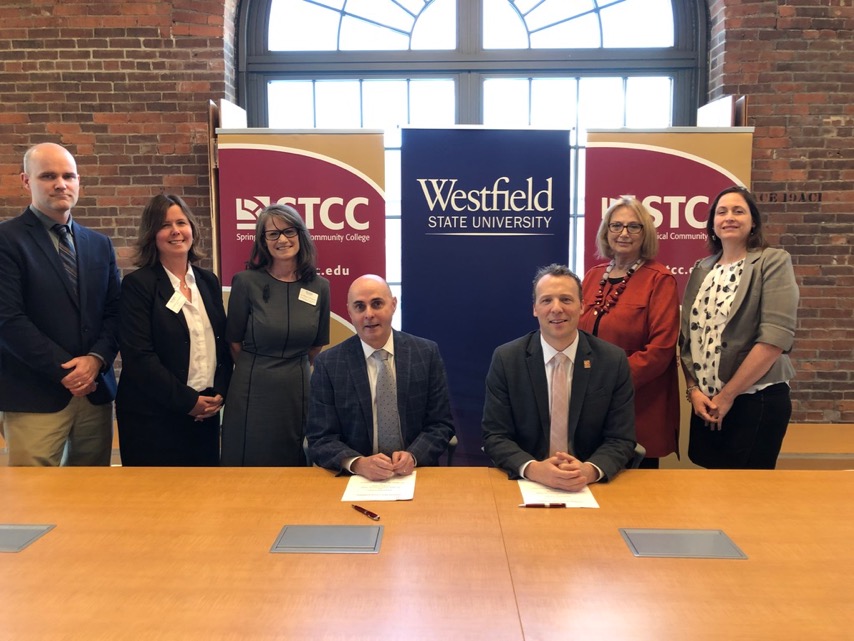 From left: Dr. David Christensen, chair of the Biology Department at Westfield State; Dr. Jennifer Hanselman, dean of the College of Mathematics and Sciences at Westfield State; Dr. Diane Prusank, provost and vice president of Academic Affairs; Dr. Ramon S. Torrecilha, president of Westfield State; Dr. John B. Cook, president of STCC; Dr. Geraldine de Berly, vice president of Academic Affairs at STCC; and Dr. Lisa Rapp, chair of the Biotechnology Department at STCC.
SPRINGFIELD, Mass. – A newly signed agreement creates an affordable pathway for students who earn an associate degree in biotechnology from Springfield Technical Community College (STCC) to transfer credits and pursue a bachelor's degree from Westfield State University.
In a ceremony on June 3, STCC President John B. Cook, Ph.D., and Westfield State President Ramon S. Torrecilha, Ph.D., signed an articulation agreement that formally connects the programs. Students will receive credit from Westfield State for program-related courses completed at STCC. They can apply those credits toward the requirements for a bachelor of science degree in biology with a concentration in biotechnology at Westfield State.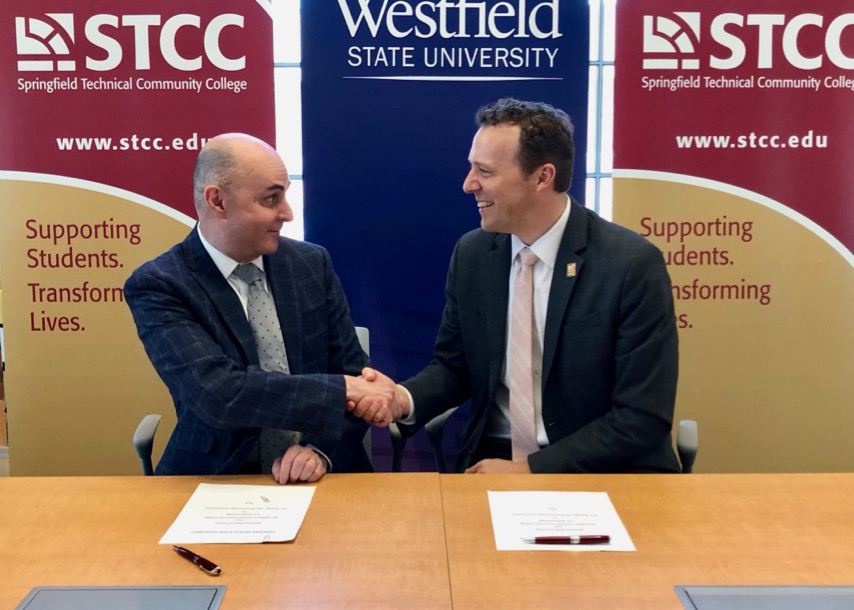 "Biotechnology is a key example of our changing economy and the need to interconnect science with technology," Dr. Cook said. "We are very pleased to collaborate with Westfield State as it launches its program, knowing the biotech industry is growing and talented workers are in demand."
According to MassBio 2018 Industry snapshot, jobs in biotechnology have increased by 28 percent between 2008 and 2017. MassBioEd reports that nearly 12,000 jobs are forecast to be created between May 2017 and May 2023.
Biotechnology encompasses a broad range of applications that use living organisms such as cells and bacteria to make useful products. Current applications of biotechnology include industrial production of pharmaceuticals such as vaccines and insulin, genetic testing, DNA fingerprinting and genetic engineering of plants.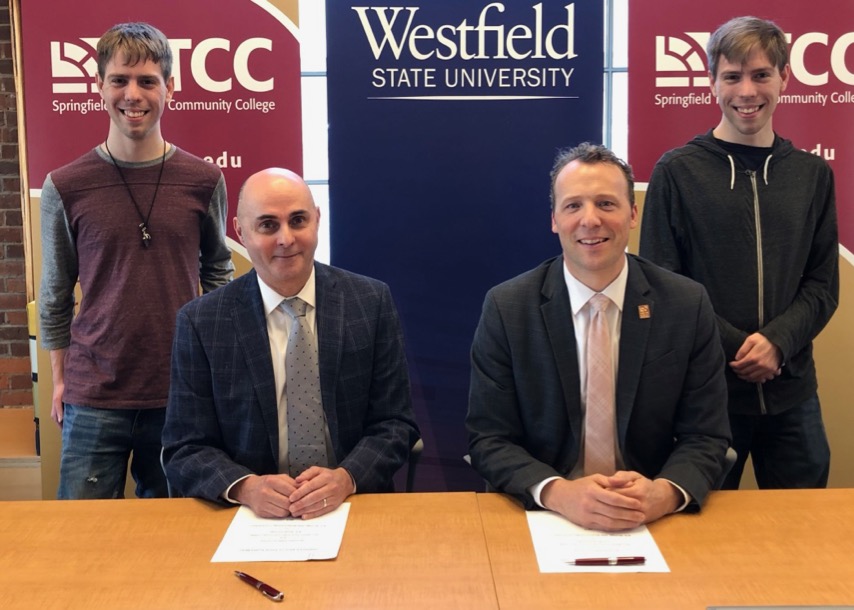 "Massachusetts has the highest concentration of biotechnology and pharmaceutical companies in the world," said Lisa Rapp, Ph.D., biotechnology department chair at STCC. "While companies are eager to hire technicians with associate degrees, a bachelor's degree can mean a higher starting salary and more opportunity for advancement."
The transfer agreement benefits students by providing an affordable option to enroll at STCC for two years and take high-level science courses that can be applied at Westfield State. With the agreement in place, students will have accurate and clear information regarding the transfer of their course work and credits.
"This partnership creates a clear pathway to a bachelor's degree for area students interested in biotechnology," said Dr. Torrecilha. "It underscores the University's commitment to facilitating accessible and affordable degree options."
Without an agreement a four-year institution might not accept some of the credits a student brings from a two-year college.
"The transfer agreement makes it easier for the students," Rapp said. "They won't waste time and money on classes that might not apply to their bachelor's degree. Our program now seamlessly transfers over to Westfield State."
We are very pleased to collaborate with Westfield State as it launches its program, knowing the biotech industry is growing and talented workers are in demand. Dr. John B. Cook,

STCC President
Two of Rapp's students, twin brothers Emil and Raymond Laskowski, of Agawam, plan to enroll in Westfield State's program this fall. They earned their associate degrees in biotechnology from STCC in May. The 26-year-old brothers said they were thrilled they could transfer many of their credits from STCC to Westfield State.

"It's working out really well so far," Emil Laskowski said. "The process was pretty easy."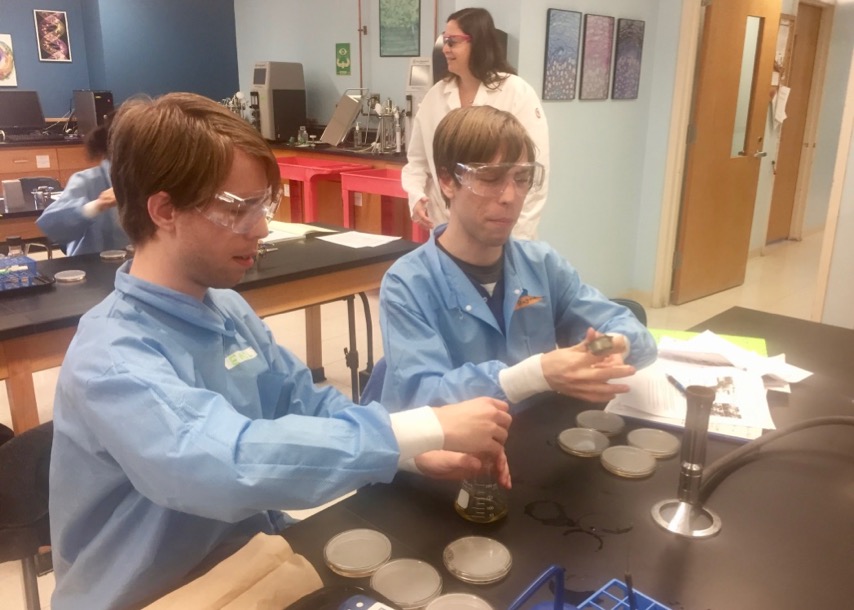 "Administrators from STCC and Westfield State have been very helpful so far," Raymond Laskowski added. "STCC prepared us pretty well, especially the course content. The faculty are very dedicated. There are a lot of advantages at STCC that I suspect you probably wouldn't get at other colleges."
With their STCC experience behind them, the Laskowskis said they look forward to being a part of Westfield State's new biotechnology concentration program. Their hope is to earn their bachelor's degrees in two years and find work in the thriving field of biotechnology.
"Westfield State is excited to establish this opportunity to match students' interest in this emerging field while creating marketable skillsets to meet workforce demand," said Jennifer Hanselman, Ph.D., dean of the University's College of Mathematics and Sciences.
To learn more about STCC's Biotechnology Associate Degree program, visit www.stcc.edu/biotechnology.
To learn more about Westfield State's biotechnology concentration visit www.westfield.ma.edu/academics/degrees/biotechnology-concentration
About Springfield Technical Community College
Founded in 1967 and located on 35 acres of the Springfield Armory National Historic Site, STCC is a major resource for the economic vitality of Western Massachusetts. As the only technical community college in Massachusetts, STCC, a designated Hispanic Serving Institution and an Achieving the Dream Leader College, offers a variety of career programs unequalled in the state. STCC's highly regarded transfer programs in business, engineering, liberal arts, science and technology continue to provide the most economical options for students pursuing a four-year degree. With an annual enrollment of more than 6,400 day, evening, weekend and online students, STCC is a vibrant campus rich in diversity.
For more information about STCC, visit www.stcc.edu. Follow us on Facebook, Twitter (@S_T_C_C) and Instagram (@stccpics).
About Westfield State University
Founded in 1839 by Horace Mann, Westfield State University is an education leader committed to providing every generation of students with a learning experience built on its founding principle as the first public co-educational college in America to offer an education without barrier to race, gender or economic status. This spirit of innovative thinking and social responsibility is forged in a curriculum of liberal arts and professional studies that creates a vital community of engaged learners who become confident, capable individuals prepared for leadership and service to society.
For more information about Westfield State University, visit www.westfield.ma.edu, follow us on Twitter at www.twitter.com/westfieldstate, or on Facebook at https://www.facebook.com/WestfieldStateUniversity.
MEDIA CONTACTS:
Jim Danko, STCC coordinator of media relations, (413) 755-4812, jdanko@stcc
Troy Watkins, Westfield State communication specialist, (413) 572-5523