STCC, Ann Beha Architects receive excellence in planning award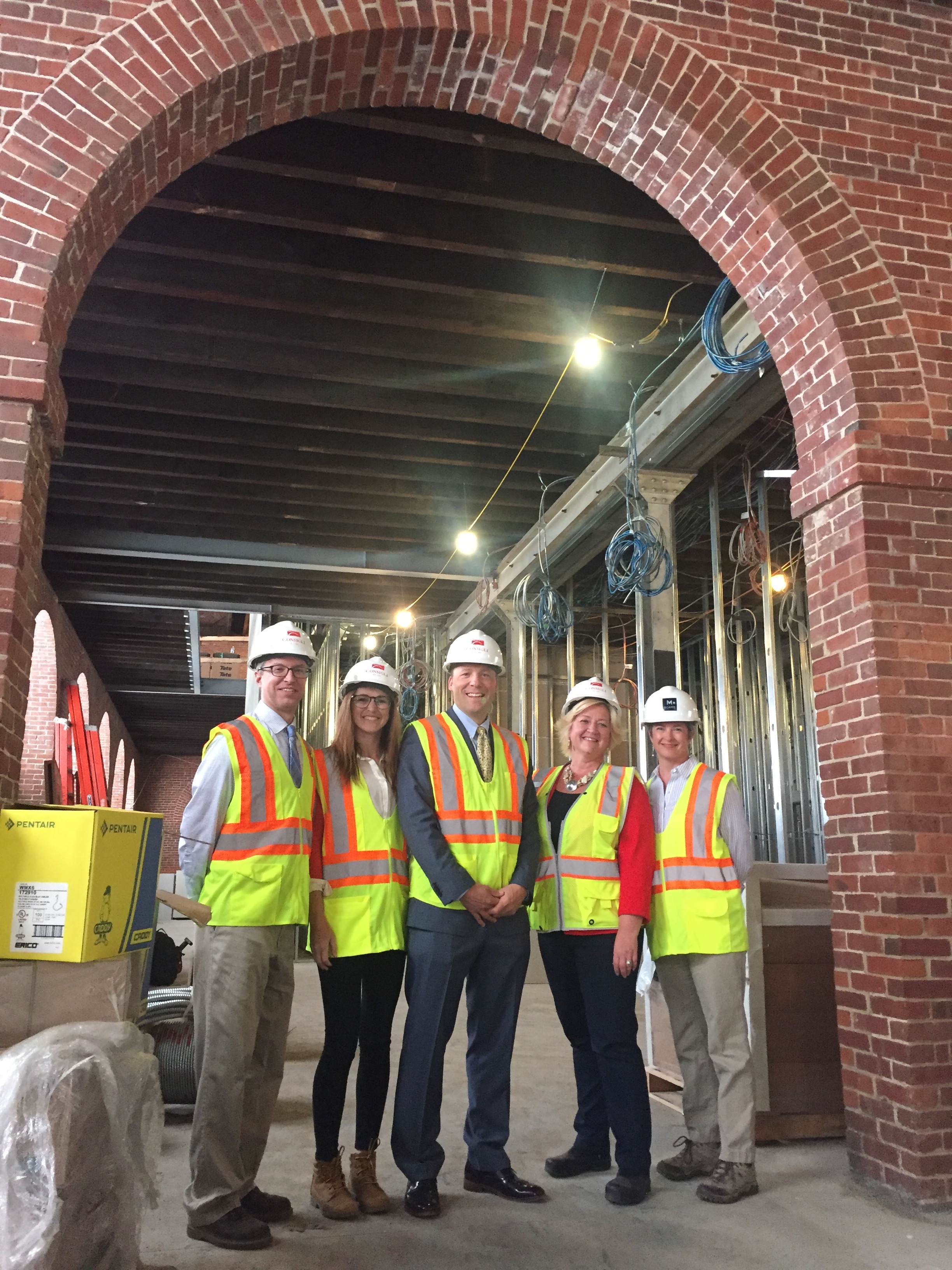 From left: Ann Beha Architects Bob Carroll and Jacqueline Mossman, STCC President John B. Cook, STCC Assistant Vice President of Facilities & Administration Maureen Socha, and Division of Capital Asset Management & Maintenance Project Manager Jenn Campbell.
SPRINGFIELD, Mass. – Springfield Technical Community College (STCC) and Ann Beha Architects (ABA) of Boston were honored for "excellence in planning" for a renovation project which will transform a 19th century warehouse into a modern center of campus life.
STCC and ABA received the 2017 Honor Award for "Excellence in Planning for a District or Campus Component" for the Ira H. Rubenzahl Student Learning Commons, which is under construction. The Society for College and University Planning presented the award in July.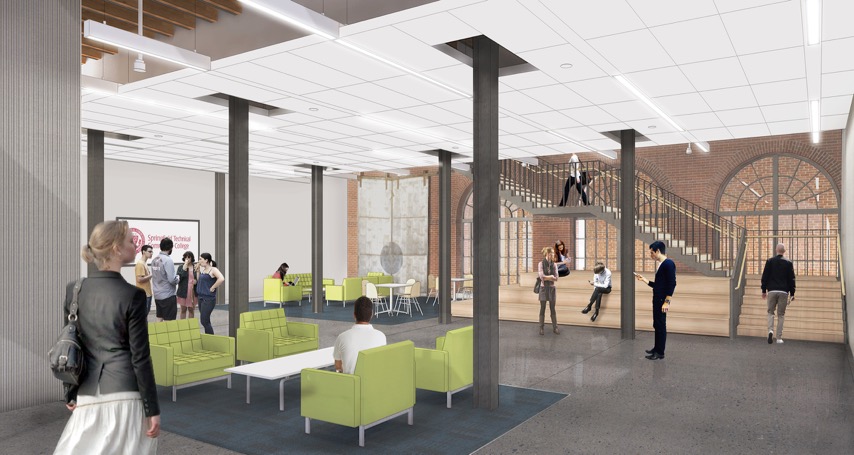 STCC President John B. Cook said, "The Rubenzahl Student Learning Commons is truly a unique project. Historic renovation is not always easy, but for STCC it is essential. On behalf of our students, we remain excited about the transformation of our campus."
With an estimated completion date of fall 2018, the 100,000-square-foot Ira H. Rubenzahl Student Learning Commons – now known at STCC as Building 19 – will become the center of campus life for 8,000 students. Building 19, once a storehouse for gun stocks, predates the Civil War. One of the goals of the $50 million project is to honor the past while embracing state-of-the-art energy-efficient technology.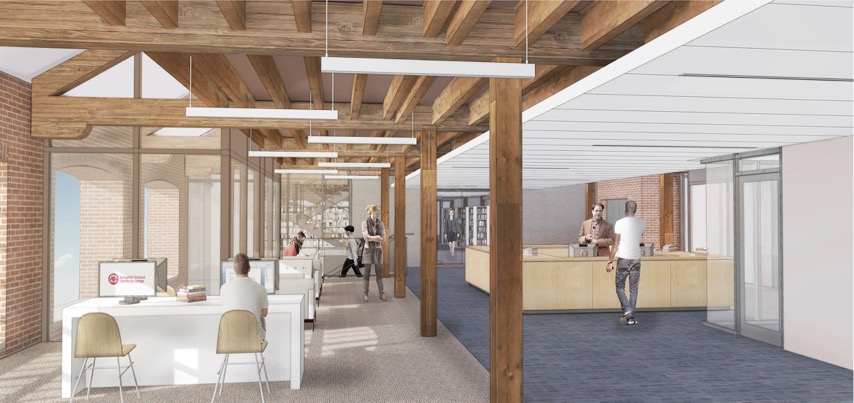 In charge of the design, ABA played a key role in transforming the historic structure into a modern space for students. Construction crews are replicating historic features to match the look and color of the original building.
The 767-foot-long building will house essential student services, including advising, tutoring, career services, the library and more. Students will have access to social spaces and a café. About 150 staff will work in the building.
Division of Capital Asset Management and Maintenance (DCAMM) Commissioner Carol Gladstone said, "The Baker-Polito administration is pleased to see the renovation project team recognized for its work in creating a new energy efficient space for STCC students while preserving a piece of the Commonwealth's history."
Also honored were the state Division of Capital Asset Management and Maintenance; RSE Associates of Watertown; Altieri Sebor Wieber of Norwalk, Conn.; Jensen Hughes of Framingham; Vermeulens of Boston; Sladen Feinstein Integrated Lighting of Boston; Nitsch Engineering of Boston; CRJA | IBI Group of Boston; Kalin Associates; Environmental Compliance Services; BVH Integrated Services; and The Public Archaeology Laboratory of Pawtucket, R.I.
About Springfield Technical Community College
Founded in 1967 and located on 35 acres of the Springfield Armory National Historic Site, STCC is a major resource for the economic vitality of Western Massachusetts. As the only technical community college in Massachusetts, STCC, a designated Hispanic Serving Institution and an Achieving the Dream Leader College, offers a variety of career programs unequalled in the state. STCC's highly regarded transfer programs in business, engineering, liberal arts, science and technology continue to provide the most economical options for students pursuing a four-year degree. With an annual enrollment of more than 8,500 day, evening, weekend and online students, STCC is a vibrant campus rich in diversity.
For more information about STCC, visit www.stcc.edu. Follow us on Facebook and Twitter (@S_T_C_C).
About Ann Beha Architects
Ann Beha Architects is engaged in both contemporary design and in the preservation and adaptive re-use of landmark buildings. The firm's particular focus is on the role of architecture in sensitive and complex historic settings. Based in Boston and practicing internationally, ABA has 35 years of architectural and planning experience for educational, cultural and civic clients. For the seventh consecutive year, ABA has been named one of the Top 50 architectural practices in the United States by ARCHITECT Magazine, cited for its design leadership, stewardship, and collaborative practice.
Media Contact:
Jim Danko, (413) 755-4812, jdanko@stcc.edu