STCC art gallery presents Baltimore artist Kumasi J. Barnett
SPRINGFIELD, Mass. – The Amy H. Carberry Fine Arts Gallery at Springfield Technical Community College proudly presents the exhibition "Murcan Tales" by Baltimore artist Kumasi J. Barnett, on view Oct. 4-Nov. 10.
Barnett will be on campus Oct 13-14 for in-person events including a meet-and-greet reception, student engagement activities, and Carberry Conversations interview.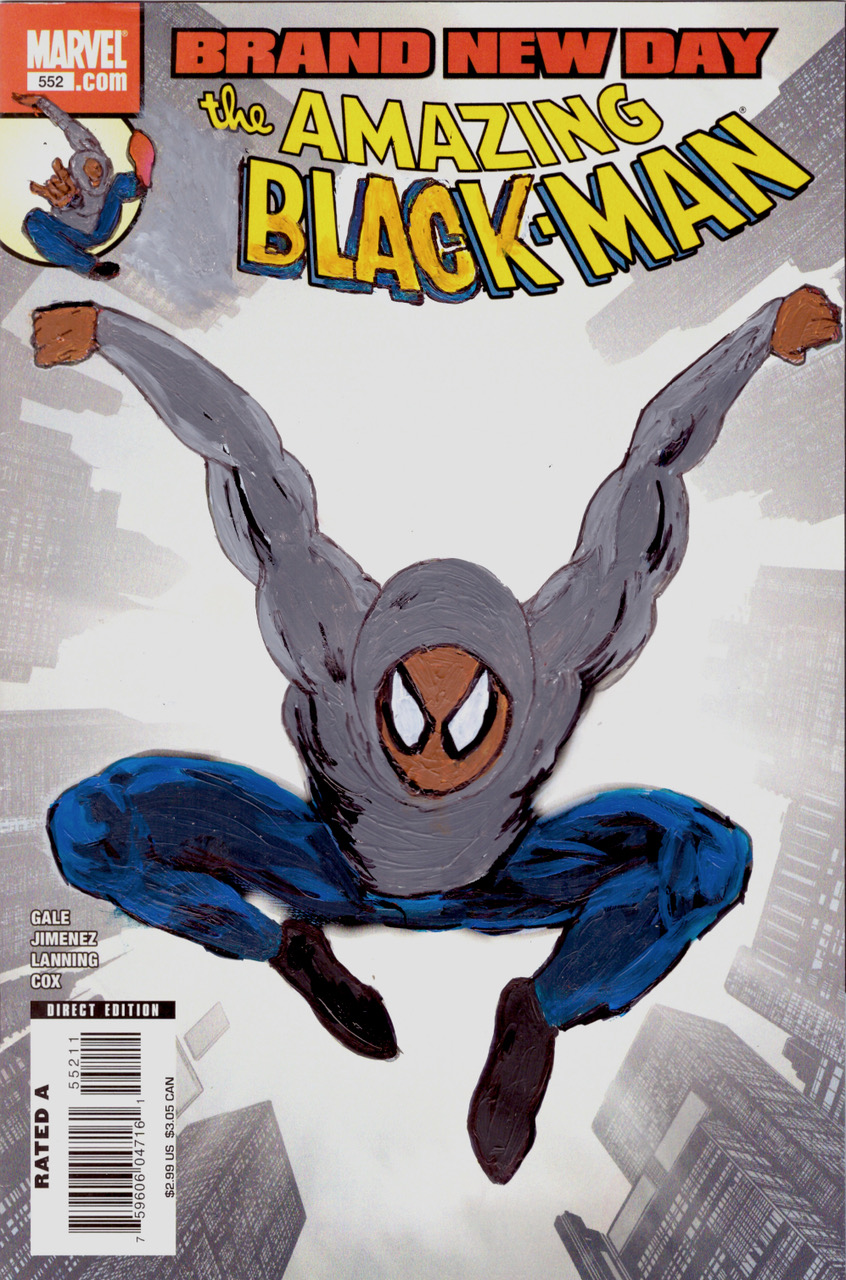 Influenced by the aesthetics and narratives of comic books, Barnett creates artwork that subverts and imbues the often-timeless genre with historical context and a present-day social consciousness. Beloved superheroes like "The Hulk" and "The Amazing Spider-Man" are transformed into "The Media's Thug" and "The Amazing Black-Man."
The classic Spider-Man red-and-blue suit is replaced by an all-new, equally iconic dark-skinned superhero with a gray hoodie named "The Amazing Black-Man." The character battles the police who are portrayed as supernatural villains. His superpower is staying alive.
Barnett's practice as a whole confronts issues of police brutality and systemic racism. He meticulously paints directly over old copies of comic books, changing their narratives into reflections on contemporary events and the media's portrayal of those events, and searing, sometimes painful, critiques of real social and political issues, including racism, fake news, and political corruption.
A graduate of Dundalk Community College, Barnett went on to receive two bachelor's degrees from the University of Maryland; one in art history and archeology and a second in studio art, before receiving his M.F.A. in painting and drawing from The Ohio State University.
Barnett's works have been exhibited both in the United States and abroad, including exhibitions at Lowell Ryan Projects, Los Angeles; The Peale, Baltimore; the Zeitz Museum of Contemporary Art Africa in Cape Town, South Africa; The Boca Raton Museum of Art, Boca Raton, Fla.; The Verge Center for the Arts, Sacramento, Calif.; BravinLee programs, New York, N.Y.; and The Brooklyn Public Library, Brooklyn, N.Y.
More information: kumasijbarnett.com
Barnett presented a solo booth with Lowell Ryan Projects at The Armory Show 2020, in the Focus section curated by Jamillah James. Barnett teaches at the School of the Art Institute of Chicago, and his work has been featured in Artforum, Ammo, Vibe, Hyperallergic, Huffington Post, Autre, Artnet News, and The Guardian, among others. Barnett's work is represented by L.A. gallery, Lowell Ryan Projects.
Carberry Conversations, Friday, October 14, 12:15 p.m. features a virtual conversation held in the gallery between associate professor and gallery coordinator Sondra Peron and exhibiting artist Kumasi J. Barnett. Link to Zoom interview: stcc.io/conversations
All Carberry Conversations are free and open to the public via Zoom. Please register in advance.
Carberry Conversations is a series of virtual talks throughout the academic year between Peron and exhibiting artists whose work is on view at the Amy H. Carberry Fine Arts Gallery. Conceived in response to the ongoing pandemic, these conversations function as a space to connect working artists and photographers to STCC and the Greater Springfield community covering a wide variety of topics.
The exhibition and associated events are supported in part by the School of Liberal and Professional Studies (LAPS) and the Fine Arts (A.A.) program.
About the Gallery
The Amy H. Carberry Fine Arts Gallery at Springfield Technical Community College features works by artists of local and national repute as well as STCC student work. The gallery is located in Building 28, first floor, on the Pearl Street side of the STCC campus. The gallery is supported in part by funding from the School of Liberal and Professional Studies. Find the Amy H. Carberry Fine Arts Gallery on Facebook or follow on Twitter @STCCArtGallery.
About Springfield Technical Community College
STCC, the Commonwealth's only technical community college, continues the pioneering legacy of the Springfield Armory with comprehensive and technical education in manufacturing, STEM, healthcare, business, social services, and the liberal arts. STCC's highly regarded workforce, certificate, degree, and transfer programs are the most affordable in Springfield and provide unequaled opportunity for the vitality of Western Massachusetts. Founded in 1967, the college – a designated Hispanic Serving Institution – seeks to close achievement gaps among students who traditionally face societal barriers. STCC supports students as they transform their lives through intellectual, cultural, and economic engagement while becoming thoughtful, committed and socially responsible graduates.
MEDIA CONTACT:
Jim Danko, (413) 755-4812, jdanko@stcc.edu