STCC, Bay Path University announce partnership in psychology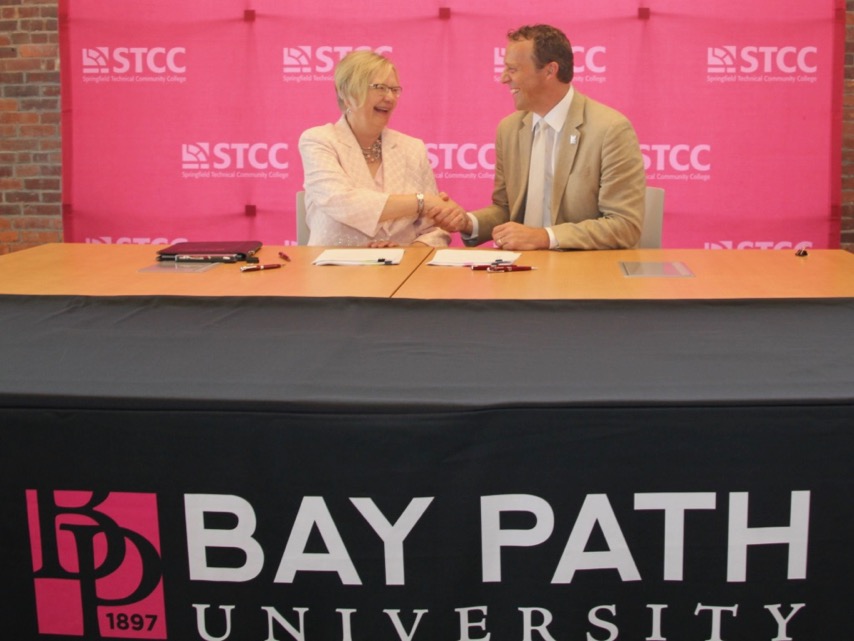 SPRINGFIELD, Mass. – Springfield Technical Community College and Bay Path University have joined together to create seamless pathways to a psychology degree.
In a signing agreement at STCC on Aug. 28, the two institutions formalized a partnership that connects academic programs.
Under one articulation agreement, female students at STCC who receive an associate degree in liberal arts/general studies (applied psychology option) can pursue a bachelor's in psychology from Bay Path, a university in Longmeadow that offers undergraduate degrees for women.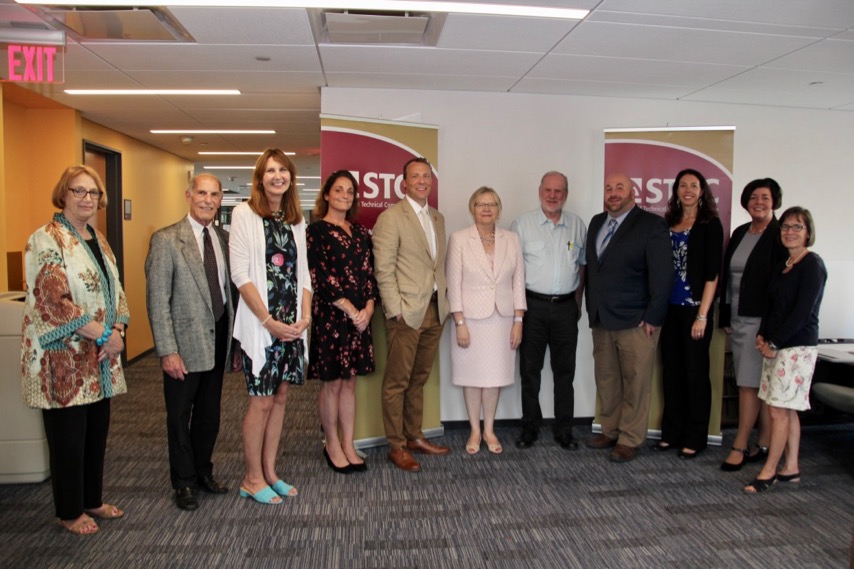 The second articulation agreement creates a pathway for female students at STCC with an associate degree in Liberal Arts Transfer (Human Services/Social Work Option) to pursue a bachelor's in psychology from Bay Path.
The agreements enable the smooth transfer of STCC graduates to either the traditional undergraduate program or The American Women's College of Bay Path University.
Dr. John B. Cook, STCC president, and Dr. Melissa Morriss-Olson, Bay Path University provost, formally signed the agreements after offering remarks at a ceremony.
Cook welcomed attendees and thanked STCC faculty members Louis Gentile and Eric Brown. They created the applied psychology and human services/social work options at STCC.
"When two unique institutions get together to mark the furthering of their partnerships, it's a great day," Cook said.
Students benefit when STCC – the only technical community college in the state – works with an institution like Bay Path, which Cook called "one of the most entrepreneurial institutions in the region."
STCC and Bay Path have agreements in other academic disciplines, including biochemistry, liberal studies and criminal justice. The agreements provide students with an affordable pathway to obtain an bachelor's degree. Students can save money starting at STCC, one of the most affordable higher education institutions in the region.
Morriss-Olson said Bay Path values its partnership with STCC which she said results in more than 100 students who transfer annually in a wide variety of majors.
"We share a common mission beginning with placing students at the center of everything we do and working hard to ensure their success," Morriss-Olson said. "We find STCC transfers to be very well prepared for bachelor's degree completion, and many have continued on to also earn their graduate degree with us. STCC transfers can complete their psychology degree either entirely online through The American Women's College or on campus in Longmeadow, and the program offers the opportunity to participate in innovative experiences such as our paid co-op program with community partner organizations or our seamless pathway to one of several graduate programs."
Interested in applying to STCC? Visit stcc.edu/apply or call Admissions at (413) 755-3333.
About Springfield Technical Community College
Founded in 1967 and located on 35 acres of the Springfield Armory National Historic Site, STCC is a major resource for the economic vitality of Western Massachusetts. As the only technical community college in Massachusetts, STCC, a designated Hispanic Serving Institution, offers a variety of career programs unequalled in the state. STCC's highly regarded transfer programs in business, engineering, liberal arts, science and technology continue to provide the most economical options for students pursuing a four-year degree. With an annual enrollment of about 7,000 day, evening, weekend and online students, STCC is a vibrant campus rich in diversity.
For more information about STCC, visit www.stcc.edu. Follow us on Facebook, Twitter (@S_T_C_C) and Instagram (@stccpics).
About Bay Path University
Bay Path University was founded in 1897. With locations in Longmeadow (main), East Longmeadow (Philip H. Ryan Health Science Center), Springfield (MA), Sturbridge (MA), and Concord (MA), Bay Path's innovative program offerings include traditional undergraduate degrees for women, The American Women's College on-ground and online, the first all-women, all-online accredited bachelor's degree programs in the country; over 30 graduate programs for women and men, including doctorate degrees; and Strategic Alliances, offering professional development courses for individuals and organizations. Bay Path's goal is to give students confidence in the fundamentals of their chosen field, the curiosity to question the ordinary, the leadership to show initiative, and the desire to make a difference.
MEDIA CONTACT:
Jim Danko, (413) 755-4812, jdanko@stcc.edu