STCC Civil Engineering Technology program builds a bridge to an exciting career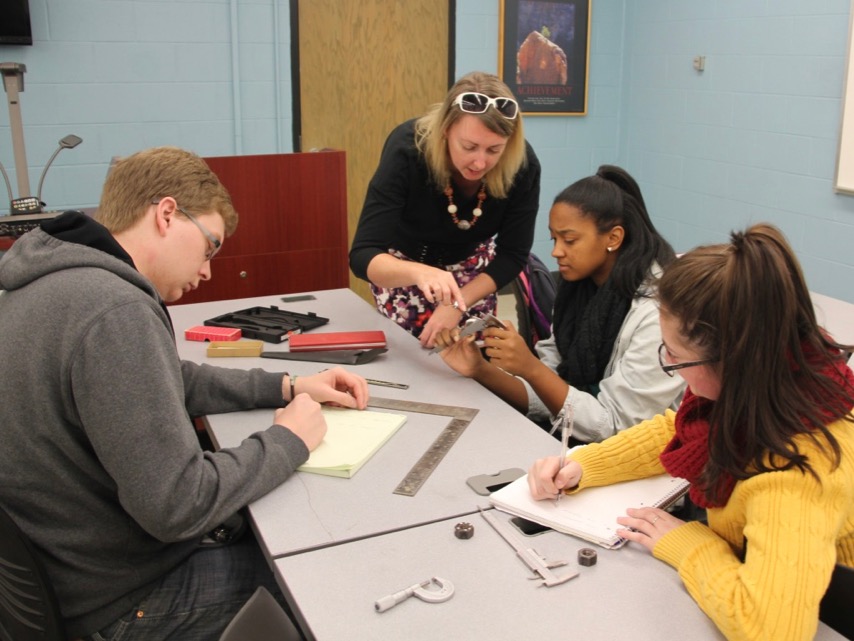 Civil Engineering Technology assistant professor Cynthia DeSellier instructs Aleah Pannell, second from right, and other students in a classroom at STCC.
SPRINGFIELD, Mass. – Civil engineers help to design bridges, roads and other critical infrastructure projects. As Springfield Technical Community College assistant professor Cynthia DeSellier says to her first-year students: "We make civilization possible."
"You turn on the water in your house – a civil engineer made that possible," DeSellier said. "Engineering truly does make civilization possible. Without us, the standard of living we enjoy wouldn't be there."
The Civil Engineering Technology program at STCC prepares students for robust careers as technicians who help civil engineers to plan, design and build highways, bridges, utilities and other infrastructure projects. They play a key role in commercial, industrial, residential and land development projects.
With a two-year associate degree, a Civil Engineering Technology graduate is poised to work in a growing field where the median pay in 2018 was $52,580 per year, according to the Bureau of Labor Statistics. Graduates typically search for jobs in industries such as construction, engineering, planning, design and management.
The bureau projects that jobs for civil engineering technologists will continue to grow over the next several years. "The need to repair, upgrade, and enhance an aging infrastructure will sustain demand for these workers," according to the BLS.
"CET is a hallmark engineering technology program at STCC," said STCC Professor Beth McGinnis-Cavanaugh, an STCC graduate who is chair of the department and earned a master's degree in civil engineering. "The program was founded in 1968 and our graduates have always been in demand. That speaks to the consistency of overall demand and growth in the field. The need to build new infrastructure or upgrade existing infrastructure is constant. Local employers are eager to hire our graduates in a range of civil engineering sectors."
Our graduates have always been in demand. That speaks to the consistency of overall demand and growth in the field. Beth McGinnis-Cavanaugh,

Chair of the Civil Engineering Technology program
First-year students enrolled in STCC's Civil Engineering Technology program will acquire skills in computer-aided design (CAD), construction estimating, and construction materials and methods. In the second year of the program, students will study structures, hydrology, surveying, quality control of materials like concrete, asphalt production and roadway construction.
DeSellier graduated from STCC's CET program in 2000. She went on to receive her bachelor's degree in civil engineering technology from a four-year institution. After working in the field for several years, she joined STCC as an assistant professor. DeSellier was able to combine her passion for civil engineering with her love of teaching.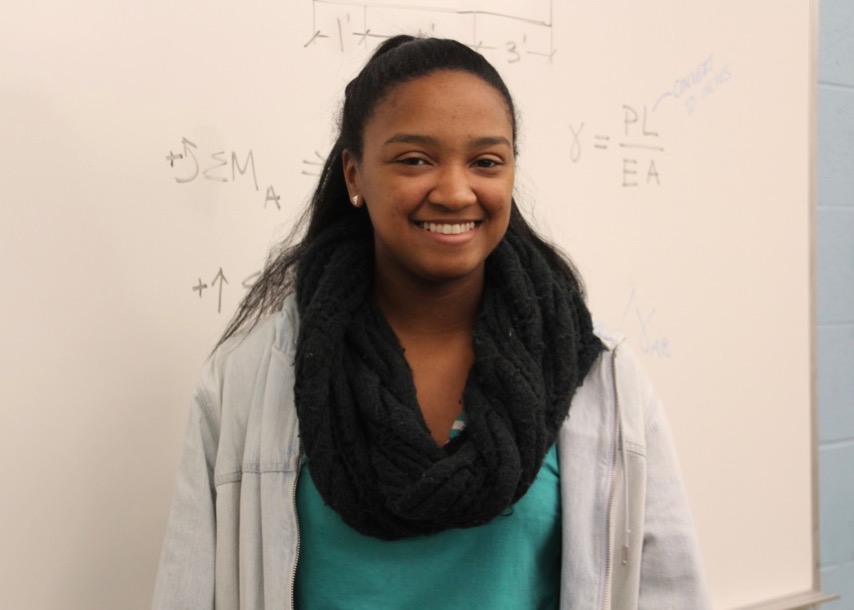 "I went into the Civil Engineering Technology program as a young student at STCC not knowing anything about the field, but I came out with my degree loving it," DeSellier said. "After working as a civil engineer for several years, I started teaching. Civil engineers specialize in areas such as structural analysis, transportation, soils and foundations, water resources, and environmental engineering. Our jobs are extremely important."
While there have been great strides toward gender equality in the workforce, female engineers continue to be underrepresented at companies and in classrooms. According to the Society of Women Engineers, only 13 percent of working engineers are women and only 3.7 percent of female college freshmen plan to major in engineering. Latinos and African-Americans make up about 12 percent of the engineering workforce, according to U.S. News & World Report.
McGinnis-Cavanaugh, who is the faculty advisor for the Society of Women Engineers, said the college would like to see more overall diversity in the classroom and in the field.
"We have several women teaching engineering at STCC, which is terrific," McGinnis-Cavanaugh said. "There's a misconception that civil engineering is a man's field, but that's not the case. Women successfully manage large construction and engineering projects and make significant contributions to the planning, design, construction, and sustainability of buildings, bridges, dams, water and wastewater facilities, and road and highway systems.
"The work of the civil engineer helps society by ensuring clean water, safe structures, and innovative transportation systems, among other civil works," McGinnis-Cavanaugh added. "Women who enter this field are passionate about helping society and applying their knowledge and training to improve the quality of life for all. I would love to see more women and people of color enrolled in the civil engineering technology program. It's important to bring diverse backgrounds to the field to offer different perspectives and better solutions to critical infrastructure and sustainability problems."
Aleah Pannell, who graduated from STCC in May, said she was sometimes the only woman in a class. Pannell said women should not feel intimidated by engineering or any science majors.
"Some other programs might be easier than engineering, but I like the challenge," Pannell said. "I would say to any woman – or anybody – take the chance. At the end of it, you will be able to say you accomplished something that was challenging."
For more information about the Civil Engineering Technology program, please contact Professor Beth McGinnis-Cavanaugh at bmcginnis-cavanaugh@stcc.edu or call (413) 755-4591. To apply, visit stcc.edu/apply or call Admissions at (413) 755-3333. There's still time to apply for the spring semester, which starts Jan. 21.
About Springfield Technical Community College
Founded in 1967 and located on 35 acres of the Springfield Armory National Historic Site, STCC is a major resource for the economic vitality of Western Massachusetts. As the only technical community college in Massachusetts, STCC offers a variety of career programs unequalled in the state. STCC's highly regarded transfer programs in business, advanced manufacturing, healthcare, liberal arts, and STEM fields continue to provide the most affordable options for students pursuing a four-year degree. With an annual enrollment of about 7,000 day, evening, weekend, and online students, STCC is a vibrant campus rich in diversity.
For more information about STCC, visit www.stcc.edu. Follow us on Facebook, Twitter (@S_T_C_C) and Instagram (@stccpics).
MEDIA CONTACT:
Jim Danko, jdanko@stcc.edu, (413) 755-4812