STCC Class of 2019 graduates celebrated at Commencement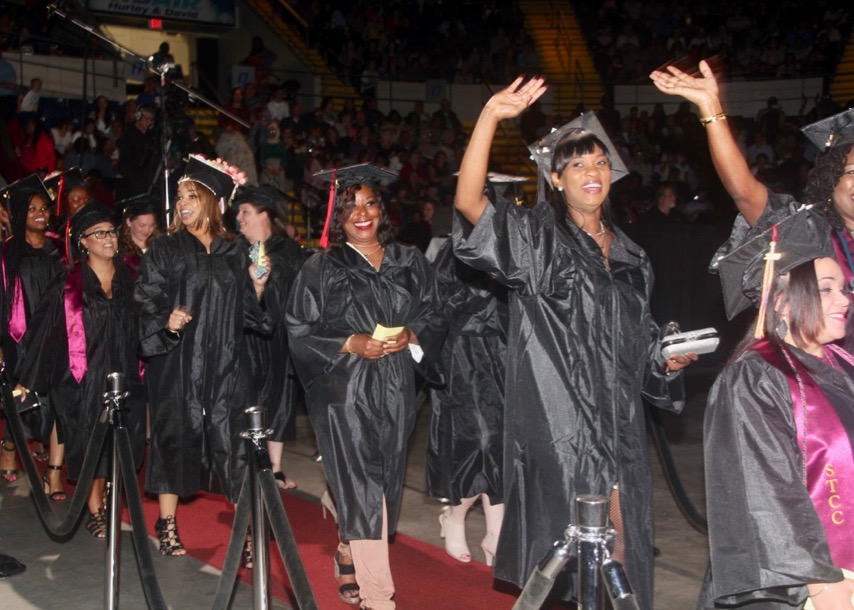 STCC graduates wave as they enter the MassMutual arena at the start of the 2019 Commencement Ceremony on May 30.
SPRINGFIELD, Mass. – Springfield Technical Community College held its 52nd Commencement Ceremony on May 30 at the MassMutual Center, where approximately 965 students in the Class of 2019 received diplomas or certificates.
Welcoming the class, Dr. John B. Cook, president of STCC, noted that many of the graduates put in long hours working jobs and raising children while pursuing their associate degrees or certificates.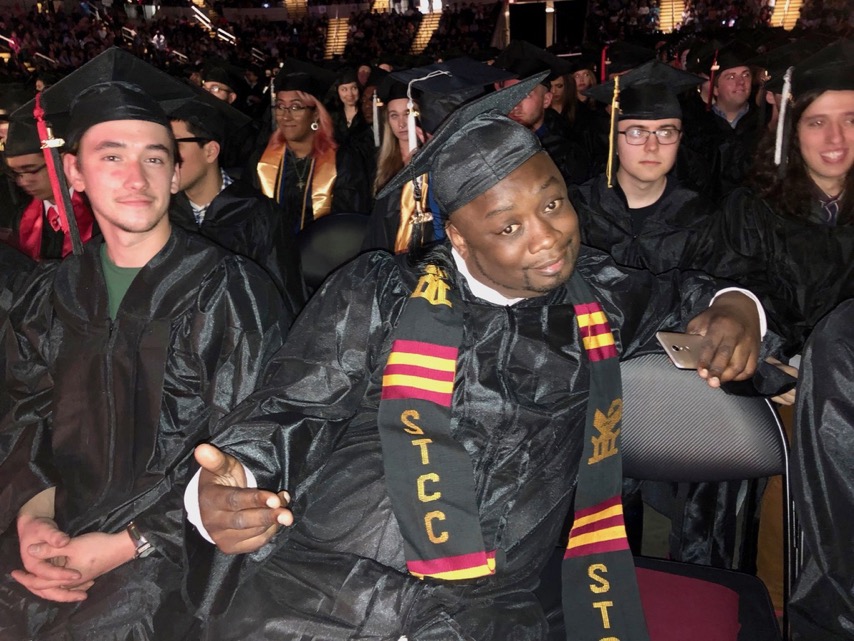 "To the class of 2019, please note that we are very proud of you, proud of your determination, your will and the hard work you have invested to arrive here tonight after two years – and for many of you, after four, five, six years of persistence," Cook said. "Your effort is a credit to this institution."
Dr. Geraldine de Berly, vice president of Academic Affairs at STCC, presided over the ceremony. After the presentation of the Colors by the Roger L. Putnam Vocational-Technical Academy Junior Reserve Officers' Training Corp (JROTC) and the playing of the National Anthem by Coffee House Brass, de Berly asked the audience to recognize the 52 graduates who are veterans.
She also highlighted the student families who have provided support to help them graduate from STCC.
"The support they provided has in most cases made all the difference," de Berly said.
The Class of 2019 at STCC included graduates ranging in age from 18 years old to 74 years old. About one-half of the students graduating are older than 26. Of those graduating, 57 percent of the graduates are women; 43 percent of the graduates are men. This year's class reflects the diversity at STCC. Fifty-two percent of the graduates are white; 23 percent are Hispanic; 14 percent are black; 11 percent identify as coming from other backgrounds.
If I can do it anyone can … and that's the beauty of STCC. Erica A. Keeley,

STCC graduate
Graduate Karolyn M. Burgos Toribio, of Springfield, offered an invocation. She recited John Lennon's "Imagine."
Student speaker Erica A. Keeley, of Hampden, said she is following her dream to become a nurse. Her journey has not been easy, she noted.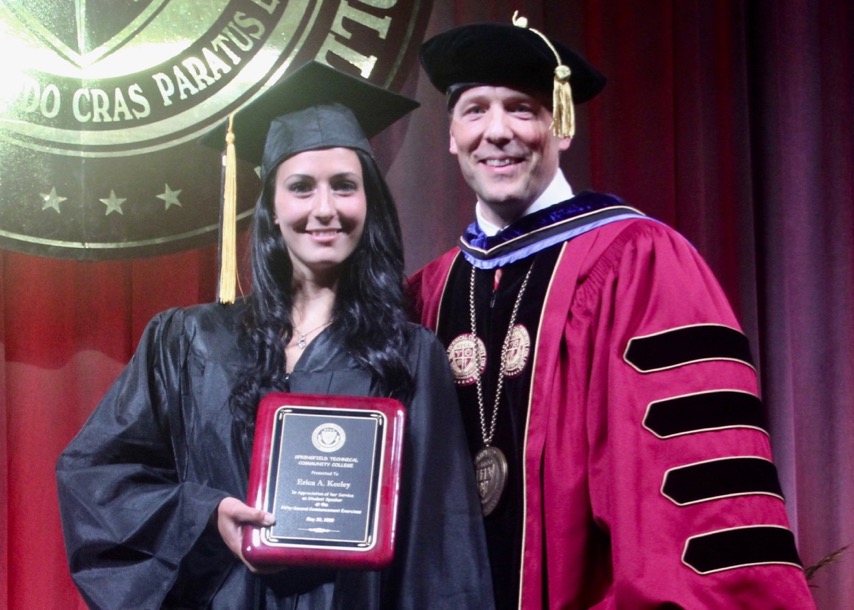 "I didn't graduate from high school. I left during my senior year and prioritized work over my education so I could have the independence most teenagers crave," she said. "I got a GED and left college on the back burner. When my mother died unexpectedly in 2016 it was a wake-up call that reminded me how short life is. I knew it was time to follow my dreams and become the woman my mother already thought I was."
Keeley enrolled at STCC with the goal of earning a nursing degree. "If I can do it anyone can … and that's the beauty of STCC. You don't have to come from a wealthy family … or have been valedictorian of your high school to be successful here," she said.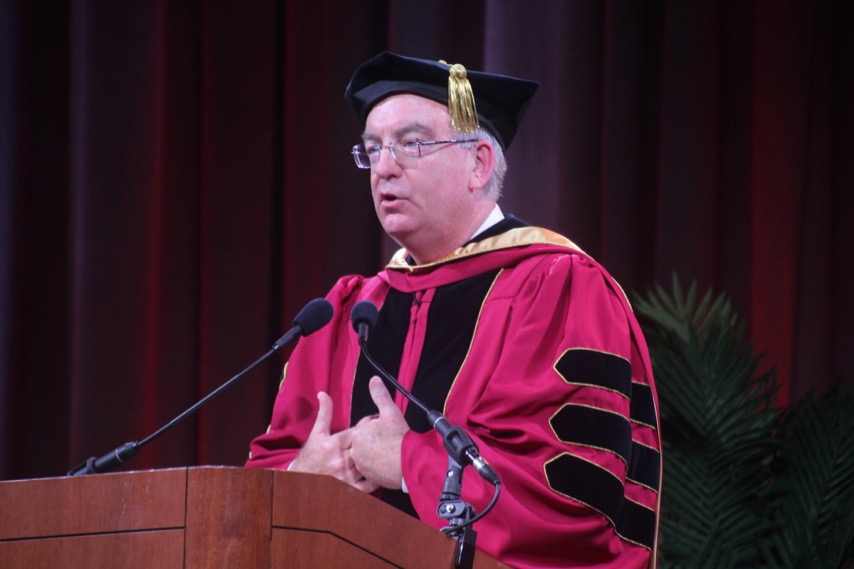 Commencement speaker Christopher C. Johnson, chair of the STCC Board of Trustees, asked the graduates to remember the support they received along their journey.
"Many of you have overcome great obstacles to earn your degree or certificate tonight," said Johnson, a lawyer who serves as president of Agawam City Council.
"If you really think about it, you will remember someone who helped you, not because they had to, not because they were related to you, but because they wanted to," Johnson said. "You need to pay those acts of kindness forward and take every opportunity that you can to give back."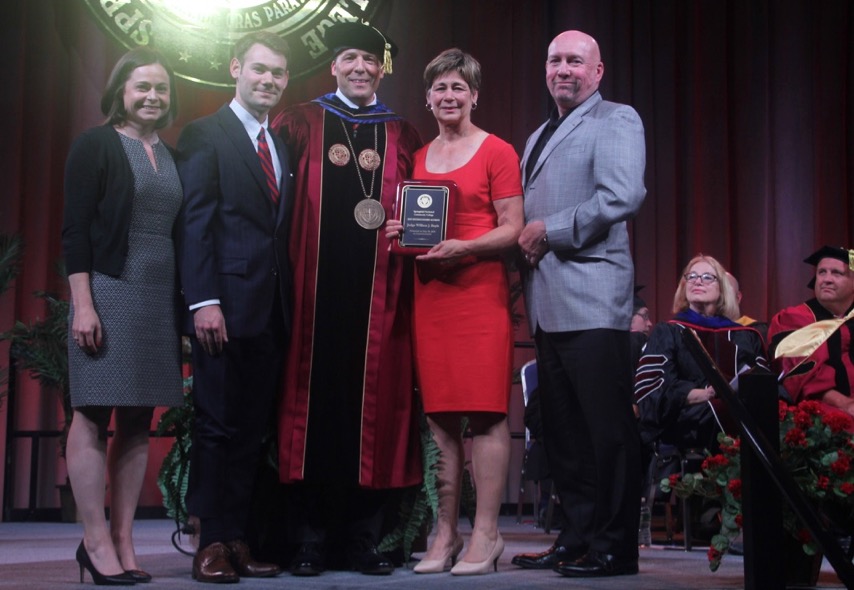 President Cook thanked Johnson for his service to STCC. He finishes his term as Trustee this year.
Cook presented the Distinguished Alumni Award to William J. Boyle (STCC Class of 1976), a retired judge and pillar of the Greater Springfield Community. His family accepted the award on his behalf.
Cook recognized eight graduates who maintained a perfect 4.0 and received the Outstanding Academic Achievement Award.
Student Mohamed Gabriel, of West Springfield, presented the class gift – funds for artwork to be installed in the Ira H. Rubenzahl Student Learning Commons.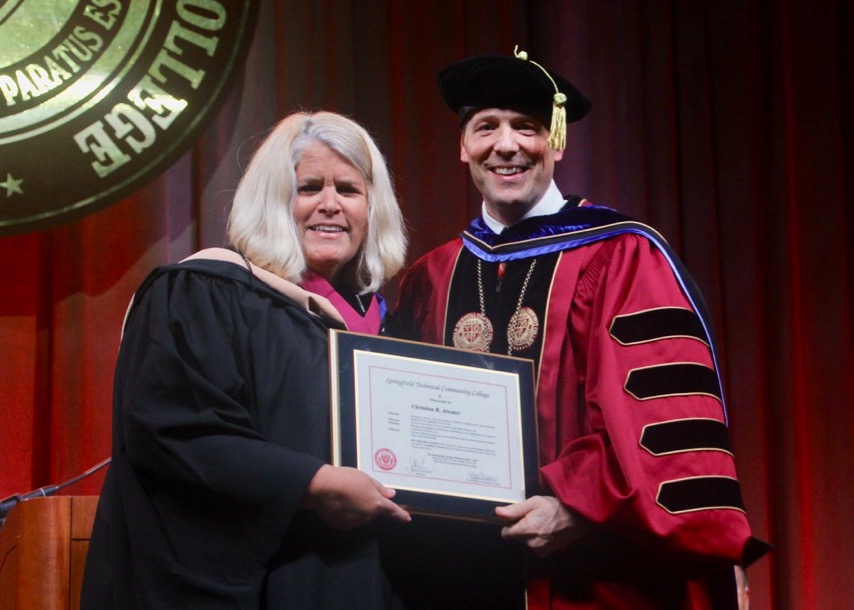 STCC Associate Professor of Business Administration Christina Atwater, of East Longmeadow, received Faculty of the Year Award.
"She brings life to her classrooms and engages each of her students and through active learning, projects and discussions," Cook said.
The ceremony concluded with the conferral of associate degrees and certificates in over 95 different areas of study.
Visit www.stcc.edu/commencement-ceremony/ to watch a video of the complete Commencement ceremony.
Interested in applying to STCC? Visit stcc.edu/apply or call Admissions at (413) 755-3333.
About Springfield Technical Community College
Founded in 1967 and located on 35 acres of the Springfield Armory National Historic Site, STCC is a major resource for the economic vitality of Western Massachusetts. As the only technical community college in Massachusetts, STCC, a designated Hispanic Serving Institution and an Achieving the Dream Leader College, offers a variety of career programs unequalled in the state. STCC's highly regarded transfer programs in business, engineering, liberal arts, science and technology continue to provide the most economical options for students pursuing a four-year degree. With an annual enrollment of more than 6,400 day, evening, weekend and online students, STCC is a vibrant campus rich in diversity.
For more information about STCC, visit www.stcc.edu. Follow us on Facebook, Twitter (@S_T_C_C) and Instagram (@stccpics).