STCC College Theater Workshop to stage 'Alice's Adventures in Wonderland'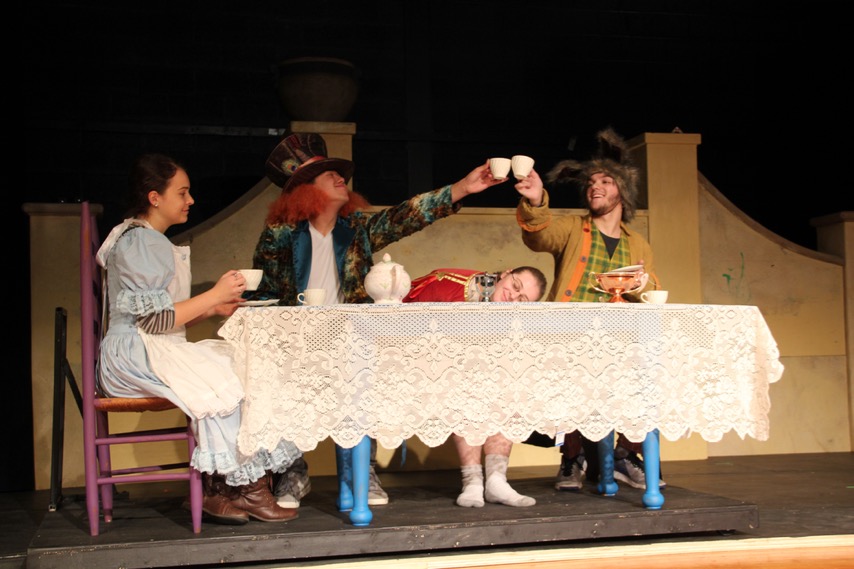 SPRINGFIELD, Mass. – Curious creatures and quizzical conversations will fill the stage at Springfield Technical Community College's Theater in Scibelli Hall for a production of one of the most imaginative tales ever written, "Alice's Adventures in Wonderland."
Theater workshop students will present the play during a four-day run, Dec. 8-Dec. 12. Performances are as follows:
Thursday, Dec. 8, 11 a.m.
Friday, Dec. 9, 7 p.m.
Saturday, Dec. 10, 2 p.m.
Monday, Dec. 12, 1 p.m.
General admission tickets are available at the door: $10 (adults) and $5 (students).
"This visually exciting production combines the best moments and characters from both of Lewis Carroll's 'Alice in Wonderland' and 'Through the Looking Glass,'" said director Greg Trochlil, an assistant professor of English and Theater. "Our student cast of 12 brings to life over 30 of your favorite characters from throughout the magical world of Wonderland."
"Alice's Adventures in Wonderland," a story by Lewis Carroll, is adapted by playwright Deborah Lynn Frockt.
About 'Alice's Adventures in Wonderland'
One afternoon, young Alice curiously steps into the portrait that is being painted of her. She is transported into a wondrous world that is home to all manner of curious creatures. As Alice tries to make sense of this world of grown-up nonsense, she meets the Cheshire Cat, the Mad Hatter, Humpty Dumpty, the Tweedles, the Gryphon, the Mock Turtle, and, of course, the infamous Queen of Hearts.
Carroll's novel, "Alice's Adventures in Wonderland," was published in November 1865 and has become one of the best-selling stories of all time. A sequel, "Through the Looking Glass, and What Alice Found There," was published in 1871.
The play is family friendly, but because of the length of the show, the production is not recommended for children under 5 years old.
The cast includes Dagmara M. Bragiel as Alice; Kody L. Williams as White Rabbit and Painter; Theodore K. Woolsey as Caterpillar, Mock Turtle and White Knight; Johanna Dela Rosa as Dodo, Duchess and Gryphon; Cage Sagan as Cheshire Cat and March Hare; Leianne "Annie" Misischia as Mouse, Rose, Tweedledee, Humpty and Knave #1; Sarah H. Tuttle as the Lory, a Flower, Tweedledum, Dormouse and Sea Creature; Jordan P. Ross as Duck, Royal Painter, Mad Hatter and King; Cynthia Claudio as Cook, Gryphon and Queen; Max Godlew as Sea Creature and Knave #2; and Kiera Williams as Tiger Lily.
Dalton Drummond is the stage manager. Max Godlew is the assistant stage manager and Sarah H. Tuttle is assistant to the director.
About Springfield Technical Community College
Founded in 1967 and located on 35 acres of the Springfield Armory National Historic Site, STCC is a major resource for the economic vitality of Western Massachusetts. As the only technical community college in Massachusetts, STCC, an Achieving the Dream Leader College, offers a variety of career programs unequalled in the state. STCC's highly regarded transfer programs in business, engineering, liberal arts, science and technology continue to provide the most economical options for students pursuing a four-year degree. With an annual enrollment of more than 8,500 day, evening, weekend and online students, STCC is a vibrant campus rich in diversity.
For more information about STCC, visit www.stcc.edu. Follow us on Facebook and Twitter (@S_T_C_C).
Media Contact: Jim Danko, Coordinator of Media Relations, (413) 755-4812, jdanko@stcc.edu