STCC College Theatre Workshop to stage 'Motherhood Out Loud' in May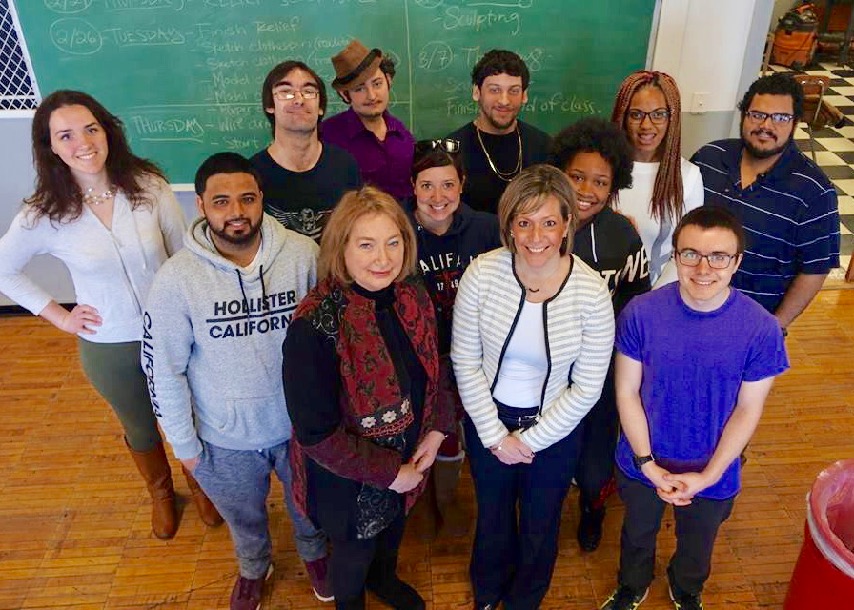 The May 4 performance of "Motherhood Out Loud" is a benefit for Square One, a family-support group. Kristine Allard, of Square One, front center, joins STCC Vice President of Academic Affairs Geraldine de Berly, front left, and the College Theatre Workshop, which is staging "Motherhood Out Loud" in May.
SPRINGFIELD, Mass. – For its spring production, the College Theatre Workshop at Springfield Technical Community College will bring to the stage a play that explores the joys and challenges of raising children.
Directed by theater professor Phil O'Donoghue, "Motherhood Out Loud" is a collection of short scenes and monologues written by leading playwrights.
As described in the "Motherhood Out Loud" website, the play "shatters traditional notions about parenthood, unveils its inherent comedy and celebrates the deeply personal truths that span and unite generations."
Dates and times:
Thursday, May 2, 11 a.m.
Friday, May 3, 7 p.m.
Saturday, May 4, 7 p.m.
Venue:
Scibelli Theater (Building 2), Springfield Technical Community College
Ticket prices:
$8 (adults); $5 (students and seniors)
To purchase tickets online in advance, click here. Any remaining tickets also will be available at the door.
All proceeds from the Friday night performance will go to Square One, a Springfield organization that provides a range of family-friendly education and support services.
"We are so fortunate to be a part of a community that believes in our mission and looks for creative ways to support the children and families we serve," says Kristine Allard, chief development and communications officer at Square One. "We are truly grateful to our friends at STCC for understanding Square One's vision and choosing to support our work."
For more information, please contact Cynthia Claudio at cclaudio@stcc.edu, or Phil O'Donoghue at pcodonoghue@stcc.edu, or (413) 755-4233.
About Springfield Technical Community College
Founded in 1967 and located on 35 acres of the Springfield Armory National Historic Site, STCC is a major resource for the economic vitality of Western Massachusetts. As the only technical community college in Massachusetts, STCC, a designated Hispanic Serving Institution and an Achieving the Dream Leader College, offers a variety of career programs unequalled in the state. STCC's highly regarded transfer programs in business, engineering, liberal arts, science and technology continue to provide the most economical options for students pursuing a four-year degree. With an annual enrollment of more than 5,000 day, evening, weekend and online students, STCC is a vibrant campus rich in diversity.
For more information about STCC, visit www.stcc.edu. Follow us on Facebook, Twitter (@S_T_C_C) and Instagram (@stccpics).
MEDIA CONTACT:
Jim Danko, jdanko@stcc.edu, (413) 755-4812