STCC, Commerce form partnership for early college initiative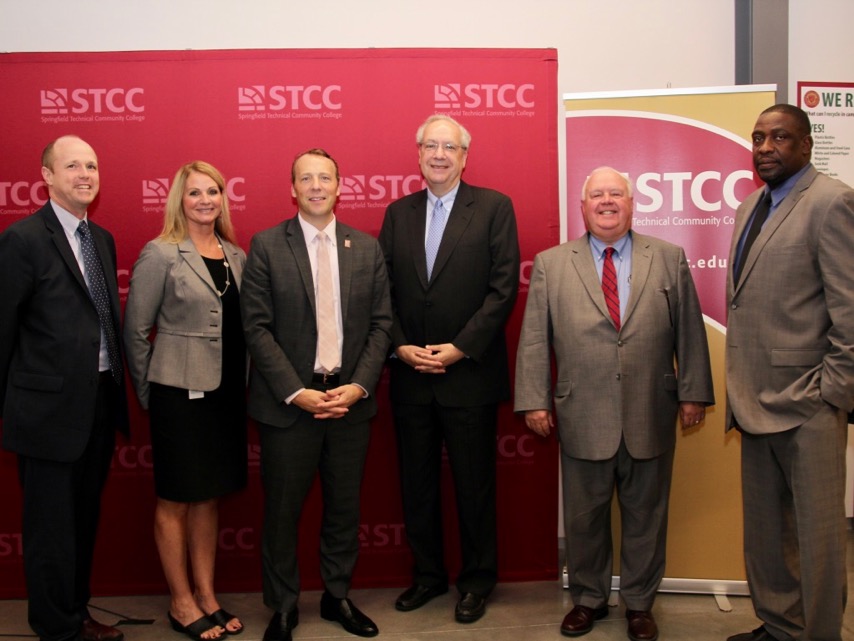 From left, Matthew Brunell and Colleen Beaudoin, co-executive directors, Springfield Empowerment Zone Partnership; John B. Cook, STCC president; Chris Gabrieli, chair, Massachusetts Board of Higher Education; Daniel J. Warwick, Springfield Public Schools superintendent; and Paul Neal, executive principal, High School of Commerce.
SPRINGFIELD, Mass. – Under a new agreement with Springfield Technical Community College, students at Springfield High School of Commerce will be able to take courses at STCC and earn up to 20 college credits at no cost to them.
The Early College initiative allows high school students to explore high-need career pathways, avoid student loan debt and ultimately complete a college degree more quickly. STCC is one of the most affordable higher education institutions in the region, and early college initiatives help students save even more money.
In a ceremony Tuesday announcing the partnership, STCC President John B. Cook said the innovative initiative will further empower students to transform their lives.
"Our vision at STCC, and the opportunity from Early College, is to be a dynamic, multicultural learning community where students grow in character, intellect and self-confidence," Cook said. "Early College Commerce provides a significant contribution to education innovation."
Commerce is across the street from STCC, which means high school students can easily get to the campus for college classes.
Cook said Early College is more than a dual enrollment program: It's an opportunity for Commerce students to see themselves as STCC students. High school students can choose career pathways that mirror labor needs in the region. They include the following programs at STCC:
Computer and IT security
Human services/social work
Health science
Digital/graphic/multimedia design
Business administration
Criminal justice
The early college initiative also includes "non-credit" workforce training options.
The memorandum of understanding between STCC and the Springfield Empowerment Zone Partnership (SEZP) was effective Sept. 3.
"In redesigning Commerce, we heard from the Springfield community – loud and clear – a desire for our high school to ready students for a future of purpose and promise. Aligned with that same vision, STCC will be a tremendous help to our students in realizing that future," said Matt Brunell, co-executive director of SEZP. "We are deeply grateful for President Cook's leadership and the entire STCC team's commitment to turning this possibility of deep partnership into a reality."
Students in the program will begin with career exploration activities in the ninth grade at Commerce to get ready for 10th-grade opportunities on the STCC campus.
Our vision at STCC, and the opportunity from Early College, is to be a dynamic, multicultural learning community where students grow in character, intellect and self-confidence. Early College Commerce provides a significant contribution to education innovation. John B. Cook,

President of STCC
Early College-Commerce at STCC starts with a 1-credit course for students in 10th grade. Called First Year Experience, the course is designed to provide clarity about college success while also allowing students to consider available programs that direct them to specific careers. The first group of Commerce students will begin this spring.
In 11th grade, students will take six credits (two courses over two semesters) and begin to focus on program pathways.
In 12th grade, students will pursue additional pathway coursework at STCC by taking up to 12 credits during the academic year (four courses over two semesters).
Students can earn up to 20 credits, which represents about one-third of the credits needed to earn an associate degree at STCC. Students seeking certificates from STCC will also make certificate progress while in high school.
Students will need to take the courses, training and programs on the STCC campus. STCC faculty will teach the classes. Currently 35 high schools and 18 colleges have created early college programs together, according to the Executive Office of Education (EOE).
Massachusetts Secretary of Education James Peyser said early college requires intense partnerships between a school district and a college.
"We appreciate the hard work and commitment that STCC and Springfield Commerce High School have shown to students by creating an early college program. As Early College expands, the commonwealth will see stronger pipelines of students ready to enroll and succeed in college," Peyser said. "With the credits they earn while still in high school, students will be able to reduce the overall burden of college costs."
Board of Higher Education Chair Chris Gabrieli said Early College is a top initiative. "We don't yet do well enough in helping those who grow up here, especially those who are in our most challenged communities, to get the kind of opportunities they need to succeed," he said. "Early College represents a way to think of this problem in a different way."
Early College programs boosts college completion rates for low-income students, minority and first-generation college-goers. These programs serve more than 2,400 students, 55 percent of whom are low-income, according to EOE.
The American Institutes for Research found that early college significantly reduces the opportunity gap between low-income and higher income students and closes the achievement gap between minority students and non-minority students.
Other speakers included Commerce's Executive Principal Paul Neal and Springfield Public Schools Superintendent Daniel J. Warwick.
"I'm excited about this partnership. I'd like to thank Dr. Cook and everyone who did this wonderful work," Neal said. "It gives me an opportunity to say to my students, 'This is what college is about. This is why you need to do the things we're asking you to do at school, and this is where it can lead to. Early College will provide pathways to better opportunities."
About Springfield Technical Community College
Founded in 1967 and located on 35 acres of the Springfield Armory National Historic Site, STCC is a major resource for the economic vitality of Western Massachusetts. As the only technical community college in Massachusetts, STCC, a designated Hispanic Serving Institution, offers a variety of career programs unequalled in the state. STCC's highly regarded transfer programs in business, engineering, liberal arts, science and technology continue to provide the most economical options for students pursuing a four-year degree. With an annual enrollment of about 7,000 day, evening, weekend and online students, STCC is a vibrant campus rich in diversity.
For more information about STCC, visit www.stcc.edu. Follow us on Facebook, Twitter (@S_T_C_C) and Instagram (@stccpics).
MEDIA CONTACT:
Jim Danko, (413) 755-4812, jdanko@stcc.edu