STCC Dental Hygiene Clinic extends free treatment through April
SPRINGFIELD, Mass. – Springfield Technical Community College's Dental Hygiene Clinic will continue to offer free preventative treatment for children and adults through April.
The clinic on the campus of STCC started offering free treatment in February. STCC usually charges a nominal fee for services, but the college decided to waive fees to help the community, many of whom are facing financial hardship during the COVID-19 pandemic.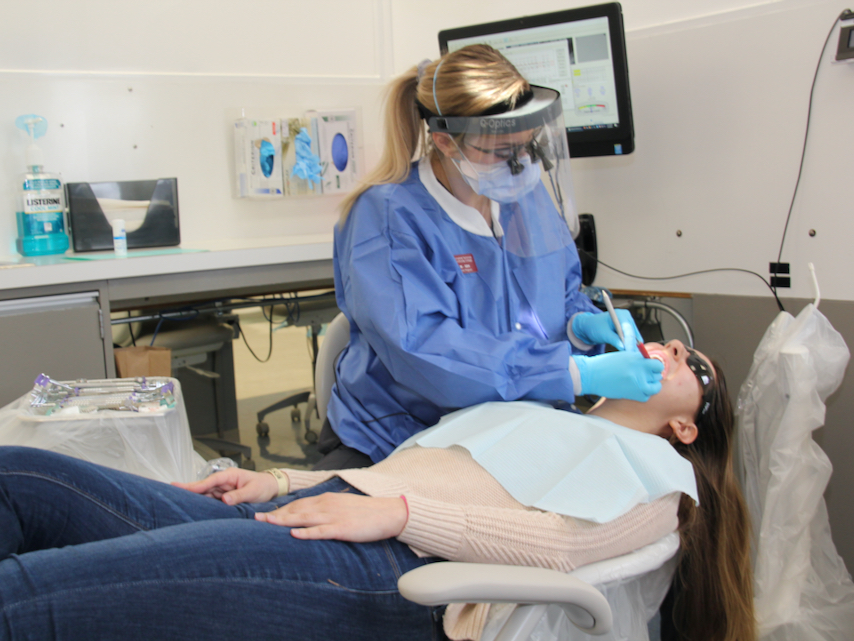 Under the direction of licensed dental hygienists and dentists, STCC dental hygiene students treat patients at the clinic. They provide a range of services, including scaling and prophylaxis (teeth cleaning), X-rays if needed, fluoride treatments and dental sealants for children.
The clinic, which is open Monday through Friday, is accepting appointments starting at 8 a.m. The clinic closes at 4 p.m.
Dental hygiene student Lauren Willhoite of Southampton said the clinic presents an opportunity for her to get experience and to help the community.
"Patients don't need insurance to get a cleaning here, so a lot of patients who can't see the dentist because it's too expensive or they can't get insurance can come see us. It's a lot more affordable here, and our doctors are great," Willhoite said.
The clinic adheres to strict safety guidelines during the COVID-19 pandemic. The college has temporarily suspended any aerosol generating procedures (namely, ultrasonic scalers and polishing teeth) from treatment options. In certain cases, under direction of a faculty member, such treatment might be allowed using devices that eliminate 93 percent of aerosols.
Patients don't need insurance to get a cleaning here, so a lot of patients who can't see the dentist because it's too expensive or they can't get insurance can come see us. Lauren Willhoite,

STCC Dental Hygiene Student
The college has limited the number of people who can gather in the clinic and labs to allow for social distancing.
Both students and faculty wear masks and face shields. All dental hygiene students, faculty and staff are scheduling appointments to be vaccinated.
Anyone who enters Building 20, where the clinic is located, must complete an attestation form and answer questions about any recent travel outside of Massachusetts and if they have experienced any symptoms related to COVID-19 or have been exposed to anyone experiencing symptoms. Staff also will check temperatures of people entering the building.
To schedule an appointment, call (413) 755-4900. For more information, visit stcc.edu/dental.
Watch a video about the clinic at stcc.io/dental.
About Springfield Technical Community College
STCC, the Commonwealth's only technical community college, continues the pioneering legacy of the Springfield Armory with comprehensive and technical education in manufacturing, STEM, healthcare, business, social services, and the liberal arts. STCC's highly regarded workforce, certificate, degree, and transfer programs are the most affordable in Springfield and provide unequalled opportunity for the vitality of Western Massachusetts. Founded in 1967, the college – a designated Hispanic Serving Institution – seeks to close achievement gaps among students who traditionally face societal barriers. STCC supports students as they transform their lives through intellectual, cultural, and economic engagement while becoming thoughtful, committed and socially responsible graduates.
MEDIA CONTACT:
Jim Danko, (413) 755-4812, jdanko@stcc.edu