STCC Diversity Series to feature acclaimed harpist Brandee Younger on Feb. 2
SPRINGFIELD, Mass. – Springfield Technical Community College's Diversity Series on Feb. 2 features a concert by Brandee Younger, who has been described by The New York Times as "a harpist of rare prominence in jazz."
Younger, a classically trained musician, will perform in the Scibelli Hall Theater at 11 a.m. The free event is open to the public.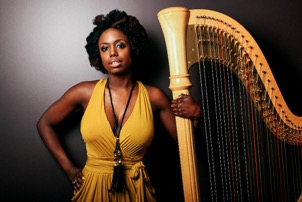 According to Younger's website, she "delivers a consistently fresh take on the ancient instrument as an educator, concert curator, performer and leader of the Brandee Younger Jazz Harp Quartet." At STCC, she will perform with a quintet.
Younger has performed with a number of jazz musicians, hip-hop artists and R&B titans, including Ravi Coltrane, Pharoah Sanders, Jack Dejohnette, Reggie Workman, Common, John Legend and Lauryn Hill.
"Ms. Younger's sleek, assured new album luxuriates in groove," according to a New York Times article.
The spring Diversity Series, sponsored by PeoplesBank, African-American Point of View and STCC Black Professionals Group, will kick off Feb. 1 at noon with the Cecelia Gross Memorial Flag Raising. The flag-raising, held at Garvey Hall Flag Circle, marks the opening ceremony for the celebration of Black History Month in February. Other Black History Month events at STCC include:
Spoken word artists Michael "Chief" Peterson and Prentice Powell, Feb. 9, 11 a.m., at the Scibelli Hall Gym.
Soul Food and Jazz Luncheon, Feb. 23, 11:30 a.m., at the Scibelli Hall Gym. The cost is $5.
The Diversity Series at STCC celebrates Jazz Appreciation Month in April. The following events are scheduled:
Jazz artist Marcus Johnson, April 6, 11 a.m. and 6 p.m. (two performances), at the Scibelli Hall Gym.
Willie Hill & Friends (jazz history and appreciation), April 13, 11 a.m. at the Scibelli Hall Gym.
Other free Diversity Series events this spring at STCC include:
Author, comedian and professor of psychology Kevin Nadal, April 25, 11 a.m. at Scibelli Hall Top of the City Conference Room, 701-702.
For more details about the upcoming events, please visit STCC's campus events calendar.
About Springfield Technical Community College
Founded in 1967 and located on 35 acres of the Springfield Armory National Historic Site, STCC is a major resource for the economic vitality of Western Massachusetts. As the only technical community college in Massachusetts, STCC, an Achieving the Dream Leader College, offers a variety of career programs unequalled in the state. STCC's highly regarded transfer programs in business, engineering, liberal arts, science and technology continue to provide the most economical options for students pursuing a four-year degree. With an annual enrollment of more than 8,500 day, evening, weekend and online students, STCC is a vibrant campus rich in diversity.
For more information about STCC, visit www.stcc.edu. Follow us on Facebook and Twitter (@S_T_C_C).
Media Contact:
Jim Danko, coordinator of media relations
(413) 755-4812, jdanko@stcc.edu