STCC Electrical Engineering Technology students design machines to demonstrate their skills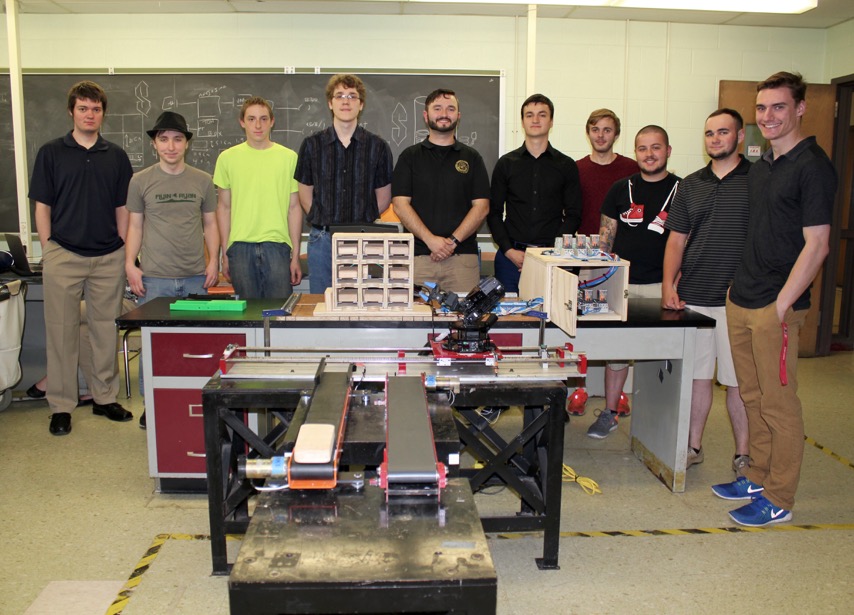 SPRINGFIELD, Mass. – What do a trail mix vending machine, a warehouse stocking and retrieval system, and a centrifuge for cleaning waste oil have in common?
They all were end-of-the-year projects for Electrical Engineering Technology students at Springfield Technical Community College. The graduating class demonstrated their machines on May 18.
Students used skills they learned from the courses they took in the two-year associate degree program. They worked on the advanced automation projects throughout the spring 2017 semester.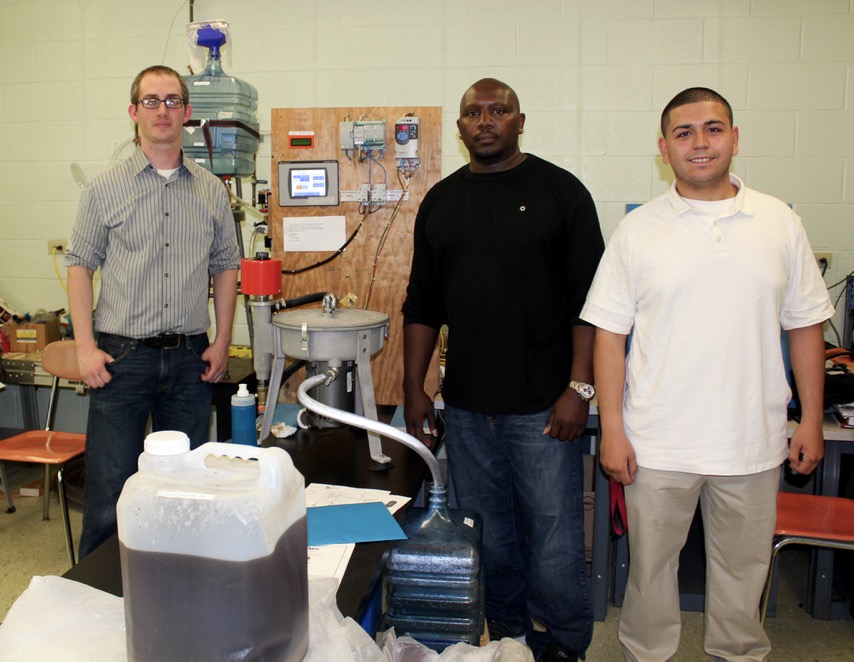 "They do most of the design work. They have to do the integration, the programming, the wiring," said Professor Rick Jagodowski, chair of the Electrical Engineering Technology Department. "They bring all their skills to the table. What they did was pretty ambitious. I'm proud of all of them."
Students worked in teams to choose, design, build, troubleshoot and ultimately demonstrate a project that involves automated control of an industrial, commercial or residential process, Jagodowski said. The students were required to use a programmable logic controller (PLC), which is computer optimized to control an industrial process. In addition, students had to include a touch screen to control the process.
Student James Lynch of Monson was part of a group of four students who worked on a PLC controlled centrifuge for cleaning waste oil. His group's goal was to investigate an automated way to reclaim waste vegetable oil to use as a biofuel.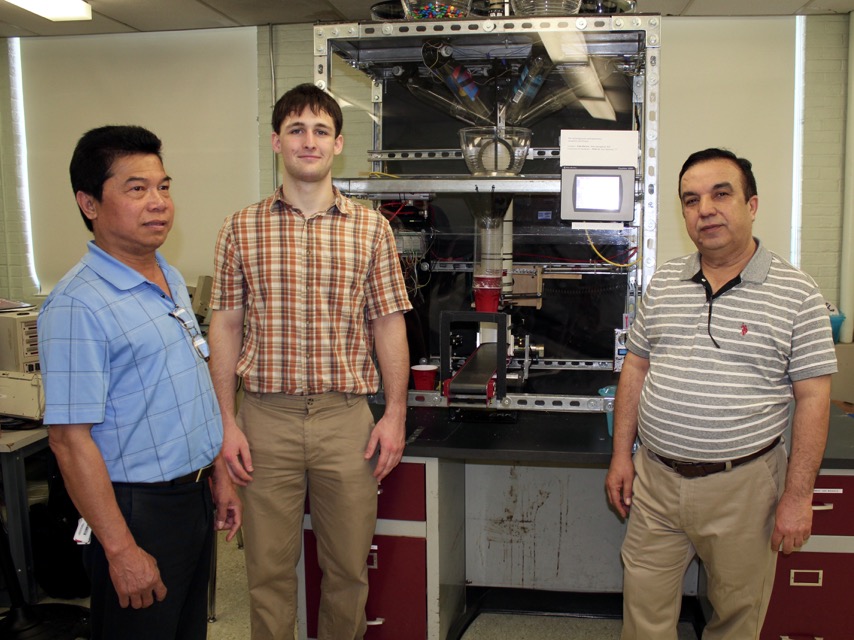 "We just automated the whole process, so instead of having to turn valves and take measurements, the computers monitor everything," Lynch said.
Other projects included a warehouse stocking and retrieval system developed by a team of 10 students. Their system was set up to accept an item from an incoming conveyor belt. A robotic arm was used to place the item in a designated storage location. The students' goal was to simulate the operation of a modern automated warehouse distribution center.
Eight students developed the third project, an automated trail mix vending machine. The user could choose from three sizes and then select up to five different items in 2-ounce increments of trail mix. The vending machine included a functional coin acceptor unit. The touch screen even included an allergy warning for those with nut allergies. The students' goal was to investigate the operation of an automated food service system.
Interested in enrolling in the Electrical Engineering Technology program at STCC? Apply to STCC. Contact STCC Admissions at (413) 755-3333 or visit stcc.edu/apply.
To see a video of the students demonstrating their projects, visit STCC's YouTube channel.

About Springfield Technical Community College
Founded in 1967 and located on 35 acres of the Springfield Armory National Historic Site, STCC is a major resource for the economic vitality of Western Massachusetts. As the only technical community college in Massachusetts, STCC, an Achieving the Dream Leader College, offers a variety of career programs unequalled in the state. STCC's highly regarded transfer programs in business, engineering, liberal arts, science and technology continue to provide the most economical options for students pursuing a four-year degree. With an annual enrollment of more than 8,500 day, evening, weekend and online students, STCC is a vibrant campus rich in diversity.
For more information about STCC, visit www.stcc.edu. Follow us on Facebook and Twitter (@S_T_C_C).
Media Contact:
Jim Danko, (413) 755-4812, jdanko@stcc.edu