STCC grad works at improving the lives of Western Mass. seniors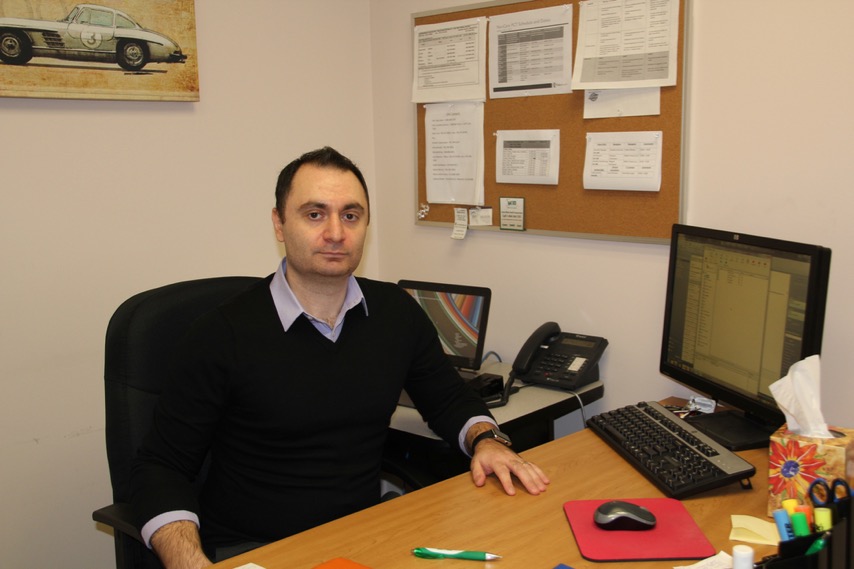 SPRINGFIELD, Mass. – Armen Tumasyan moved to Western Massachusetts from Ukraine in 1997 knowing little English, but he refused to let that stop him from pursuing his dreams.
"I was 16 years old. I still remember like it was yesterday," said Tumasyan of Springfield. "It was very difficult to understand the language. It sounded almost like an alien language to me."
Determined to continue with his education, Tumasyan enrolled in the English as a Second Language (ESL) program at Springfield Technical Community College. He credits STCC with helping him to "open doors." He earned his associate degree from STCC, then interned at the Career Development Center at STCC.
"The Career Development Center is definitely what started me off with the right tools to get the first job," he said. "It was really a good experience."
We should age gracefully. We shouldn't be in need, and we shouldn't be out in the street Armen Tumasyan,

STCC graduate
Pamela White, Director of the Career Development Center, supervised Tumasyan when he was an intern.
"Armen was always eager to learn, and he welcomed the opportunity to participate in all of the department activities that were going on at the time," White said. "I knew Armen would excel in his educational goals and career because of his strong work ethic and determination. I am so very proud of him."
Today, Tumasyan, 35, of Springfield, has a doctorate of educational psychology from American International College. He earned both his bachelor's in psychology and a master's in clinical psychology from AIC.
Tumasyan works as the senior care option team supervisor for the Greater Springfield Senior Services, Inc. In his position, he helps seniors obtain homecare services.
For a little over a year, Tumasyan has been a supervisor at the agency. He oversees four geriatric support services coordinators whose job is to help elders live safely and independently in their homes for as long as possible. The social workers work with the elders and determine their needs. They might require a personal care assistant, transportation or a homemaker.
"Their job is to see their needs are met," Tumasyan said. "I oversee any difficult problems."
It's a job that suits Tumasyan. "I absolutely love it," he said. "We help elders. That's the place we're all going to end up one day. We're all getting older, but the definition of getting older is changing all the time. What used to be old was age 50. Now it's close to 100. I think it's important to be respectful of that.
"We should age gracefully," Tumasyan said. "We shouldn't be in need, and we shouldn't be out in the street."
Tumasyan and his wife, Anait Tumasyan, want their 1-year-old child to learn a second language, so they speak Russian and English to her.
An Armenian, Tumasyan was born in Azerbaijan. After the collapse of the Soviet Union, a conflict between Azerbaijan and Armenia forced the Tumasyans to leave Azerbaijan. They lived in Russia and then Ukraine until 1997, the year they moved to Springfield, Mass.
While living in Ukraine, Tumasyan received his high school diploma. He wanted to continue his education in the United States. He chose STCC, his local college.
Except for a brief time living in Salt Lake City, Utah, Tumasyan has lived in Springfield, near his parents and siblings, for the past 20 years.
With his degrees from STCC and AIC and working at a job he truly loves, Tumasyan has clearly transformed his life. Today, he applies his education and experience toward helping improve the quality of life of others.
"When you become an elder, especially if you're frail, your independence goes out the window. That's where we come in," Tumasyan said. "We want to make sure they're relatively independent, and they can stay at their home, on their own terms. What we do here is not easy, but it's very rewarding, and we know we're going to make a difference in somebody's life."
About Springfield Technical Community College
Founded in 1967 and located on 35 acres of the Springfield Armory National Historic Site, STCC is a major resource for the economic vitality of Western Massachusetts. As the only technical community college in Massachusetts, STCC, an Achieving the Dream Leader College, offers a variety of career programs unequalled in the state. STCC's highly regarded transfer programs in business, engineering, liberal arts, science and technology continue to provide the most economical options for students pursuing a four-year degree. With an annual enrollment of more than 8,500 day, evening, weekend and online students, STCC is a vibrant campus rich in diversity.
For more information about STCC, visit www.stcc.edu. Follow us on Facebook and Twitter (@S_T_C_C).
Media Contact:
Jim Danko, coordinator of media relations
(413) 755-4812, jdanko@stcc.edu