STCC graduate wins national championship in Greco-Roman wrestling
SPRINGFIELD, Mass. – Two days after wearing a cap and gown at STCC's graduation ceremony, Donavan Lozada put on a wrestling singlet, competed in a national championship in Texas and captured first place in his weight class.
The lone wrestler representing Springfield Technical Community College, Lozada squared off in the first-ever GoGreco College Nationals, a competition sponsored by the National Collegiate Wrestling Association. He took the top spot in the 130kg weight class at the June 3 competition hosted by Richland College. The competition featured eight weight classes competing in Greco-Roman style wrestling.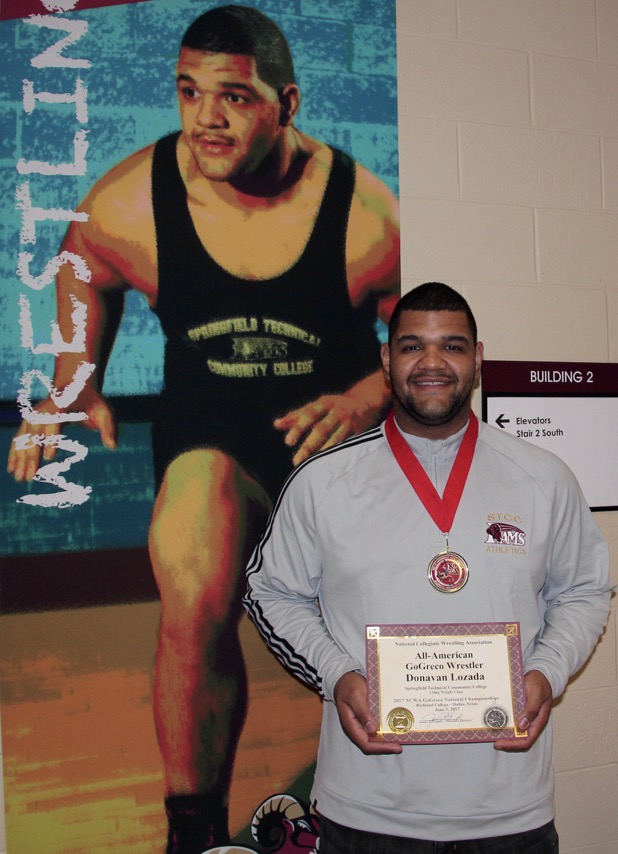 Greco-Roman style wrestling is used in Olympic competition. Unlike freestyle wrestling, Greco-Roman style does not allow holds below the waist.
In addition to being named a national champion, Lozada, of Springfield, was awarded All-American honors.
"It's definitely a heart-warming moment," said Lozada, who credited his coaches, Alberto Nieves, Asnage Castelly and Anibal Nieves for preparing him for the competition.
"I couldn't have done it without my coaches," he said.
Other colleges represented at the championship in Dallas were: North Texas, Richland College, University of Southern California, University of California, Los Angeles, Texas State, Houston and Grays Harbor College in Washington.
Lozada won his first match 8-0 (technical fall, or outscoring his opponent by a specified number of points), second, 4-0 (pin) and final, 6-2 (pin). While Lozada took first place in his weight class, STCC overall tied for fifth place.
Lozada, who works at the STCC Fitness Center and at Six Flags in Agawam, paid for the trip to Dallas out of his own pocket. He said he's saving up for future wrestling competitions.
I think highly of him. He went down there on his own to represent the college, and he came back a champion. Alberto Nieves,

STCC wrestling coach
"It was worth it to be able to bring a title in – not just for myself, but to motivate the rest of the guys here on the wrestling team," Lozado said. "I want to show that STCC is capable of having champions, no matter what style or where we compete."
Coach Alberto Nieves said he believes STCC would have placed higher if more wrestlers from the college competed because they would have boosted the cumulative score.
"We will try to get more wrestlers to compete next year," Nieves said.
Lozada plans to be part of the team through next season. While he earned a degree in criminal justice from STCC in May, he will return to STCC and pursue a degree in general studies.
Passionate about wrestling since he started competing as a sophomore at Chicopee High School, Lozada dreams of becoming an Olympic athlete and representing Puerto Rico, where his family has roots.
Nieves said he's proud of Lozada for his determination and hard work – both in the classroom and on the wrestling mat.
"His desire has always been to be a champion," Nieves said. "I think highly of him. He went down there on his own to represent the college, and he came back a champion."
About Springfield Technical Community College
Founded in 1967 and located on 35 acres of the Springfield Armory National Historic Site, STCC is a major resource for the economic vitality of Western Massachusetts. As the only technical community college in Massachusetts, STCC, an Achieving the Dream Leader College, offers a variety of career programs unequalled in the state. STCC's highly regarded transfer programs in business, engineering, liberal arts, science and technology continue to provide the most economical options for students pursuing a four-year degree. With an annual enrollment of more than 8,500 day, evening, weekend and online students, STCC is a vibrant campus rich in diversity.
For more information about STCC, visit www.stcc.edu. Follow us on Facebook and Twitter (@S_T_C_C).
Media Contact:
Jim Danko, (413) 755-4812, jdanko@stcc.edu