STCC graduates 1st Gateway to College student
SPRINGFIELD, Mass. – It was only a few years ago that Fernando D. Rosa, by his own account, was worried about flunking out of high school.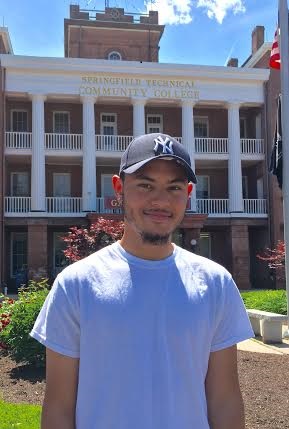 Rosa earned another distinction when he picked up his diploma. He became the first student from the 3-year-old Gateway program to graduate from STCC.
The young man from Springfield recently stopped by the STCC campus and recounted how Gateway to College gave him the boost he needed to earn his degree in criminal justice. He graduated with honors in June and said he now plans to transfer to Springfield College to pursue a bachelor's degree. Eventually, he may go to a police academy.
Wherever he ends up, one thing's clear: He's come a long way since his 10th grade year in Central High School in Springfield. Back then, Rosa was not sure he would make it through the 11th grade.
"I wasn't doing too well," he said. "My mom found Gateway. She asked me if I wanted to go through it. At first I didn't know if I wanted to or not. I made the choice to change and try to do better. I didn't know if I was really going to graduate, but the help here is really good."
Soft spoken, yet confident and quick to flash a smile, Rosa recalled how he was nervous about entering the Gateway to College program at STCC. Gateway allows students who have dropped out of high school or who are not on track to graduate to earn their high school diploma and receive college credit in a supportive environment. Rosa said he discovered that he was given more freedom than he had in high school. But, he noted, "there's a lot more responsibility with that freedom."
I didn't know if I was really going to graduate, but the help here is really good. Fernando D. Rosa,

Gateway to College student
When he arrived at Gateway in the fall of 2013, the program was in its first year. One of the 44 students in the inaugural group, Rosa went through mandatory summer meetings and was assigned a counselor.
"For me, that's what made all the difference," Rosa said. "My counselor really believed in me, and that's what gave me the boost I needed."
Anita Gallers, academic counselor at the Gateway to College program at STCC, said Rosa came to the program a bit reserved and perhaps unsure about his decision. But, Gallers said, Rosa dove right in. He took advantage of the opportunities at Gateway and built good relationships with the staff.
"He blossomed in our program," Gallers said. "On a personal level, he was a pleasure to work with. He is a good kid. He's honest, thoughtful and pleasant to be around. He has a good sense of humor."
Described by Gallers as hard-working and goal-oriented, Rosa finished Gateway to College in three semesters. He earned 19 college credits along with his high school diploma, Gallers said. In January 2015, Rosa started college and managed to obtain his associate's degree in three semesters, or 1½ years. Rosa also participated in STCC's Student Ambassador Program, where he helped new and continuing students and promoted activities on campus.
A strong work ethic and desire to succeed
"He took a slight course overload to finish in May, rather than doing a summer or extra semester," Gallers said. "His work ethic is really, really strong.
"When he came here, he said he wanted to push himself harder," Gallers added. "He said he would work hard to achieve his goals, and that proved true."
Jennifer Sanchez, the director of Gateway to College at STCC, said she is "extremely impressed" that Rosa obtained his associate's degree in less than two years. He already had about one-third of the credits needed to graduate when he left the Gateway program.
"The students must have a strong desire to succeed, a high motivation," Sanchez said of those enrolled in Gateway to College. "They have to really want it, because it's not that things are easy or given to them. They have all the support in the world, but really it's their own hard work that helps them achieve.
"It's exciting for me that this young man has accomplished that," Sanchez added. "He has endless possibilities."
About Springfield Technical Community College
Founded in 1967 and located on 35 acres of the Springfield Armory National Historic Site, STCC is a major resource for the economic vitality of western Massachusetts. As the only technical community college in Massachusetts, STCC, an Achieving the Dream Leader College, offers a variety of career programs unequalled in the state. STCC's highly regarded transfer programs in business, engineering, liberal arts, science and technology continue to provide the most economical option for students pursuing a four-year degree. With an annual enrollment of over 8,700 day, evening, weekend and online students, STCC is a vibrant campus rich in diversity.
About Gateway to College at STCC
Gateway to College at STCC allows young people who have dropped out of high school or who are not on track to graduate an opportunity to earn their high school diploma and collegecredit. Students must meet several eligibility requirements and meet the program's expectations. For more information, visit http://www.stcc.edu/gatewaytocollege/.
Media Contact: Jim Danko, Coordinator of Media Relations, (413) 755-4812, jdanko@stcc.edu