STCC greenhouse is where the college's landscape program projects grow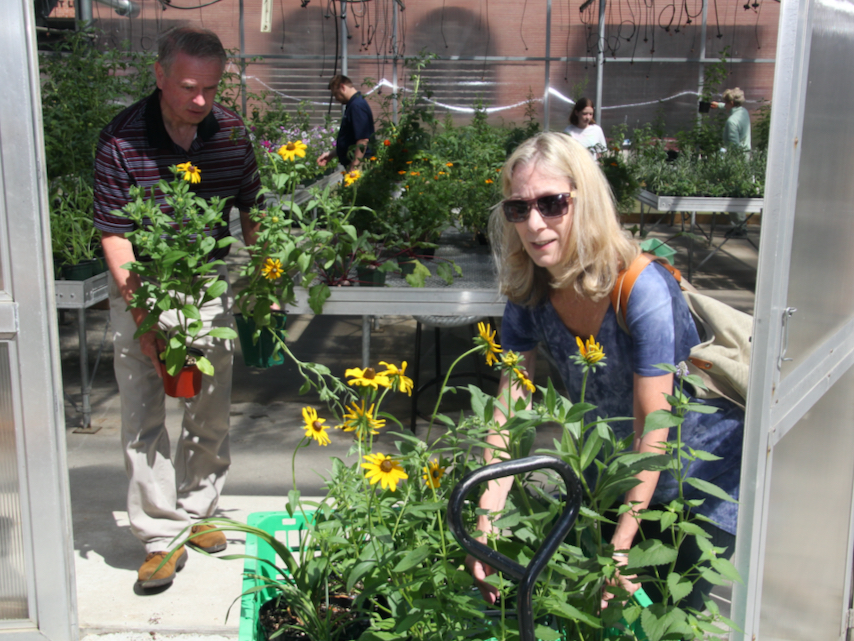 SPRINGFIELD, Mass. – On a pleasant early summer day, Professor Tom Smith was talking about plants, seeds and all things horticulture in between helping visitors to the greenhouse at Springfield Technical Community College.
It was a busy start to the final day of the greenhouse plant sale. The greenhouse was open to the campus community, friends and families during June.
"The greenhouse plant sale is a fun thing that people look forward to at the end of the year," Smith said. "Students in our program plant most of what you see here. I get the seeds, but this year, they brought some seeds in, too."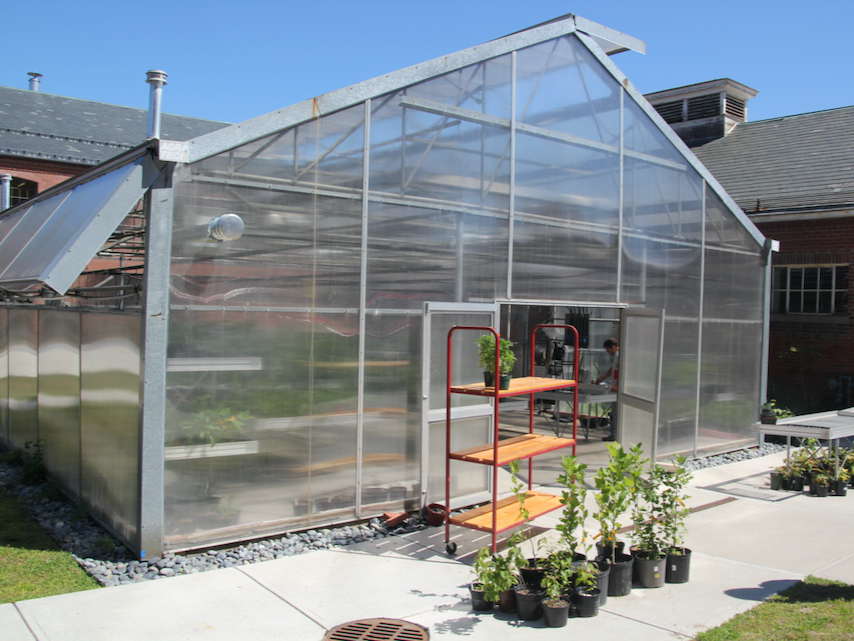 Smith anticipated the sale would bring in about $2,500, money that goes toward the STCC Foundation. Proceeds from the sale helps fund two scholarships for the Landscape Design and Management Technology program.
The STCC program puts students on track to earn an associate degree in landscape design and management. Smith said students learn to understand the world of plants, soils, landscape design and sustainable landscape practices to begin or enhance a career in the original "green" industry.
"The program has always had a plant propagation course," Smith said. "The industry covers not only maintaining landscapes, planting trees, doing patios, walkways, lawns and things like that. It includes growing plants and taking care of plants."
Students in the program's plant propagation course get hands-on experience in the greenhouse. The course includes field trips to commercial nurseries.
"With the plant propagation course, we get the students who don't have any green thumb training," Smith said. "They get to learn about seeds: Collecting seeds, how seeds germinate, what chemical process takes place, how to transplant seedlings once they germinate, and just understand how plants – annual plants, perennial plants, trees and shrubs – how they grow from the start.
"They just don't magically appear in the nursery somewhere," Smith added. "They got to start somehow."
The experience in the STCC greenhouse inspires some students to work in plant nurseries. Some who work for landscape businesses or run their own businesses might use their knowledge from the STCC greenhouse to diversify and get into growing plants, Smith said.
I've always been more of a hands-on person. When I was in high school, horticulture caught my eye and going through the program at STCC just felt right. Yesenia Vega '19

Landscape Design and Management graduate
"The students who graduate from this program and take this course will have a good background in being able to assist the customer with their garden."
Yesenia Vega, a 2019 graduate of the Landscape Design and Management Technology program at STCC, said the program was affordable and opened doors to exciting opportunities she otherwise would never have experienced.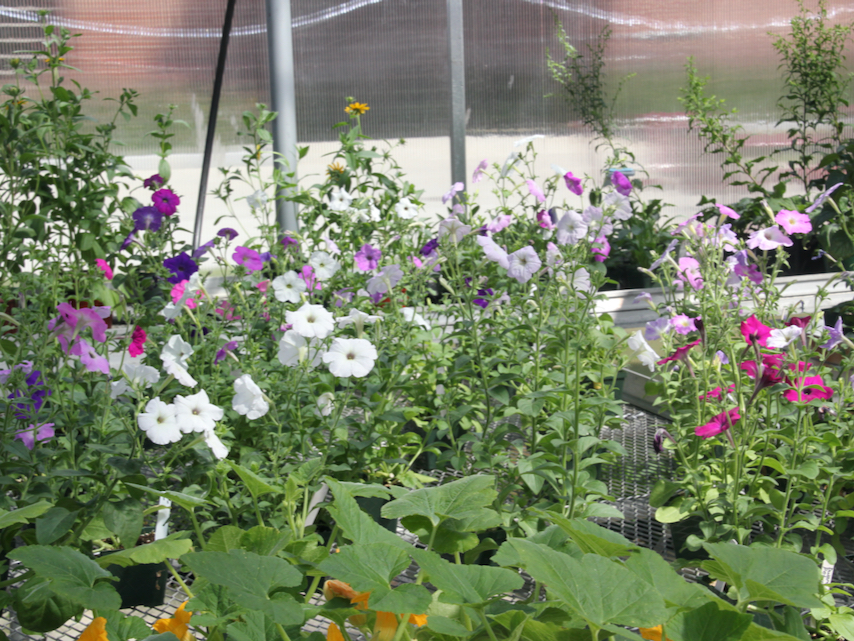 Vega worked in the greenhouse on campus while she was a student. The professors helped her get an internship at Naumkeag Historic House and Gardens in Stockbridge. She now works as a specialty gardener at Paradise City Landscape Design in Northampton.
"I have always loved flowers and playing in the dirt," she said. "I've always been more of a hands-on person. When I was in high school, horticulture caught my eye and going through the program at STCC just felt right."
At the greenhouse sale, Smith was answering questions for visitors who were encouraged to donate $5, which supports scholarships, and go home with any plants or flowers they would like. Options included tomatoes, beets, acorn and butternut squash. The greenhouse also included perennials such as bee balm, black-eyed Susan, echinacea, daylilies, salvia, anise hyssop and coreopsis.
Debbie Okun of Longmeadow, an educator, picked up some plants from the greenhouse and said she was happy to offer support for STCC.
"I'm learning how to start a garden," she said. "My family has a garden in the backyard and we're always trying to develop it, and make it stronger. We came today to donate some money and buy some new plants."
Springfield resident Jaacob Asulin, a retired principal from Heritage Academy in Longmeadow, was excited to get some new plants for his garden.
"We love it. I think it's great," he said. "I think it will make my garden look good, and it will make my soul feel better, and we are helping the school, too."
Interested in applying to STCC's Landscape Design and Management Technology program? Visit stcc.edu/explore/programs/land.as/ to learn more or call Admissions at (413) 755-3333.
About Springfield Technical Community College
STCC, the Commonwealth's only technical community college, continues the pioneering legacy of the Springfield Armory with comprehensive and technical education in manufacturing, STEM, healthcare, business, social services, and the liberal arts. STCC's highly regarded workforce, certificate, degree, and transfer programs are the most affordable in Springfield and provide unequaled opportunity for the vitality of Western Massachusetts. Founded in 1967, the college – a designated Hispanic Serving Institution – seeks to close achievement gaps among students who traditionally face societal barriers. STCC supports students as they transform their lives through intellectual, cultural, and economic engagement while becoming thoughtful, committed and socially responsible graduates.
MEDIA CONTACT:
Jim Danko, (413) 755-4812, jdanko@stcc.edu