STCC health information technology graduate wins achievement award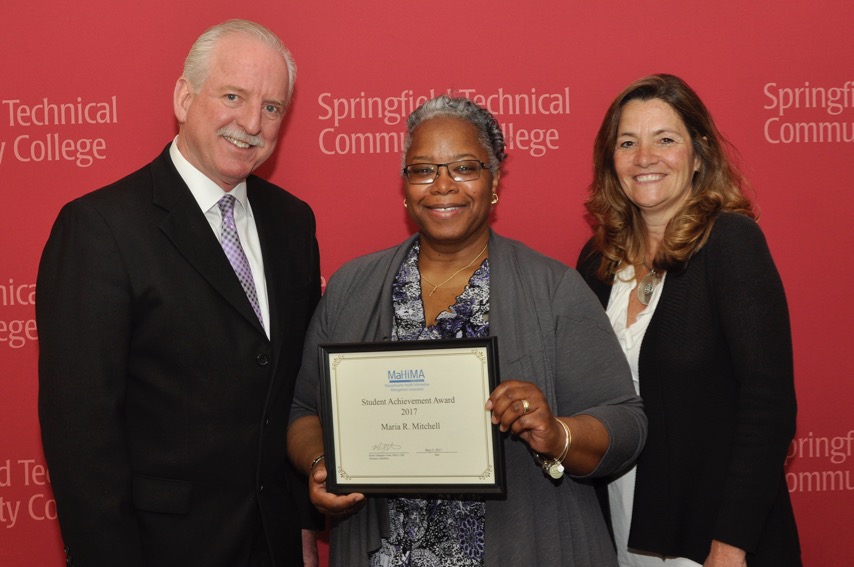 Maria R. Mitchell of Springfield holds her MaHIMA Student Achievement Award. She stands with Walter R. Houlihan, left, past president of MaHIMA, and STCC Professor Tracey McKethan.
SPRINGFIELD, Mass. – Maria R. Mitchell, a Springfield Technical Community College graduate of the newly accredited health information technology program, is the first person from STCC to receive the MaHIMA Student Achievement award.
Massachusetts Health Information Management Association (MaHIMA) offers the award to an outstanding student from any accredited health information technology or heath information management program. STCC's program received accreditation in December, making a graduate of the program eligible for the first time this year.
Walter R. Houlihan, senior director for Health Information Management and Clinical Documentation at Baystate Health and past president of MaHIMA, presented Mitchell with the award on May 16.
Tracey A. McKethan, department chair and professor of health information technology, said Mitchell was an excellent student who served as a good role model for others in the program. "She was always available to mentor students," McKethan said.
"I'm honored," said Mitchell of Springfield. "It was because of all the hard work of the faculty in gaining accreditation that I was even eligible for this award."
Mitchell received a certificate of achievement and one-year membership to the national organization, American Health Information Management Association (AHIMA), free full-day registration for MaHIMA's fall and winter meetings and free MaHIMA webinars for one year.
Mitchell is seeking a position as a health information technician or coding specialist and hopes to eventually return to school and earn her bachelor's degree.
Graduates of STCC's health information technology program receive associate degrees in health information technology. The program prepares students for certification and practice as registered health information technicians who typically work with patient medical records at health care facilities. Technicians focus in areas beyond coding including data analytics, compliance and more.
The associate degree program at STCC is accredited by the Commission on Accreditation for Health Informatics and Information Management Education (CAHIIM).
About Springfield Technical Community College
Founded in 1967 and located on 35 acres of the Springfield Armory National Historic Site, STCC is a major resource for the economic vitality of Western Massachusetts. As the only technical community college in Massachusetts, STCC, an Achieving the Dream Leader College, offers a variety of career programs unequalled in the state. STCC's highly regarded transfer programs in business, engineering, liberal arts, science and technology continue to provide the most economical options for students pursuing a four-year degree. With an annual enrollment of more than 8,500 day, evening, weekend and online students, STCC is a vibrant campus rich in diversity.
For more information about STCC, visit www.stcc.edu. Follow us on Facebook and Twitter (@S_T_C_C).
About Massachusetts Heath Information Management Association
The Massachusetts Health Information Management Association (MaHIMA) supports the provision of high quality medical care in Massachusetts through the effective management of personal health information.
MaHIMA keeps Health Information Management professionals up-to-date on important issues and dynamic changes affecting their workplace and their profession through MaHIMA's extensive calendar of educational sessions. MaHIMA members find a network of peers throughout the state to ask questions, raise concerns and share best practices. MaHIMA is an effective advocate for changes to Massachusetts laws and administrative rules affecting personal health information.
Media Contact:
Jim Danko, (413) 755-4812, jdanko@stcc.edu