STCC helps shelter residents train for assembler careers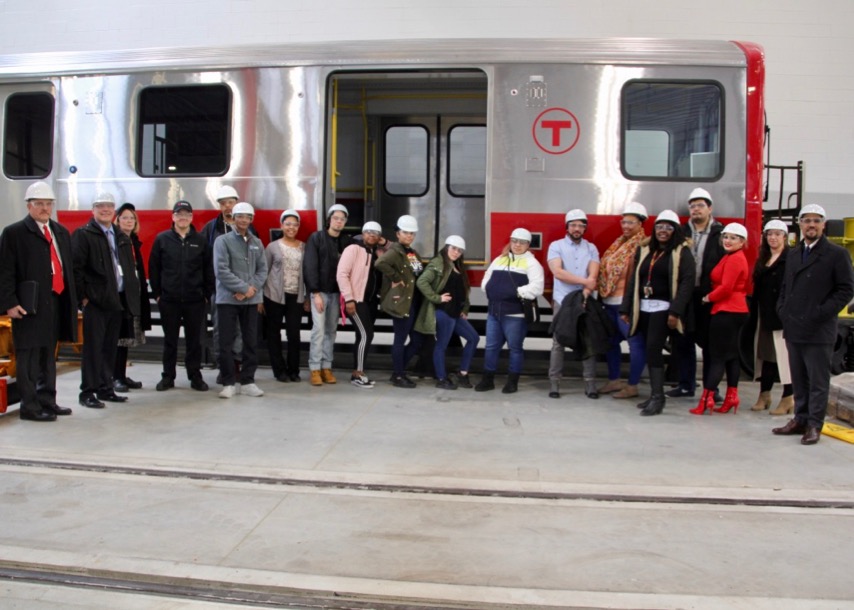 Representatives from STCC, CRRC Ma Corp. and the New England Farm Workers' Council gather with students who are training for assembler positions at CRRC. They recently toured the plant in Springfield.
SPRINGFIELD, Mass. – Shirley Burgos was unemployed and living in a shelter in Holyoke with her daughter when she learned about an opportunity that could transform her life.
Burgos could obtain training through the Workforce Development Center at Springfield Technical Community College and potentially get hired as a mechanical or electrical assembler at CRRC MA Corp., where rails cars are assembled.
"This opportunity will allow me to have a better life," Burgos said. "It's going to open a lot of doors for me. This is more than a job. It's a career. I can move up."
Burgos was one of 24 students who enrolled in two cohorts of classes taught by STCC instructors on the college campus between February and May. The curriculum aligns with the job descriptions for mechanical and electrical assemblers, entry-level positions at CRRC. Students learn how to connect wires and complete circuits, as well as read basic blueprints and engineering drawings, among other tasks that will give them the skills needed to get hired and assemble subway cars.
If they pass the class after 75 hours of training, they are guaranteed a job interview with CRRC. While they might land jobs at CRRC, the newly trained students may be qualified to work at other companies looking for assemblers.
The training program is a partnership between STCC and the New England Farm Workers' Council, a human services agency dedicated to improving the quality of life for thousands of low-income people throughout the Northeast.
"The New England Farm Workers' Council reached out and asked if there was a possibility for us to work with them and to meet with CRRC," said STCC Assistant Vice President of Workforce Training Gerardo Zayas Jr. "CRRC was looking for mechanical and electrical assemblers. These positions were posted and they needed to be filled."
Zayas was able to quickly set up the new training program at STCC, offering classes that started in February. The NEFWC enlisted people from its shelter program to fill up the classes.
Zayas sees the partnership between STCC and NEFWC as a model that can be adapted across industry training needs. People from NEFWC can come to STCC for job training that could lead to employment at CRRC or other companies in Western Massachusetts.
We are excited about this program. We are thrilled to help people get the necessary skills to start careers. Gerardo Zayas Jr.,

STCC Assistant Vice President, Workforce Training
"This partnership with CRRC is an approach to help industries fill essential jobs with individuals that have been trained on the technical skills and receive the career coaching to prepare for the interview, receive an offer and map out a career pathway," Zayas said. "We are excited about this program. We are thrilled to help people get the necessary skills to start careers."
Near the end of the six-week training, Luis Feliz, director of Workforce Development at NEFWC, brought the first cohort of students on a tour of CRRC's facility. Wearing hard hats and eye protection, the trainees observed CRRC employees at work inside the cavernous facility. They walked over tracks on the floor and glimpsed several Orange Line subway cars rail cars that are in production for the MBTA.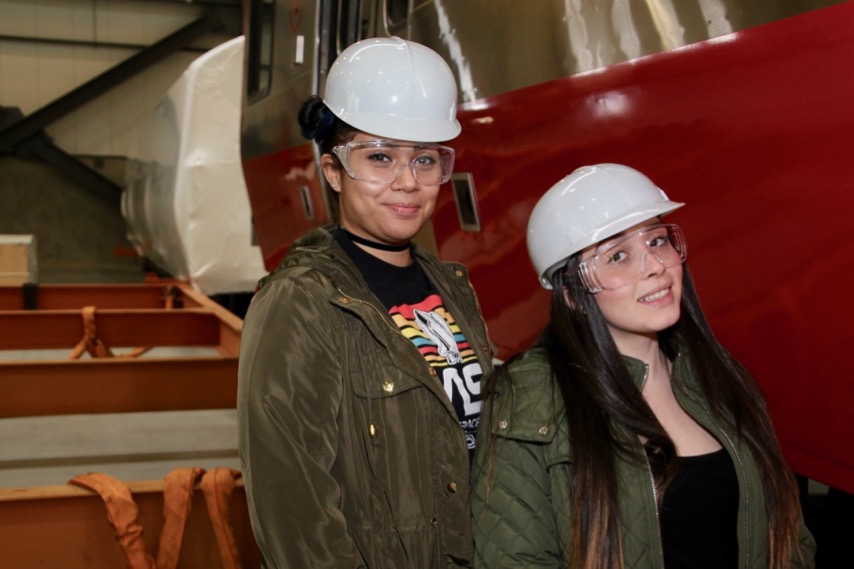 "For us, this is about transforming lives, which is STCC's mission and ours as well," Feliz said. "We like to say, 'We don't give people a hand out, but a hand up.' What that means for us is careers instead of jobs. The partnership with STCC and CRRC is definitely a career path, not just a job."
In this collaboration, STCC provided technical content, while NEFWC ensured a professional skills component was included. This included communication as well as listening skills. "We want our folks to know what the expectations are if they participate in an interview and if they receive a job at the end of the training," Feliz said.
Vanessa Otero, chief operating officer for Partners for Community, which oversees NEFWC, called the collaboration with STCC and CRRC "a great success." Seventeen people trained in the first cohort that ended in March and prepared for interviews. The next cohort included seven trainees who will take classes through April.
"This has been our most successful partnership with any training institution, including any community college," Otero said. "I have to credit the faculty at STCC who have made adjustments to the schedule to make sure people completed the class. That makes a world of difference."
CRRC spokesperson Lydia Rivera said the company has employed STCC graduates since launching operations in 2017. "We continue to see positive results from our partnership with STCC," Rivera said. "The training program with New England Farm Workers' Council appears to be building on that success."
While going through the Workforce Development Center training, Caroline Giraldo, an NEFWC client, moved out of a Holyoke shelter and into her own apartment in Springfield.
"I felt like this was a way of getting myself out of the situation I was in," Giraldo said. "It opens a lot of doors for me. That's how I got the apartment. If I get this job, I will be able to afford the apartment.
"It will be a huge opportunity for me and my children," Giraldo added. "It will open up a lot of opportunities for struggling families. It's a huge blessing."
For more information about the Workforce Development Center at STCC and its training services, call Elliot Levy, senior director, at (413) 755-4893 or email emlevy@stcc.edu.
About Springfield Technical Community College
Founded in 1967 and located on 35 acres of the Springfield Armory National Historic Site, STCC is a major resource for the economic vitality of Western Massachusetts. As the only technical community college in Massachusetts, STCC, a designated Hispanic Serving Institution and an Achieving the Dream Leader College, offers a variety of career programs unequalled in the state. STCC's highly regarded transfer programs in business, engineering, liberal arts, science and technology continue to provide the most economical options for students pursuing a four-year degree. With an annual enrollment of more than 5,400 day, evening, weekend and online students, STCC is a vibrant campus rich in diversity.
For more information about STCC, visit www.stcc.edu. Follow us on Facebook, Twitter (@S_T_C_C) and Instagram (@stccpics).
MEDIA CONTACT:
Jim Danko, 413-755-4812, jdanko@stcc.edu