STCC internship program helps spark interest in city government careers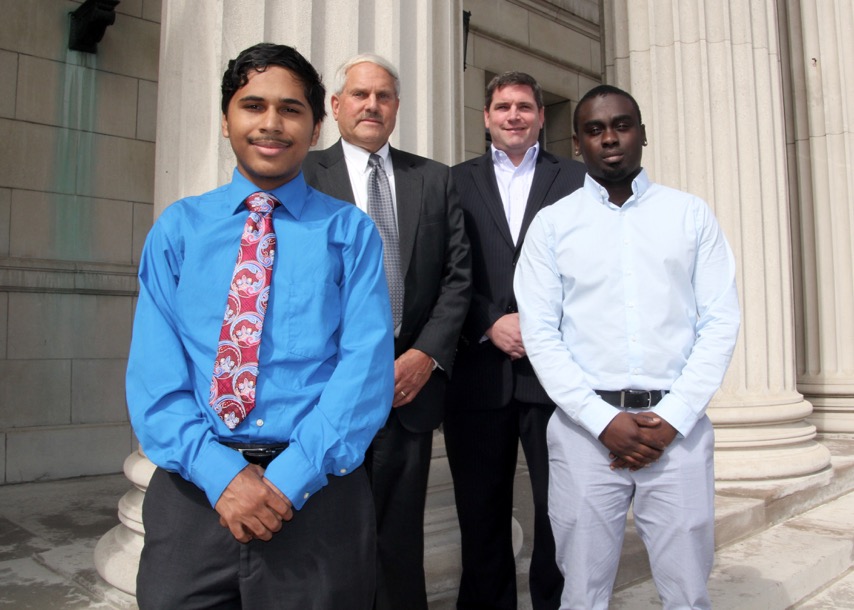 From left, STCC student Desmond C. Berry, Senior Director for STCC's Workforce Development Center Elliot Levy, Springfield Chief Administrative and Financial Officer T.J. Plante and STCC student Valery Abel stand on the steps of Springfield City Hall.
SPRINGFIELD, Mass. – Before this summer, Springfield Technical Community College business administration students Valery Abel and Desmond C. Berry hadn't given much thought to a career in municipal finance.
But with help from STCC's Learn & Earn Internship Program, they got a taste of what it's like to work in the public sector. What's more, they enjoyed the experience – and the two Springfield men are rethinking their future plans.
"After working as an intern, I am considering municipal finance as a career," said Berry, 20, who continued working part-time for the city after the internship ended on Aug. 31. "The work culture is appealing. It's very professional, but at the same time it's comforting. There's a lot of camaraderie in the department. The stability is appealing as well."
Abel, 29, said he enjoyed the office culture and found the city workers "were always willing to help you with anything."
STCC joined forces with the city of Springfield this summer to create a pilot program for a workforce development initiative spearheaded by Lt. Gov. Karyn Polito. The lieutenant governor's Local Government Workforce Skills Gap Working Group made recommendations to address the dwindling number of skilled finance officials across the state. Many experienced municipal workers are nearing retirement age, and their positions will need to be filled.
During a group meeting in Boston, Elliot Levy, senior director for STCC's Workforce Development Center, volunteered STCC to be a pilot program for the state initiative. Levy suggested the college's Learn & Earn Internship Program could help fill the workforce skills gap by sending STCC students to City Hall for training. Springfield Chief Administrative and Financial Officer T.J. Plante welcomed the idea and started talking with Levy about how to make it happen.
"STCC was the only college in the state to be a pilot program," Levy said. "This is a great opportunity to apply our Learn & Earn Internship Program to support the lieutenant governor's initiative."
After working as an intern, I am considering municipal finance as a career. Desmond C. Berry

STCC student who worked as an intern
Since it launched in 2017, Learn & Earn has placed students in a variety of fields, including manufacturing, construction and trades. Student interns work during traditional semesters and during the summer, putting in 10 to 15 hours or more per week based on their schedules and employers' requirements. Learn and earn interns must complete 150 internship hours to receive academic credits, but may choose to complete a non-credit internship. Employers are required to pay interns.
Levy said municipal government represents a new area for the growing student-internship program.
"We are thrilled to connect students with municipalities through Learn & Earn," Levy said. "STCC is grateful to T.J. Plante and the City of Springfield for giving our students this opportunity."
STCC President John B. Cook said he's proud the college is doing its part to address the workforce skills gap in municipal government.
"We hope our partnership with the city of Springfield will spark students' interest in pursuing careers in the public sector," Cook said. "Learn & Earn is a wonderful program. Internships provide invaluable hands-on experience, an opportunity to work with professionals and a chance to decide if the career is a good fit."
Plante said he was happy with the work of the STCC interns, who received hands-on experience that can't be taught in the classroom. He hopes to hire more STCC students as interns next summer to work in City Hall.
"We hired Val and Desmond this past summer. Both have been tremendous interns," Plante said. "These interns are going to get exposed not just to finance, but accounting, capital construction, revenue generation, property taxation – all the things that they've never really been exposed to before."
Plante called municipal finance a "niche market." Business students often will look for private sector jobs, not realizing they can choose a robust career working for a municipality.
"Not everybody knows municipal finance exists," Plante said. "We hope to raise awareness, and that's why the partnership with STCC is fantastic. Many STCC students are from Springfield and many of them are going to stay in Springfield and give back to the community."
Plante said it's critical to expose students to municipal finance at a time when jobs need to be filled.
"Right now what we have is known as 'the silver tsunami,'" Plante said. "We have a lot of retirements from the baby boomer generation, and there's huge turnover among those who have been in the field for decades. It's time to bring in the next generation of municipal managers."
Now enrolled at STCC, Berry and Abel both hope to continue with their education after graduation and pursue their bachelor's and master's degrees.
After they're done with college, they may end up working for a municipality thanks to their Learn & Earn Internship Program experience.
"Before this internship, I never thought about municipal finance or working for any municipality," Abel said. "This experience showed me that it is a possible career path. It is something I'm interested in because I like to help the people around me – and that's what a position with the City of Springfield can help me do."
If you are interested in finding out more about the Learn & Earn Internship program, contact Elliot M. Levy at emlevy@stcc.edu or call (413) 755-4893.
About Springfield Technical Community College
Founded in 1967 and located on 35 acres of the Springfield Armory National Historic Site, STCC is a major resource for the economic vitality of Western Massachusetts. As the only technical community college in Massachusetts, STCC, a designated Hispanic Serving Institution and an Achieving the Dream Leader College, offers a variety of career programs unequalled in the state. STCC's highly regarded transfer programs in business, engineering, liberal arts, science and technology continue to provide the most economical options for students pursuing a four-year degree. With an annual enrollment of more than 7,400 day, evening, weekend and online students, STCC is a vibrant campus rich in diversity.
For more information about STCC, visit www.stcc.edu. Follow us on Facebook, Twitter (@S_T_C_C) and Instagram (@stccpics).
MEDIA CONTACT:
Jim Danko, (413) 755-4812, jdanko@stcc.edu