STCC introduces safety app for mobile devices called RAM ALERT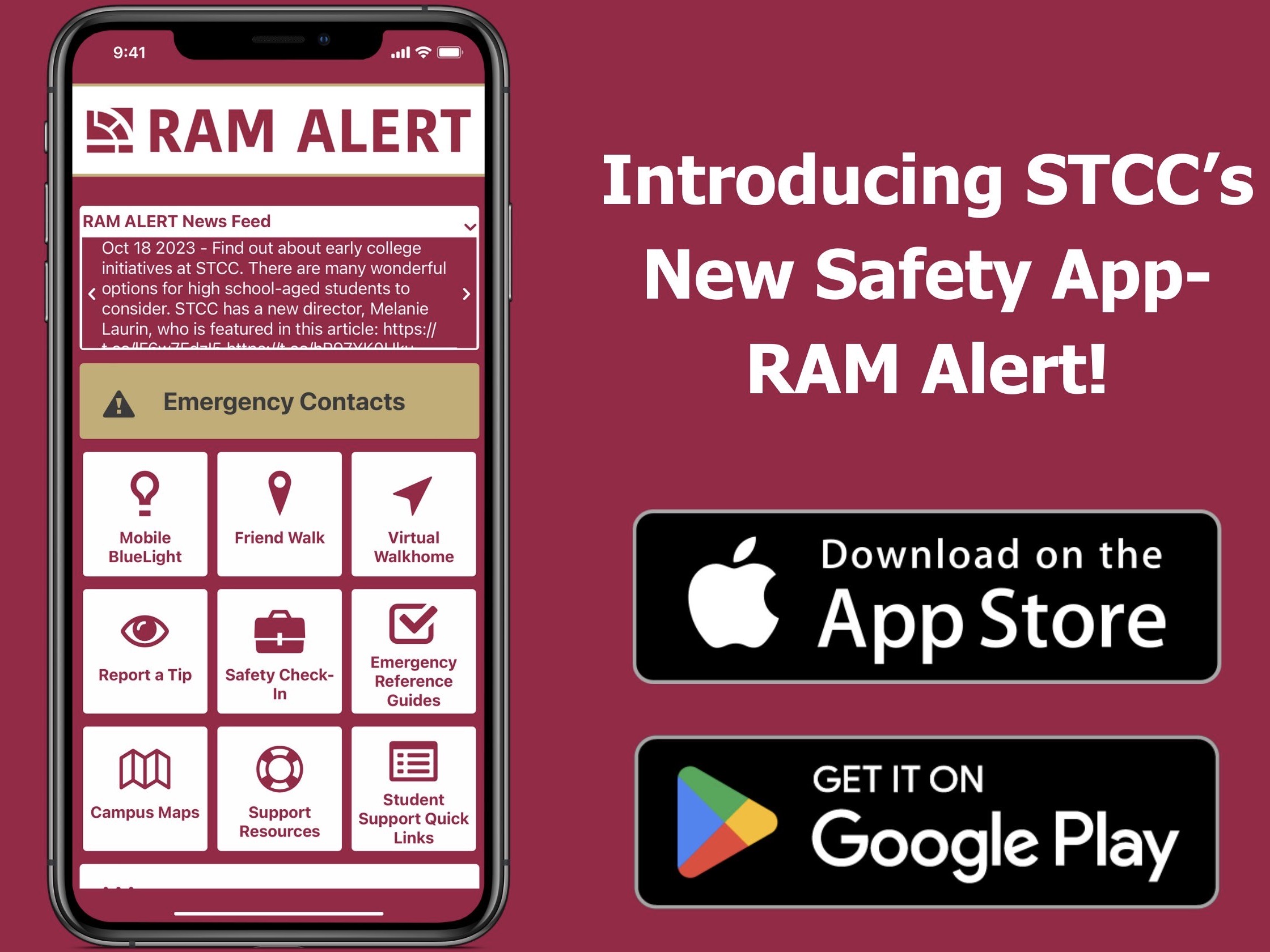 SPRINGFIELD, Mass. – Springfield Technical Community College announces a new safety application (app) called RAM ALERT.
The app, which students, faculty, staff and the public can download for free at app stores, integrates with STCC's safety and security system. Campus Police has worked to develop a unique app that provides students, faculty and staff with added safety on the STCC campus.
The app sends users important safety alerts and provides instant access to campus safety resources.
"I am pleased to announce that STCC has partnered with AppArmor Mobile to create the RAM ALERT, which replaces LiveSafe as our new safety application," said Chief of Police Joe Rivera. "We encourage all students, faculty and staff to download the app on their phones and tablets and become familiar with its features. The comprehensive safety app is easy to download and easy to use."
RAM ALERT includes the following safety features:
Mobile BlueLight - when activated sends location to the campus police and calls them.
Friend Walk - when activated allows users to send their location in real time to a friend so they can watch you as you walk to your destination.
Virtual Walkhome - allows campus police to monitor you as you walk home when activated.
Report a Tip - allows users to report crimes.
Safety Check-In - a set of tools to enhance your safety.
Emergency Reference Guides - offers information and plans on how to react to specific emergencies on campus.
Campus Maps - includes a map of the campus and its parking lots.
Support Resources - lists the most common resources – Academic Advising, SAFE Project, Health & Wellness Center and Mental Health Counseling.
Student Support Quick Links - includes links to common support pages on the STCC website.
RAM ALERT also includes a news feed that displays upcoming campus events and other STCC news.
About Springfield Technical Community College
STCC, the Commonwealth's only technical community college, continues the pioneering legacy of the Springfield Armory with comprehensive and technical education in manufacturing, STEM, healthcare, business, social services, and the liberal arts. STCC's highly regarded workforce, certificate, degree, and transfer programs are the most affordable in Springfield and provide unequaled opportunity for the vitality of Western Massachusetts. Founded in 1967, the college – a designated Hispanic Serving Institution – seeks to close achievement gaps among students who traditionally face societal barriers. STCC supports students as they transform their lives through intellectual, cultural, and economic engagement while becoming thoughtful, committed and socially responsible graduates.
MEDIA CONTACT:
Jim Danko, (413) 755-4812, jdanko@stcc.edu