STCC kicks off fundraising effort with dedication of PeoplesBank Conference Room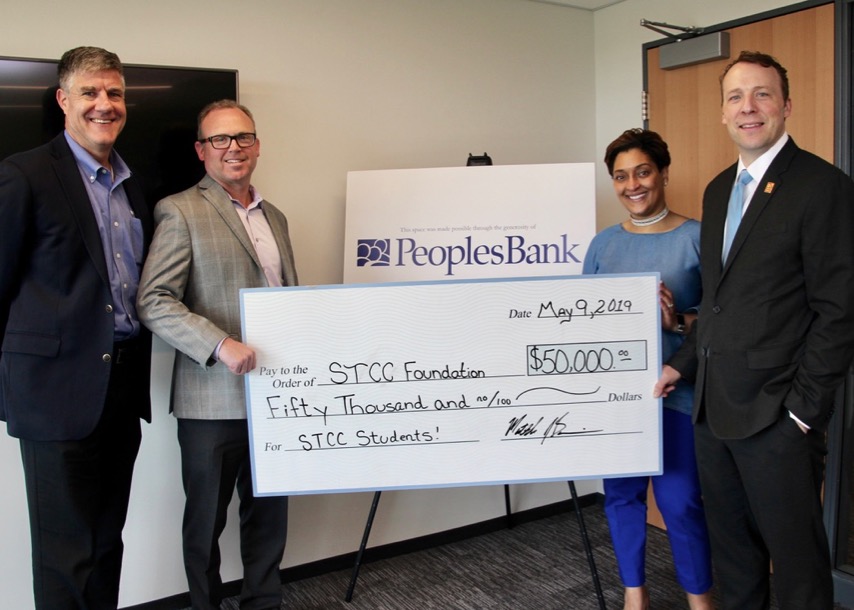 From left: PeoplesBank First Vice President of Marketing & Innovation Matthew Bannister, Senior Vice President for Commercial Lending Shaun Dwyer, STCC Vice President of Advancement and External Affairs Denise Hurst, and STCC President John B. Cook.
SPRINGFIELD, Mass. – Launching a major fundraising initiative, Springfield Technical Community College dedicated the PeoplesBank Conference room in the Ira H. Rubenzahl Student Learning Commons.
The dedication came after PeoplesBank, the largest community bank in Western Massachusetts, donated $50,000 to the STCC Foundation.
STCC's Vice President of Advancement & External Affairs Denise M. Hurst said, "This contribution is one of the first gifts from our focused major gift fundraising effort that is underway at the College. We expect to connect with many of our corporate, community and alumni partners over the coming months to raise funds to help STCC students as they transform their lives."
Matthew Bannister, First Vice President of Marketing & Innovation at PeoplesBank, said, "PeoplesBank is proud to support Springfield Technical Community College with this contribution. Both STCC and PeoplesBank strongly believe that an education can be a positive, transformative opportunity, and we hope that we will be able to provide a more promising future to many area residents."
Bannister and Senior Vice President for Commercial Lending Shaun Dwyer attended a dedication ceremony at STCC on May 9 with Hurst, STCC President John B. Cook and other representatives of the STCC Foundation.
Cook expressed his appreciation for the donation. "We are very grateful to PeoplesBank for their support," he said. "This generous gift will make a meaningful difference for so many of our students."
The conference room is located in the Student Learning Commons, also known as Building 19. The historic, 100,000-square-foot structure, which had been vacant for decades, opened in December after an extensive renovation.
The Learning Commons centralizes student services and gives students easy access to vital campus resources. The building includes administrative offices, student services, a student common with activity areas, the library, the campus bookstore, tutoring and social spaces, and health center, and much more.
About Springfield Technical Community College
Founded in 1967 and located on 35 acres of the Springfield Armory National Historic Site, STCC is a major resource for the economic vitality of Western Massachusetts. As the only technical community college in Massachusetts, STCC, a designated Hispanic Serving Institution and an Achieving the Dream Leader College, offers a variety of career programs unequalled in the state. STCC's highly regarded transfer programs in business, engineering, liberal arts, science and technology continue to provide the most economical options for students pursuing a four-year degree. With an annual enrollment of more than 6,400 day, evening, weekend and online students, STCC is a vibrant campus rich in diversity.
For more information about STCC, visit www.stcc.edu. Follow us on Facebook, Twitter (@S_T_C_C) and Instagram (@stccpics).
MEDIA CONTACT:
Jim Danko, (413) 755-4812, jdanko@stcc.edu