STCC Mechanical Engineering Technology grads return to campus to pursue their bachelor's degree from Northeastern University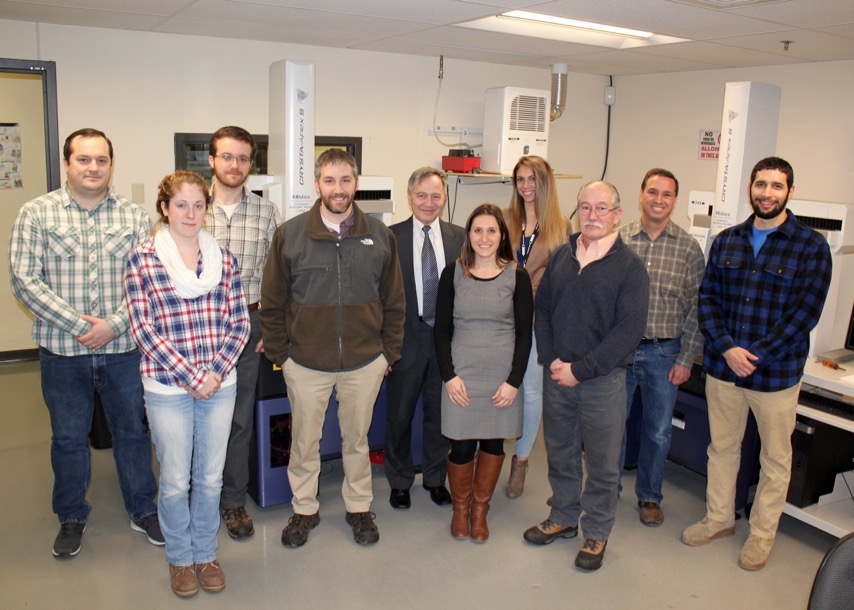 SPRINGFIELD, Mass. – The Mechanical Engineering Technology program at Springfield Technical Community College offered Scott Valcourt the kind of hands-on experience he needed to get started in a manufacturing career.
Valcourt, who graduated from the two-year MET program in May 2017, worked on state-of-the-art machines in the tech lab. He learned software used throughout the industry and enjoyed the one-on-one interactions with teachers at STCC.
"Here, you get to play with everything that you would find in a real-life application. You can ask direct questions," said Valcourt, of Wales, who works at Millrite Machine in Westfield. "For me, that was very helpful. I applied everything I learned here directly into the workplace, and I just succeeded. I kept moving up."
While he earned his associate degree in Mechanical Engineering Technology from STCC and is gainfully employed, Valcourt decided he wanted to take his education to the next level. But he did not want to give up his full-time job in production control – or drive for hours to get to a class.
He found the perfect fit in a new and unique partnership between STCC and Northeastern University that removes the divide between work and learning. The College of Professional Studies at Northeastern offers a bachelor's degree completion program in Advanced Manufacturing Systems on the STCC campus. Northeastern in the fall will offer classes for a bachelor of science degree in Mechanical Engineering Technology, in addition to the Advanced Manufacturing Systems degree.
It's really great, because there's nothing else around here at night for people who work full time. Scott Valcourt,

Graduate of STCC's mechanical engineering program
The Mechanical Engineering Technology classes Valcourt took at STCC will count as foundation courses toward his degree from Northeastern.
"This just fell right into place at the perfect time," Valcourt said. "It's really great, because there's nothing else around here at night for people who work full time. And this is just huge for the industry, because you've got to get younger people into the trade, but how do you train them? Everyone wants five years' experience, and it's hard to get that experience."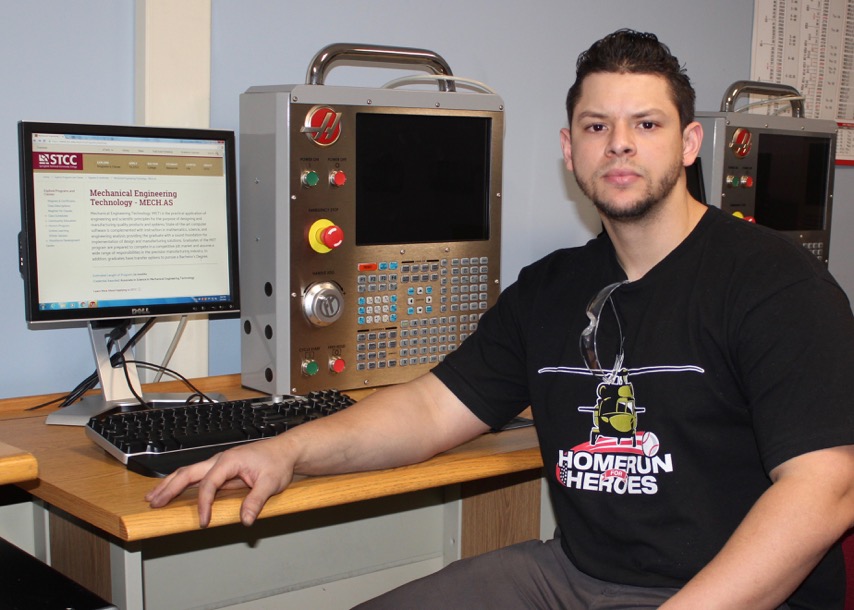 The Northeastern program at STCC represents another unique and exciting option for students in the Mechanical Engineering Technology program. The partnership between the two institutions allows students to take classes in the evening while they gain experience on the job during the day. Students will complete some of the work online, and their real-world experience will count as credit.
It's an ideal and affordable path for STCC graduates who live in the Springfield area to get a degree from the prestigious Northeastern University – without having to drive to Boston.
"Manufacturing remains a vital economic driver in Western Massachusetts, and by partnering with a renowned university, STCC will continue to do everything we can to prepare the needed workforce," said STCC President John B. Cook.
Northern Conn. residents may be eligible for a tuition break
STCC's Mechanical Engineering Technology program also may be a smart choice for people living in Northern Connecticut considering a career in advanced manufacturing. They may be eligible for a tuition break (also known as reciprocal rates) through the New England Regional Student Program (RSP).
The program allows eligible residents from any New England state to enroll in Massachusetts public colleges and universities without having to pay expensive out-of-state rates. Northern Connecticut residents may be eligible for a tuition break because STCC's MET program is closer to them than any similar Connecticut program. They also may qualify if the exact program they would like is not offered at a public college within their state.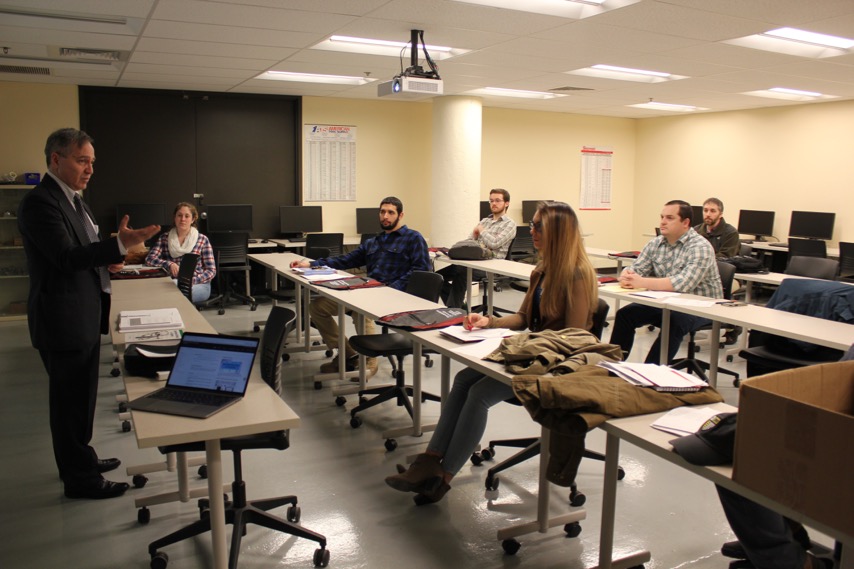 STCC graduates from the MET program, including Valcourt, are enrolled in the first Northeastern class, which is held in the Springfield Technology Park, where the Mechanical Engineering Technology program is located.
Every Thursday, Northeastern Professor Krassimir Marchev, faculty director for Engineering Technology and Advanced Manufacturing Systems, drives about 90 minutes to the Tech Park, across the street from STCC. He arrives around mid-afternoon to make himself available for students for at least an hour and a half before the class begins at 5:50 p.m.
"We're very excited to have access to labs over here and to equipment that we can use to train students," Marchev said during the first day of class.
He was joined by Rob Roy, an industry mentor to the students who for more than 41 years has worked for General Electric, which co-developed the Advanced Manufacturing Systems degree program.
"We will have Rob available, via video when necessary during the class, and he will be available for virtual mentoring of students at least an hour a week," Marchev said.
Roy said he will try to steer students in the right direction and answer questions about how their class work fits in with their careers.
The College of Professional Studies at Northeastern has offered a similar program at two G.E. locations, one in Hooksett, N.H., and another in Lynn, Mass. "A lot of people on the shop floor in Lynn want to continue their education and get into management or be an engineer," Roy said. "With the big push in the country to bring manufacturing back, this looks to be the future."
STCC MET program stands out as premier choice in region
The baccalaureate programs at Northeastern give STCC students a valuable option, said Gary Masciadrelli, professor and chair of the MET department at STCC.
"What distinguishes us from other programs is that we really prepare engineering technicians," Masciadrelli said. "Other college programs might give you manufacturing skills. We are the first step in becoming a mechanical or manufacturing engineering technician."
The associate degree program incorporates three key disciplines of any manufacturing company:
Design: Students learn to use SolidWorks, a three-dimensional solid modeling computer-aided design (CAD) program.
Manufacturing: Students learn to run computer numerical control (CNC) machines. Advanced work follows by importing solid models into Mastercam, one of the most widely used computer aided manufacturing (CAM) software in the world. Part toolpath is created, machine-code produced and then sent to the CNC machine for production.
Quality: Students learn current trends and future direction of the quality initiatives that support manufacturing organizations. They learn how to examine a blueprint and use hand-measuring tools or a computer operated coordinate measuring machine to verify the part has met all drawing requirements.
"We're state-of-the-art with engineering software and CNC equipment," Masciadrelli said.
When he looked into STCC's MET program, Randy Amadis, of West Springfield, knew he found a pathway to his dream career. With help from STCC faculty, he found a job as a CNC operator and programmer at PTI Industries in Enfield while he was still pursuing his CNC certificate. He's now enrolled in the mechanical engineering technology associate degree program and plans to apply to the Northeastern program.
"I want to get my degree in Advanced Manufacturing Systems from Northeastern," he said. "For me, I think that's the best fit. I like the manufacturing side of mechanical engineering."
Cole Cannady, a first-year MET student from Westfield, recently sat at a desk at STCC, working on blueprints for a 3-D modeling class taught by Masciadrelli.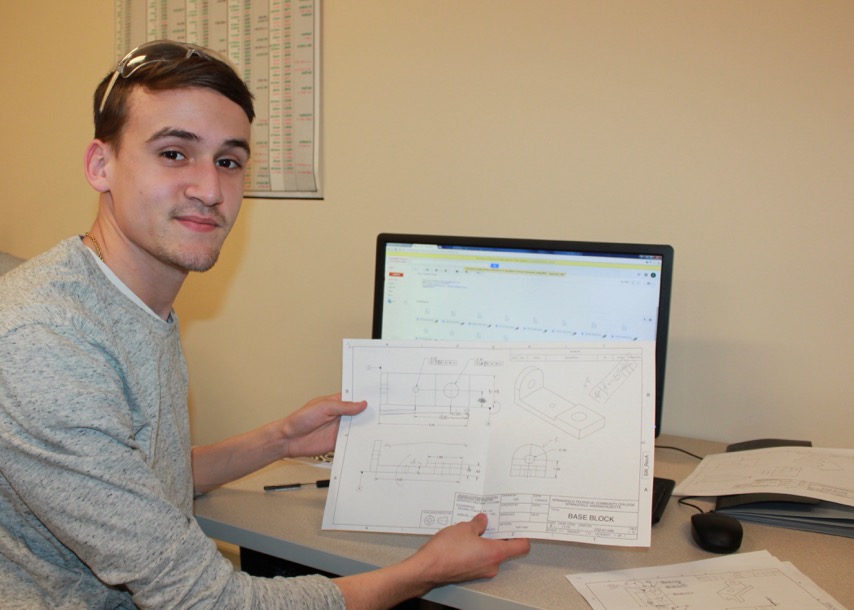 "It's a phenomenal program," Cannady said. "What we're doing here in class is what we are going to do when we get out there and get jobs in designing and manufacturing departments.
"Most schools don't have what we have here. A lot of schools mainly are theory-based teaching. They don't show you what this does, why it happened and how you fix it. The MET program here is basically like doing your job."
Asked about his goals, Cannady said he would love to enroll in the Northeastern University baccalaureate program after earning his associate degree. He also hopes to find an internship while he's still a student at STCC.
With help from a dedicated internship coordinator at STCC, many students start their careers with internships at large companies such as aerospace manufacturer Pratt & Whitney. Those internships can be turned into course credit and may lead to full-time employment after graduation. Internship Coordinator Elliot Levy helps students polish their resumes and sharpen their interview skills.
Graduates with their associate degrees will face no shortage of job opportunities.
"We have more job openings than we have students to fill them," Masciadrelli said.
He said more manufacturing companies are encouraging employees to earn their bachelor's degrees.
"Our partnership with Northeastern is such a home run for the students," Masciadrelli said. "Nowadays, you want a bachelor's degree in manufacturing. It's becoming more and more important. The associate degree allows these people to start working. A lot of people will be coming back over time."
Northeastern's College of Professional Studies strives to offer affordable bachelor's degrees to STCC student and alumni. STCC graduates qualify for a $5,000 Community College Partnership Scholarship and merit scholarships range up to $10,000. Students may also qualify for Federal Financial Aid.
Amanda Cyr, of Agawam, received her associate degree in Mechanical Engineering Technology in January 2017. A year later, she was part of the first class of the Northeastern program at STCC.
"I think it's a great opportunity for people who've gotten their associate degree to continue on to their bachelor's," said Cyr, who works at GKN Aerospace in Newington, Conn. "We don't have a lot of programs in Massachusetts for transferring into the bachelor's program in engineering. It was great news when I heard about it. I was pretty excited. I think this Advanced Manufacturing Systems degree is an excellent way for people in the industry to get actual related experience in a classroom setting."
If you're interested in applying to STCC's Mechanical Engineering Technology program or have questions, call Admissions at (413) 755-3333. You can also apply online: http://www.stcc.edu/admissions/applynow.asp. Northern Connecticut residents may be eligible for a tuition break.
To learn more, visit stcc.edu/explore/programs/mech.as.
For more information about the Northeastern programs at STCC, please visit www.northeastern.edu/stcc
###
About Springfield Technical Community College
Founded in 1967 and located on 35 acres of the Springfield Armory National Historic Site, STCC is a major resource for the economic vitality of Western Massachusetts. As the only technical community college in Massachusetts, STCC, a designated Hispanic Serving Institution and an Achieving the Dream Leader College, offers a variety of career programs unequalled in the state. STCC's highly regarded transfer programs in business, engineering, liberal arts, science and technology continue to provide the most economical options for students pursuing a four-year degree. With an annual enrollment of more than 7,700 day, evening, weekend and online students, STCC is a vibrant campus rich in diversity.
For more information about STCC, visit www.stcc.edu. Follow us on Facebook and Twitter (@S_T_C_C).
CAPTION FOR TOP PHOTO:
Northeastern University Professor Krassimir Marchev, fifth from left, faculty director for Engineering Technology and Advanced Manufacturing Systems, stands with students and Northeastern faculty and staff. Gary Masciadrelli, professor and chair of the MET department at STCC, is second from right.
MEDIA CONTACT:
Jim Danko, 413-755-4812, jdanko@stcc.edu