STCC Mechanical Engineering Technology Program Provides Life-Changing Opportunities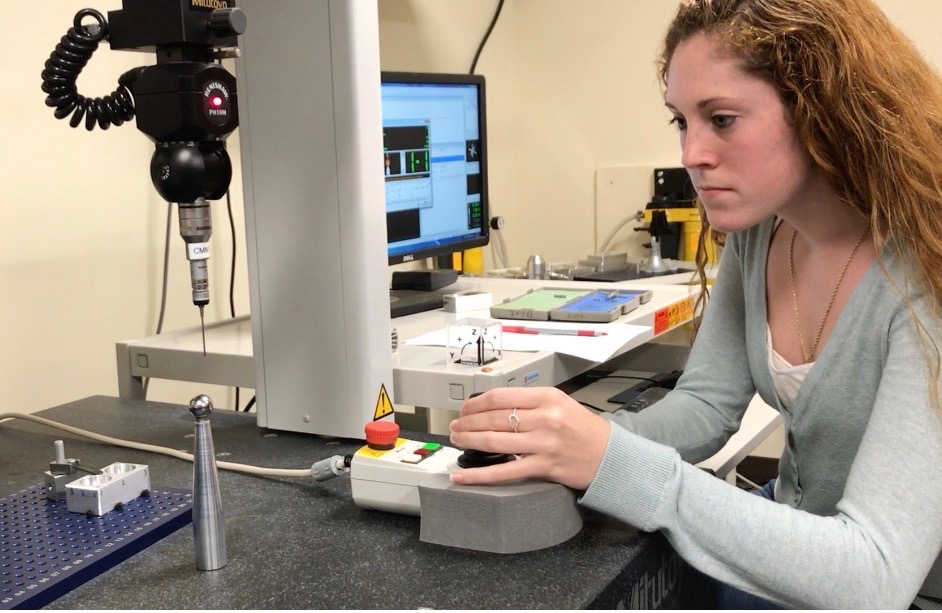 SPRINGFIELD, Mass. – At the Mechanical Engineering Technology (MET) Lab at Springfield Technical Community College, student Elizabeth Ryan works the controls of a device called a coordinate measuring machine, which can check the precision of a part down to 50 millionths of an inch.
Ryan leans in and uses her thumb and index finger to move a controller that looks like a small stick shift in a high-performance sports car. She's controlling a probe that hovers over a metallic ball. In the real world, the part she's measuring might be a component for a jet engine or medical device.
Standing nearby, MET instructor Duane Parrette explains what's about to happen.
"Once that beep goes off, it's going to self-adjust. It's going to see where that ball is in space, then it's going to take an accurate measurement of that ball and calibrate itself."
The beep indeed goes off, and the probe moves robotically around the sphere, like a scene from a science fiction movie. But it's not a Hollywood production. This is happening at STCC, and the MET program is having a big impact on the lives of students.
We now have CMMs – coordinate measuring machines. A lot of companies are looking for individuals within their organizations who have the skills to run that type of equipment. We have it all. We can offer it all right here. Dr. Adrienne Smith

School of Engineering Technologies & Mathematics
The CMM is just one of the high-tech devices that students in the Mechanical Engineering Technology program learn to use to get the type of hands-on experience to help them land jobs at area companies – positions that start at $40,000 a year. To address a growing demand for trained technicians, companies are turning to STCC graduates who have earned their associate degrees.
Ryan, a second-year student from Chicopee who expects to graduate in May, says she loves programming and operating high-tech equipment.
"I really enjoy being at the machine and watching it dig into a part," she said, smiling.
As a student in the MET program, Ryan has plenty of opportunities to use state-of-art equipment that will help make her shine when applying for jobs at robust regional companies such as Pratt & Whitney in East Hartford or Smith & Wesson in Springfield.
Recent grant gives program a high-tech boost
Flush with money from a state grant in 2013 and additional funding from STCC, the MET program was able to build out a $1.8 million lab that includes lathes and milling machines, among other cutting-edge equipment. Lathes use a rotating drive to shape metal, while milling machines are positioned either horizontally or vertically to carve out metal.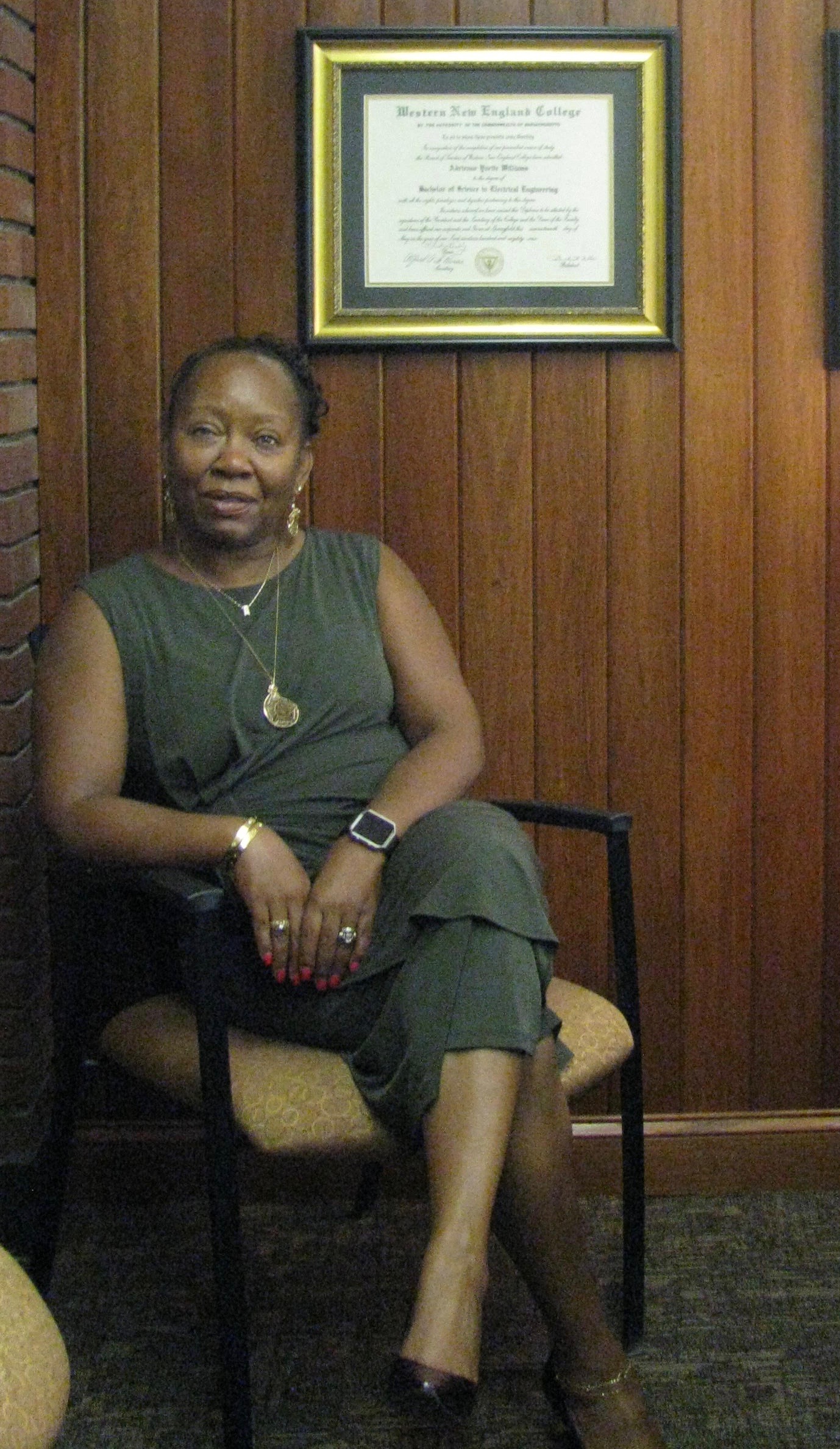 Dr. Adrienne Smith, dean of the School of Engineering Technologies and Mathematics, said the MET program trains students how to use the same equipment companies use.
"We had a huge influx of funding from the state two years ago, and with that money we refurbished our entire precision manufacturing classrooms and laboratories," Smith said. "We purchased new CNC (computer numeric control) milling machines and lathes. We now have a total of 16 CNC mills and lathes."
MET students also use 5-axis machines, which move parts on five different axes at the same time, Smith said.
"A lot of manufacturing companies don't even have 5-axis machines," Smith explained. "We now have CMMs – coordinate measuring machines. A lot of companies are looking for individuals within their organizations who have the skills to run that type of equipment. We have it all. We can offer it all right here."
Melissa Chapin, 32, of Ludlow, graduated from the MET program in May 2014 and now works at Pratt & Whitney. She's also continuing her education. Chapin is pursuing an associate degree in the engineering and science transfer program at STCC, taking classes at night. She eventually hopes to transfer to the University of Hartford to earn a bachelor's degree.
At Pratt & Whitney, she's a drafter and designer, applying skills she learned at STCC.
"Pratt really acknowledges our program," Chapin said. "The STCC success rate has been really good for them."
While a senior at STCC, Chapin received a full-time internship at Pratt & Whitney. She did so well the company offered her a permanent position after graduation.
"I graduated May 28, 2014, and started full time the next Monday with Pratt," Chapin said. "As far as the MET program goes, it was a huge stepping stone for my career. I bought a house. It was incredibly life-changing."
Chapin was in her late 20s when she enrolled in the MET program. Her father (a STCC graduate) and grandfather were both engineers.
"I was like the little boy my father never had," she said with a laugh. "I worked with him in the garage and had a spark of interest."
While the field is still dominated by men, engineering is starting to attract more women like Chapin. "Women are making huge strides in engineering," Chapin said.
More women pursuing engineering careers
Smith said data show that many women who pursue engineering careers do so "because they have someone in their immediate sphere of influence who was in the field."
"We have a huge gap in terms of the number of men and women who are enrolled in our programs," Smith said. "That's why it would be great to have more young women just come and take a look at it."
Smith used to oversee a summer camp for young women to introduce them to the world of engineering technology.
On a personal note, Smith said she never considered engineering as a teenager. She thought about becoming a medical doctor, but received some golden advice from a high school guidance counselor who encouraged her to enroll in a college program that exposed her to engineering and technology.
"I went and fell in love with it," she said. "So that's why the exposure is critical. It really makes a huge difference."
Elizabeth Ryan, the student who was using the coordinate measuring machine, said she was inspired by her father, a machinist.
"I grew up with him showing me little trinkets and stuff he brings home from work. I was always interested in how things are made," Ryan said. "When I was a freshman in high school, we had a tour of all the programs that they offered us, and I just really took to machining. It was mathematical, which is something I'm very good at. And I like making something. It gives you a good sense of accomplishment when you ca n put your hands to work and make something that's useful."
Another student, Kaitlyn Fricke, of Ware, said she got excited about engineering when she took a shop class at Pathfinder Regional Vocational Technical High School in Palmer. "I ended up taking machining. That really influenced me to come here and take this particular program."
A wide variety of options for STCC MET graduates
The MET program at STCC offers graduates an array of options. According to MET Professor John LaFrancis, students can choose to focus in one of three areas of concentration:
Design: Students learn to use Mastercam, one of the most widely used computer-aided design and computer-aided manufacturing software in the world. The software allows students to design virtual parts on a computer screen. They also use SolidWorks, a solid modeling computer-aided design and computer-aided engineering computer program.
Manufacturing: Students learn to run computer numeric control (CNC) machines. They can either program or set up these machines. LaFrancis said this area in particular has a big demand for employees. "We can place 100 percent of our students in that field right now," he said.
Inspection: This area focuses on quality control. An inspector may look at a blueprint and use measuring tools to make sure the part met the blueprint requirements.
Students learn about the three areas while enrolled in the program. After receiving their associate degrees, they can transfer to a four-year college to work toward a bachelor's degree. But even with their associate degrees from STCC, they often find jobs at companies that manufacture jet engines or medical devices. In New England, many students get hired at places like Pratt & Whitney, but they also have an option to work at smaller manufacturing companies.
Smith said, "Right now there are a lot of job opportunities in precision manufacturing. A lot of baby boomers are retiring, so we need some skilled and educated workers to fill those positions. Unlike the days of old, the current industry provides opportunities for jobs that are clean and neat, challenging, engaging and high paying. So, individuals with skills to fill those jobs can certainly maintain a good lifestyle."
Who's a good fit for the MET program at STCC?
The MET program is non-calculus based, but incoming students should be comfortable with manipulating numbers.
"You have to have a math aptitude," said Gary Masciadrelli, professor and chair of the department. "Computer skills are huge."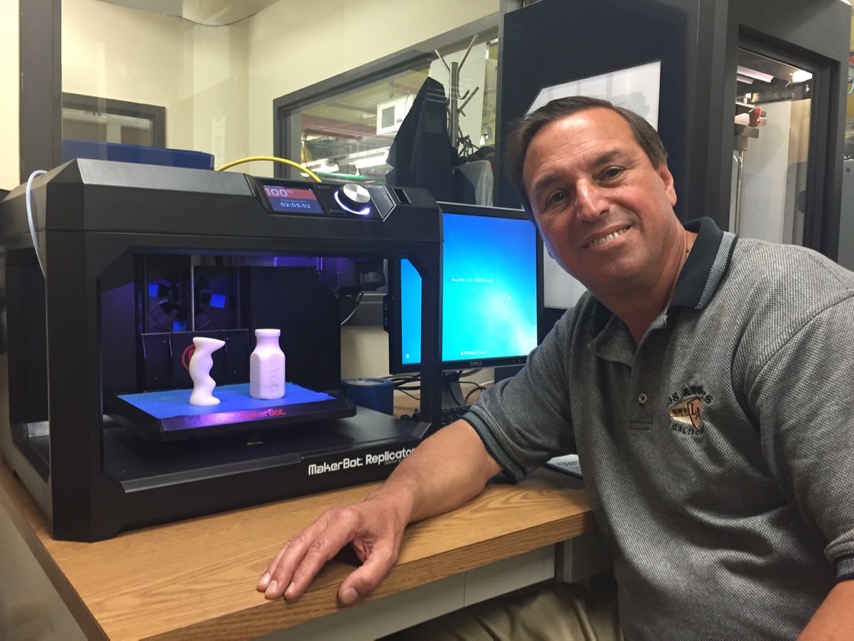 MET at STCC also attracts older students who may be changing careers or need to retrain because they were laid off from a job in another field.
Masciadrelli believes the MET program provides an affordable pathway to a rewarding career. Students in the program, which costs roughly $10,000, have opportunities to work summer internships at Pratt & Whitney.
"If they like you, after you finish your second year and have graduated, you have full-time employment awaiting you," Masciadrelli said. "You have a job. You've got income, and you now have a company more than willing to pay for you to go off and finish a four-year degree any place you would like. How can you compete with that, going to any four-year college and end up $200,000 in debt?"
If you're interested in applying to STCC's Mechanical Engineering Technology program or have questions, call Admissions at (413) 755-3333. You can also apply online: http://www.stcc.edu/admissions/applynow.asp.
About Springfield Technical Community College
Founded in 1967 and located on 35 acres of the Springfield Armory National Historic Site, STCC is a major resource for the economic vitality of Western Massachusetts. As the only technical community college in Massachusetts, STCC, an Achieving the Dream Leader College, offers a variety of career programs unequalled in the state. STCC's highly regarded transfer programs in business, engineering, liberal arts, science and technology continue to provide the most economical options for students pursuing a four-year degree. With an annual enrollment of more than 8,500 day, evening, weekend and online students, STCC is a vibrant campus rich in diversity.
For more information about STCC, visit www.stcc.edu. Follow us on Facebook and Twitter (@S_T_C_C).
Media Contact: Jim Danko, Coordinator of Media Relations, (413) 755-4812, jdanko@stcc.edu