STCC men's wrestling team wins Northeast Regional Championship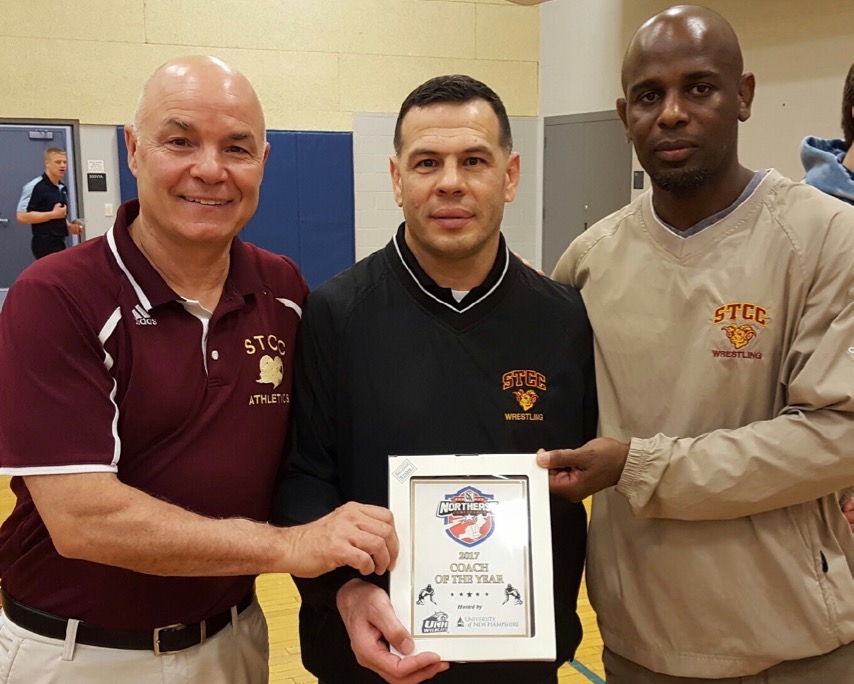 SPRINGFIELD, Mass. – Springfield Technical Community College men's wrestling team on Saturday became the first community college to win the National Collegiate Wrestling Association Northeast Conference Regional Championship.
Wrestlers from the men's and women's teams will next compete in the NCWA Nationals at Allen, Texas, which begins March 9.
At the Regionals, STCC's men's team came out on top among 15 colleges and universities from New York, Massachusetts, Rhode Island, Connecticut, Vermont, Maine and New Hampshire. They competed at the University of New Hampshire in Durham, N.H.
"In the history of the NCWA, we are the first and only community college to capture a regional championship," said STCC Athletic Director J. Vincent Grassetti. "There have been over 100 regional championships in the history of this organization. Only one community college has won a championship. We're that college. It's a pretty significant accomplishment. That's huge for us and for our kids and our coaches."
The Rams defeated the three-time defending champions from Alfred State College in New York and also topped the University of Maine, which finished third, Grassetti said.
STCC scored 166 team points to seize the championship. After the victory, coaches from the 15 teams in the NCWA voted Alberto Nieves 2017 Coach of the Year for the Northeast Conference of the NCWA.
In the history of the NCWA, we are the first and only community college to capture a regional championship, J. Vincent Grassetti

STCC Athletic Director
Grassetti praised Nieves, saying the award was well deserved.
"Our coach was recognized as being the top guy for this year in this part of the country," he said. "I personally think he's been coach of the year for many other years, but this year he actually got the award."
Nieves credited his assistant coaching staff for helping to propel the team to victory. They include his brother Anibal Nieves and Asnage Castelly, both of whom have competed in the Olympics.
"It's not just me. It's all of us together," Nieves said.
Eleven wrestlers from STCC men's team will compete in the NCWA Nationals in Allen, Texas, March 9-11.
They are Christian Antoine, who placed 1st in the regionals at 125 pounds; Chris Vega, 2nd at 133 pounds; Marcos Mercado, 2nd at 141 pounds; Walter Ordonez, 5th at 141 pounds; Rey Dishmey, 4th at 149 pounds; Austin Kirby, 5th at 149 pounds; Matt Frank, 4th at 157 pounds; Sean Baker, 5th at 184 pounds; George Hargrove, 1st at 197 pounds; Jered Escribano, 3rd at 235 pounds; and Donavan Lozada, 1st at 285 pounds.
Other wrestlers who placed in the regionals for STCC were Enrique Cuevas, 8th place, 133 pounds; Justin Morse, 5th place, 157 pounds; Justin Perez, 7th place, 165 pounds; and Luis Rodriguez, 8th place, 174 pounds.
Grassetti said wrestlers who advance to the third day at the nationals would become all Americans.
"It's very possible those kids can go deep and make it to that third day, which is pretty exceptional," Grassetti said. "It's very competitive. It's the best of the best from the whole country. We're excited about going to nationals."
About Springfield Technical Community College
Founded in 1967 and located on 35 acres of the Springfield Armory National Historic Site, STCC is a major resource for the economic vitality of Western Massachusetts. As the only technical community college in Massachusetts, STCC, an Achieving the Dream Leader College, offers a variety of career programs unequalled in the state. STCC's highly regarded transfer programs in business, engineering, liberal arts, science and technology continue to provide the most economical options for students pursuing a four-year degree. With an annual enrollment of more than 8,500 day, evening, weekend and online students, STCC is a vibrant campus rich in diversity.
For more information about STCC, visit www.stcc.edu. Follow us on Facebook and Twitter (@S_T_C_C).
Media Contact:
Jim Danko, Coordinator of Media Relations
(413) 755-4812, jdanko@stcc.edu