STCC opens summer and fall registration for current and new students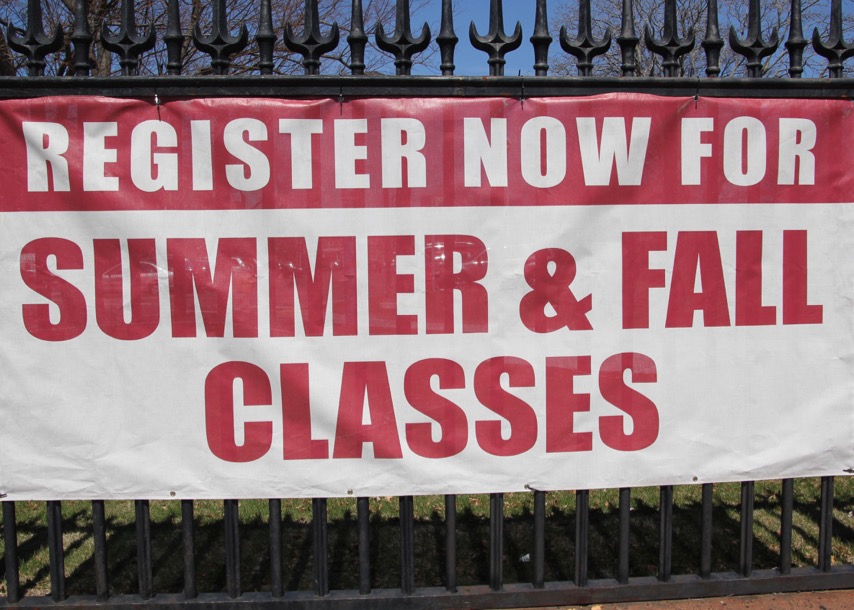 SPRINGFIELD, Mass. – Springfield Technical Community College opened registration for summer and fall classes, offering hundreds of convenient and affordable options for currently enrolled and new students.
Current STCC students have until April 20 to sign up for classes before registration opens to new students on April 21. Students can choose among a variety of new classes and programs that meet regional workforce needs in addition to courses and programs that have been part of the college's fabric since its founding in 1967.
As the only technical community college in Massachusetts, STCC offers more than 95 programs in business, healthcare, human services, urban studies, liberal arts, and science, technology, engineering and mathematics (STEM) fields — many of which are not available anywhere else in the region.
Summer sessions at STCC run June 1-July 2, June 3-Aug. 6, and July 5-Aug. 6. The fall semester runs Sept. 8-Dec. 22.
Summer sessions represent an option for students who may be enrolled at another school to take general education courses at a fraction of the cost of similar courses offered at their college or university.
New programs at STCC include a Fire Investigation Transfer program that provides a pathway from STCC to a four-year university or college to receive a bachelor's degree. In addition, the college is expanding offerings in Urban Studies with new classes on cities and immigration.
"We are excited to offer an English course called 'Immigrant Perspectives: Film and Literature' and a history course called 'Immigrant City,'" said Richard Greco, dean of the School of Liberal Arts and Professional Studies. "We also offer 'The City in Literature' as an online course. These 'Immigrant' and 'City' courses are part of our Urban Studies program, but students can take them as a part of their general education to fulfill humanities and behavioral science requirements. The history of Springfield cannot be taught without looking at the stories of immigrants and the future of Springfield is dependent upon a cultural understanding of current immigration patterns."
Due to the COVID-19 pandemic, STCC in March restricted on-campus access and transitioned to remote learning for the remainder of the term. STCC will offer many online summer classes and when cleared and in alignment with state and federal guidelines will resume on-site classroom teaching.
In addition, STCC offers seven-week flex terms with online, hybrid, and face-to-face instruction options. Flex terms, which are offered in the fall and spring, are half as long as the traditional 14-week semester. This means students can complete two courses in the time it takes to finish one traditional course. Fall flex term classes start Sept. 8.
STCC Vice President of Academic Affairs Geraldine de Berly said, "STCC will continue to develop fully online programs in the coming year. In other programs that have been traditionally taught on campus, we are pleased with how the faculty and students have adapted to remote instruction over the past several weeks."
STCC also has made available free laptops and WiFi access to students who don't have access at home.
For prospective students who are interested in learning more about STCC and its programs, the Admissions Office is hosting Facebook Live events along with other ongoing social media outreach activities that are part of the college's virtual recruitment and enrollment campaign for fall 2020 and beyond.
Visit STCC's Facebook page to learn more about the live events.
For more information about registering for STCC classes, visit www.stcc.edu/explore/register. If you have questions, email Admissions at admissions@stcc.edu or call (413) 755-3333.
About Springfield Technical Community College
Founded in 1967 and located on 35 acres of the Springfield Armory National Historic Site, STCC is a major resource for the economic vitality of Western Massachusetts. As the only technical community college in Massachusetts, STCC offers a variety of career programs unequalled in the state. STCC's highly regarded transfer programs in business, advanced manufacturing, healthcare, liberal arts, and STEM fields continue to provide the most affordable options for students pursuing a four-year degree. With an annual enrollment of about 7,000 day, evening, weekend, and online students, STCC is a vibrant campus rich in diversity.
For more information about STCC, visit www.stcc.edu. Follow us on Facebook, Twitter (@S_T_C_C) and Instagram (@stccpics).
MEDIA CONTACT:
Jim Danko, (413) 755-4812, jdanko@stcc.edu