STCC partners with Springfield Armory for trades training opportunity
SPRINGFIELD, Mass. – Springfield Technical Community College graduate William Randall found a job that combined his love of landscape and history.
On many of his days this past summer and into the fall, STCC Landscape Design and Management Technology graduate William Randall applied lessons from his classroom work to spruce up the Springfield Armory National Historic Site.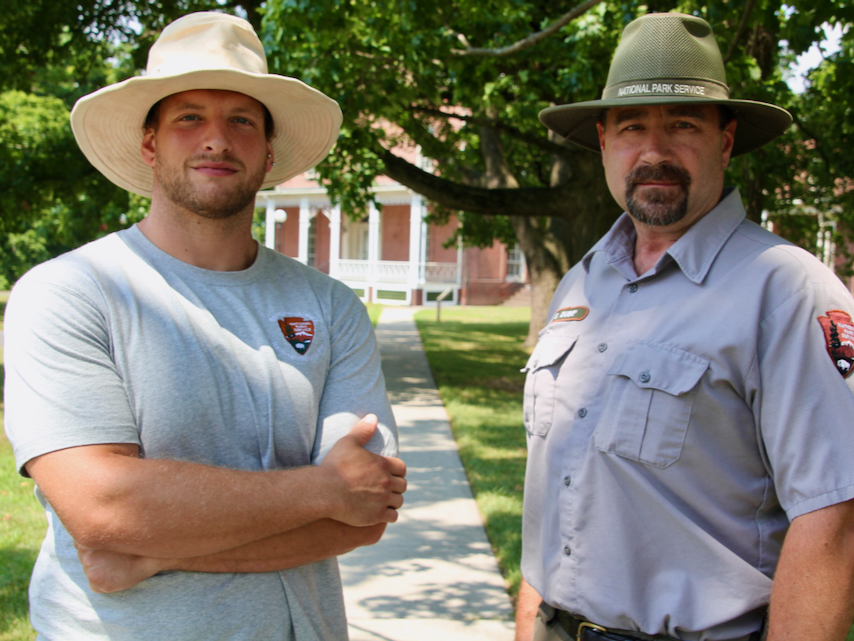 Randall '22 joined a five-month paid internship offered through the National Park Service Historic Preservation Training Center Traditional Trades Apprenticeship Program (TTAP) and national youth partner Conservation Legacy.
Randall, a Springfield resident, was one of two apprentices with a STCC connection. Current student Dominic Mancuso was chosen to focus on HVAC systems within historic structures. Mancuso, of East Longmeadow, is pursuing an associate degree in Energy Systems Technology with a goal of graduating in May.
Randall and Mancuso recently spoke about their work and interest in the program in interviews at the Springfield Armory National Historic Site.
"This really does combine all my interests," said Randall, a history buff who loves landscape architecture.
Randall focused on turning a hillside on the Armory property into an environmental project with an eye-catching design. He wanted to maintain the historic nature of the location.
"I want to make this a park that people can enjoy, where they can look around and appreciate Springfield's history," Randall said. "Springfield has had such an historical impact on the country."
STCC sits on the historical land that was the location of the United States' primary arsenal during the American Revolutionary War, and then was the scene of Shays' Rebellion.
I want to make this a park that people can enjoy, where they can look around and appreciate Springfield's history. William Randall

STCC Class of '22 graduate
Randall conducted research to find out about the types of vegetables and plantings on the location in the 19th century. His goal was to landscape the area and maintain the historical character.
The other apprentice, Dominic Mancuso, worked at the Armory museum two days a week this summer and fall taking on HVAC tasks (heating, venting and air conditioning). He saw it as a great opportunity for him as a student to get experience and a paycheck.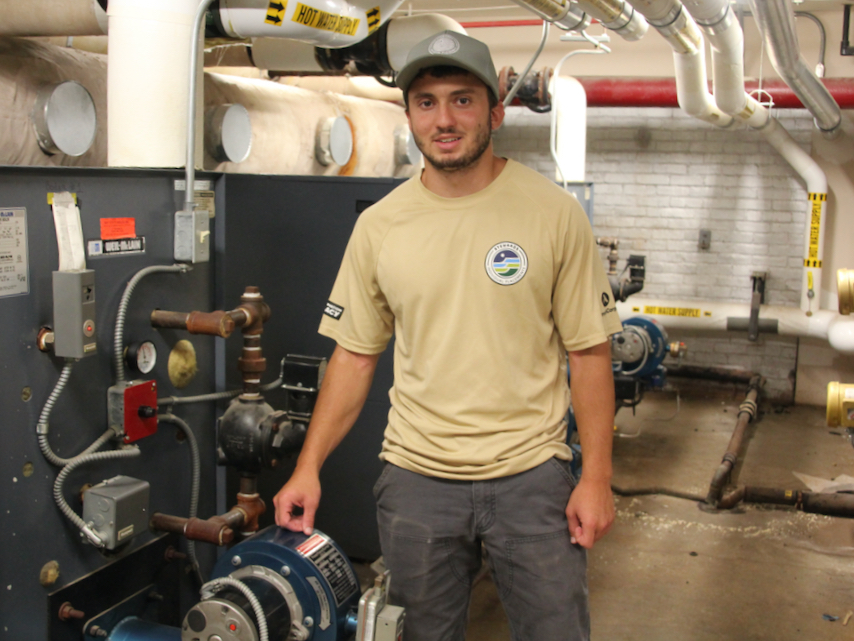 "Nobody wanted to hire me because I had no experience," Mancuso said.
As part of his apprenticeship, he was able to visit other historical parks, including one in Boston.
"I liked this experience a lot. I've learned a lot and I definitely recommend it," he said.
Lara Sharp, dean of the School of STEM (science, technology, engineering and math), said the apprenticeship is a good match with the programs at STCC, which emphasize hands-on learning.
"We are thrilled to partner with our neighbor, the Springfield Armory, and offer unique opportunities for our students to work with experts in the trades," Sharp said. "We constantly encourage students to look into internships and apprenticeships which can give them the experience they need in addition to the education they get at STCC. The Armory offers hands-on experience and a valuable history lesson for students. We look forward to continuing our partnership."
Amy Glowacki, Interpretation and Program Manager at the Armory, said the program is a win for STCC and the Springfield Armory National Historic Site.
"We are neighbors and partners with STCC, which has an HVAC program and Landscape Design and Management program. This (apprenticeship) program can help develop the next generation of workers in trades. We see this program as an opportunity for growth and a way for us to work together and support students," Glowacki said.
The initiative is made possible through national, state and local partners working together to provide immersive preservation experiences and apprentice-style skills training in the traditional trades professions.
The Springfield Armory also partners with Preservation Mass and the Pioneer Valley Planning Commission in the quest to develop a community-based program that provides support, mentorship and resources to further its collective preservation goals and develop the skills of next generation historic preservationists.
Interested in applying to STCC? Visit stcc.edu/apply or call Admissions at (413) 755-3333.
About Springfield Technical Community College
STCC, the Commonwealth's only technical community college, continues the pioneering legacy of the Springfield Armory with comprehensive and technical education in manufacturing, STEM, healthcare, business, social services, and the liberal arts. STCC's highly regarded workforce, certificate, degree, and transfer programs are the most affordable in Springfield and provide unequaled opportunity for the vitality of Western Massachusetts. Founded in 1967, the college – a designated Hispanic Serving Institution – seeks to close achievement gaps among students who traditionally face societal barriers. STCC supports students as they transform their lives through intellectual, cultural, and economic engagement while becoming thoughtful, committed and socially responsible graduates.
MEDIA CONTACT:
Jim Danko, jdanko@stcc.edu, (413) 755-4812