STCC prepares to deliver 'exceptional' online learning experience
SPRINGFIELD, Mass. – When students log in virtually on the first day of the new fall semester, they will begin an online learning experience that Springfield Technical Community College educators have been fine tuning all summer.
STCC started planning the conversion to online learning in April, about a month after the college moved away from face-to-face learning due to the COVID-19 pandemic. With the early start in planning, STCC is poised to deliver an online learning experience that is equal in quality to the face-to-face experience, said Geraldine de Berly, vice president of Academic Affairs at STCC. Fall semester classes begin Sept. 8.
"Our adjunct and full-time faculty have been training all summer to prepare for the new school year," de Berly said. "I'm thrilled with the progress they made. Students this fall will receive an exceptional online learning experience. STCC has made a substantial investment to ensure high quality courses across all academic disciplines."
STCC invests a half million dollars in training and development
The college spent nearly $500,000 for 100 full-time and 76 adjunct faculty to develop 416 online classes and labs scheduled this summer and fall. Faculty trained through an Online Development Program at STCC.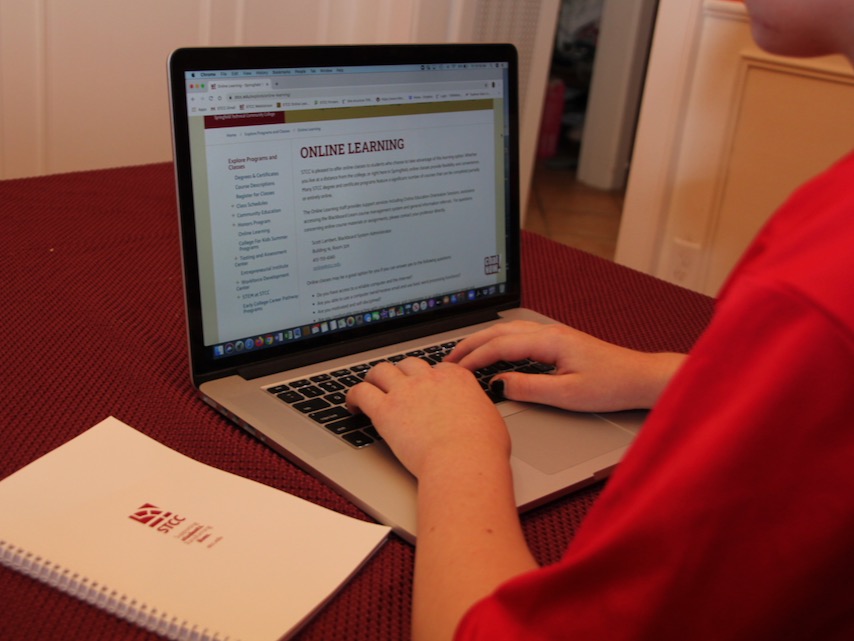 While it is the only technical community college in Massachusetts and prepares students to enter the workforce upon graduation, STCC also offers an opportunity for students to obtain a degree in liberal arts and transfer to a four-year college or university. Given the affordability and value of a STCC education, Richard Greco, dean of Liberal Arts and Professional Studies, said students who might have eyed a four-year experience are giving the community college a second look this fall.
"We spent this year close to a half-million dollars on training and development to ensure we are offering the best courses possible," Greco said. "Why send your child to a college where they are going to be living in a one-bedroom dorm, taking classes online for $50,000 a year when you can come to STCC and spend $2,700 for a semester to get a high quality education that we spent a long time preparing for?"
STCC will offer online classes with a mix of low-density on campus labs for health, science and technical programs. The college will continue to restrict access during the fall semester and will require students and faculty to follow strict safety protocol when they are on campus.
In an update to the STCC Board of Trustees, President John B. Cook said more than 80 percent of the credits at STCC will be offered online this fall. Prior to the pandemic, about 12-14 percent were offered online.
"That's an incredible and stunning change in a matter of months," Cook told the board. "It allows us to still be viable."
Online learning offers flexibility and quality
Mary Wiseman and Kyle Kraus, instructional designers at STCC, worked one-on-one with faculty to help them develop their online classes. Faculty will be using a number of digital tools including Zoom conferencing. STCC uses an online learning management tool called Blackboard to access course resources which include video, audio, PowerPoint slide presentations, graphics and more.
Wiseman is a big advocate of online learning, having studied the method for over 26 years. She highlights advantages to the approach, which include greater flexibility. Students who are juggling a busy schedule can access materials online 24/7 and complete the academic work at their own pace.
"An online experience is a very thoughtful, planned, unfolding of a course in the virtual space," Wiseman said. "There's a lot you can do online. It's very exciting. When you take away the fact that somebody has to be at a particular place at a particular time, you take away a lot of constraints."
Students this fall will receive an exceptional online learning experience. STCC has made a substantial investment to ensure high quality courses across all academic disciplines. Geraldine de Berly,

Vice President of Academic Affairs at STCC
Wiseman said online courses are as rigorous as face-to-face courses.
"I've been studying online for 26 years so I think it's a really good way to continue your education and keep investing in yourself. You will never go wrong investing in your own education and your own self," she said.
In addition to online courses, STCC will offer support services online, including advising services, library and student orientations. STCC, a Hispanic Serving Institution, is able to provide some students with Chromebooks laptop computers and WiFi hotspots. The college will offer support to students who need help with the online experience.
Faculty look forward to online instruction
STCC faculty say their preparation over the summer has them feeling confident about the new semester.
Jennifer DeForge, professor of Architectural and Building Technology, said students who are used to the "hands-on" approach at STCC will not be disappointed.
"Topics in Architecture and Building Technology classes are very hands-on, but we have created a unique and inventive way to bring this to a distance format," DeForge said. "For me, building technology will benefit greatly from learning online, as our construction and businesses are already using virtual platforms to create integrated team design, planning and building for large construction projects, and can be used for the residential sector. So, learning online right now is a great way to introduce these concepts that our students will be using in real life."
Frances Riddle, a professor of art, said the pandemic disruption in March was not easy for faculty or students. But she is looking forward to applying the exhaustive training she obtained over the summer to the virtual classroom."
"In the spring, everybody was doing emergency remote teaching, and that's not what we're going to be doing in the fall," Riddle said. "In the fall we are planning, and we are educating ourselves on how to teach quality, rigorous, engaging online classes.
"I am personally intrigued and excited about it," Riddle added. "It's exciting to see what we can do with a hands on-class, like a studio class, where students are making art, and professors are guiding them through that process in an online class."
Interested in applying to STCC? Visit stcc.edu/apply or call Admissions at (413) 755-3333.
About Springfield Technical Community College
Founded in 1967 and located on 35 acres of the Springfield Armory National Historic Site, STCC is a major resource for the economic vitality of Western Massachusetts. As the only technical community college in Massachusetts, STCC offers a variety of career programs unequalled in the state. STCC's highly regarded transfer programs in business, advanced manufacturing, healthcare, liberal arts, and STEM fields continue to provide the most affordable options for students pursuing a four-year degree. With an annual enrollment of about 7,000 day, evening, weekend, and online students, STCC is a vibrant campus rich in diversity.
For more information about STCC, visit www.stcc.edu. Follow us on Facebook, Twitter (@S_T_C_C) and Instagram (@stccpics).
MEDIA CONTACT:
Jim Danko, (413) 755-4812, jdanko@stcc.edu