STCC professor lauded for his work supporting technical education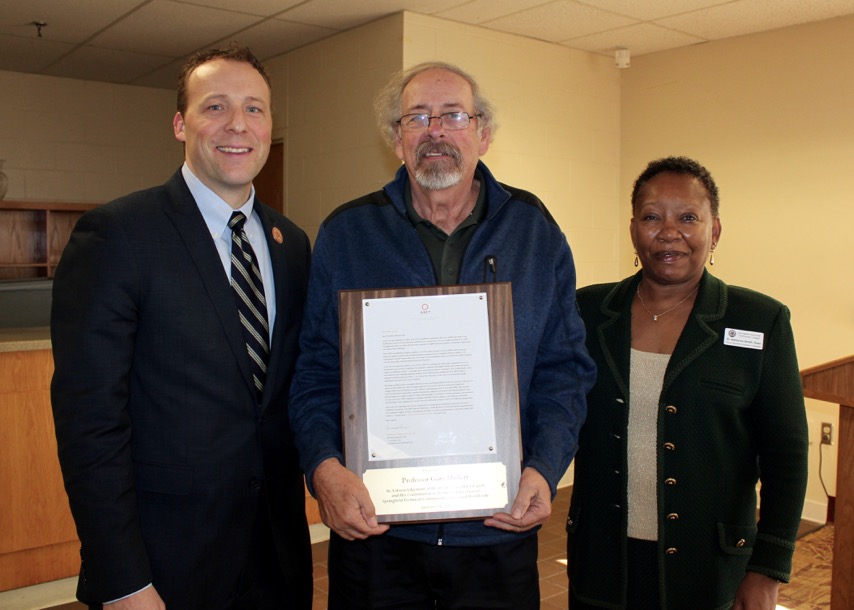 SPRINGFIELD, Mass. – Springfield Technical Community College President John B. Cook honored Professor Gary Mullett for his "contribution to technical education at Springfield Technical Community College and worldwide."
He was presented with a plaque that included a letter addressed to Cook thanking Mullett for his work as a program evaluator for ABET, the global accreditor of college and university programs in applied and natural science, computing, engineering and engineering technology. The letter was signed by ABET Executive Director and CEO Michael K.J. Milligan.
"It is very much a surprise to me," Mullett said with a smile, after accepting the plaque. Mullett, of West Springfield, has been working for ABET for about 20 years.
Cook thanked Mullett for his many years of dedicated service and presented the plaque during a meeting with his colleagues at STCC.
"Although Professor Mullett is exceedingly humble, we simply could not help but appreciate and tout his tremendous contributions to engineering education," Cook said.
"Gary has been an asset to STCC and the Engineering Technologies division for many years," said Adrienne Smith, dean of the School of Engineering Technologies and Mathematics. "He has been instrumental in obtaining numerous grant awards and establishing relationships with sister colleges and universities. Gary's affiliation with ABET has also been a huge contributor to the process of receiving ABET accreditation for four of our Engineering Technology programs. We are very proud of Professor Mullett and thrilled to see him receive this much deserved recognition."
Mullett, a professor and department co-chair for Electronic Systems Engineering Technology, said he has traveled worldwide on behalf of ABET. "They sent me to Saudi Arabia, Peru and, this last time, Mongolia."
In his role at ABET, he evaluates educational programs against accreditation criteria. Mullett reviews course materials, student transcripts and interviews faculty, staff and students, among other responsibilities.
Described in the letter as an "ABET expert," Mullett assists ABET in reviewing more than 3,800 programs at more than 700 institutions in 31 countries. He also takes part in regular training to ensure his knowledge meets ABET standards.
In the letter, which is preserved on the plaque, Milligan stated: "It gives me great pleasure to share with you the significant contribution that Gary Mullett has made to our organization and to technical education worldwide. … Please join me in thanking Gary for his commitment to enhancing the educational experience of students worldwide. On behalf of the ABET Board of Directors, I would also like to thank you and your organization for your continued support of Gary's accreditation activities."
About Springfield Technical Community College
Founded in 1967 and located on 35 acres of the Springfield Armory National Historic Site, STCC is a major resource for the economic vitality of Western Massachusetts. As the only technical community college in Massachusetts, STCC, a designated Hispanic Serving Institution and an Achieving the Dream Leader College, offers a variety of career programs unequalled in the state. STCC's highly regarded transfer programs in business, engineering, liberal arts, science and technology continue to provide the most economical options for students pursuing a four-year degree. With an annual enrollment of more than 7,700 day, evening, weekend and online students, STCC is a vibrant campus rich in diversity.
For more information about STCC, visit www.stcc.edu. Follow us on Facebook and Twitter (@S_T_C_C).
PHOTO CAPTION:
STCC President John B. Cook, left, Professor Gary Mullett and Adrienne Smith, dean of the School of Engineering Technologies and Mathematics.
MEDIA CONTACT:
Jim Danko, (413) 755-4812, jdanko@stcc.edu