STCC professors named 2020 Deliso and Scibelli Endowed Chairs
SPRINGFIELD, Mass. – Springfield Technical Community College named two professors as the 2020 endowed chair award recipients.
The college selected Tracey McKethan, program chair and professor of Health Information Technology, as the 2020 Joseph J. Deliso Sr. Endowed Chair. John Wakelin, chair of Digital Media Production and faculty member, was chosen as 2020 Anthony M. Scibelli Endowed Chair.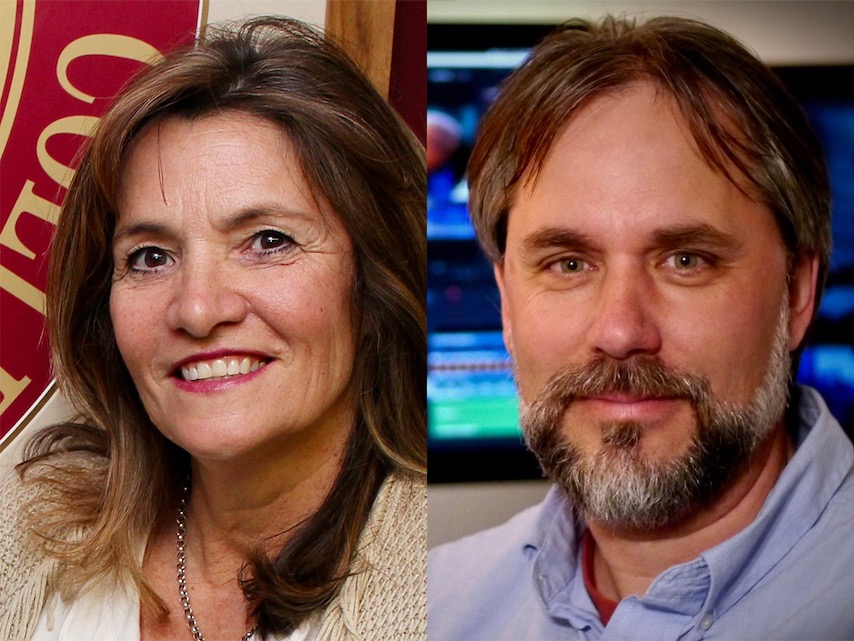 Each year, STCC faculty are nominated by their colleagues and then invited to apply. An award selection committee, made up of faculty and staff, reviews applications, and the STCC Foundation Executive Committee then selects winners.
STCC President John B. Cook announced this year's recipients on April 27 as part of a virtual ceremony.
McKethan and Wakelin, both of Westfield, received a monetary award – $3,000 each – and wooden chairs with plaques inscribed with their names. They can apply $1,500 to professional development and $1,500 to their academic department.
Christopher Scott, dean of the School of Health & Patient Simulation, praised McKethan for building out the new Health Information & Informatics Management (HIIM) program.
"She has worked tirelessly to develop a portfolio of courses and program offerings in the field of health information technology that has placed STCC as a premier leader in the development of HIT professionals," Scott said. "Professor McKethan joined our college in 2007 and has spent every day ever since dedicating herself to the very essence of what STCC stands for: transforming student lives."
McKethan said one of her proudest achievements was creating the new Health Information & Informatics Management HIIM degree program, the only one of its kind in the region.
I am proud that I have helped change students' lives. Tracey McKethan,

2020 Joseph J. Deliso Sr. Endowed Chair
The program prepares students for certification and practice as registered health information technicians who typically work with patient medical records at health care facilities. STCC also has transfer agreements with four-year institutions that allow students to continue their education and pursue a bachelor' degree.
"I am proud that I have helped change students' lives," McKethan said. "We have many graduates working with area healthcare employers who have wonderful jobs."
She would like to apply the money her department receives from the endowed chair award to help needy students pay for credential exam fees.
McKethan earned a Master of Business Administration (MBA) from Western Connecticut State University, a Bachelor of Science in Business Administration (BSBA) Finance from Western New England College (now university), and an associate's degree in computer technology from Holyoke Community College.
Wakelin, the Scibelli Endowed Chair recipient, is known for having a strong connection to his students and developing innovative student projects, said Barbara Washburn, interim dean of the School of STEM (science, technology, engineering and mathematics).
"He not only has a passionate commitment to his program, but to the community college. John has served on several high school advisory boards, the college's radio station advisory board, and several STCC committees," Washburn said.
Wakelin, who joined STCC in 2000, said he enjoys working with students and helping prepare them to become highly trained media professionals.
"Students that enter our program have grown up in a media-rich society and often have experience in producing or a keen interest in film, music, animation, gaming and arts," Wakelin said. "Having this experience, they have an appetite to learn as much as possible about media production when entering the program."
Wakelin said he plans to use the stipend for professional development and to purchase state of the art equipment for students.
Wakelin holds a master's in education from the University of Massachusetts in Amherst. He received his bachelor's degree in cinema from Binghamton University and his associate degree in communication and media arts from Broome Community College in New York.
Funded through the STCC Foundation, the awards are named for two of the college's founders. The college established the Anthony M. Scibelli Endowed Chair in 1992 to recognize and foster faculty excellence. As a member of the state House of Representatives, Scibelli sponsored and pushed through legislation approving funding and authorizing the transfer of 35 acres of Springfield Armory to the state, as a location for STCC.
In 1993, the Deliso family established the Joseph J. Deliso Sr. Endowed Chair at STCC in recognition of excellence in teaching. Appointed as the first chairman of the STCC Advisory Board, Deliso, an industrialist, served from 1967 to 1981. He then became first chairman of the STCC Board of Trustees, serving through 1985.
Interested in applying to STCC? Visit stcc.edu/apply or call Admissions at (413) 755-3333.
About Springfield Technical Community College
Founded in 1967 and located on 35 acres of the Springfield Armory National Historic Site, STCC is a major resource for the economic vitality of Western Massachusetts. As the only technical community college in Massachusetts, STCC offers a variety of career programs unequalled in the state. STCC's highly regarded transfer programs in business, advanced manufacturing, healthcare, liberal arts, and STEM fields continue to provide the most affordable options for students pursuing a four-year degree. With an annual enrollment of about 7,000 day, evening, weekend, and online students, STCC is a vibrant campus rich in diversity.
For more information about STCC, visit www.stcc.edu. Follow us on Facebook, Twitter (@S_T_C_C) and Instagram (@stccpics).
MEDIA CONTACT:
Jim Danko, (413) 755-4812, jdanko@stcc.edu