STCC puts students on the 'fast track' to a customer service career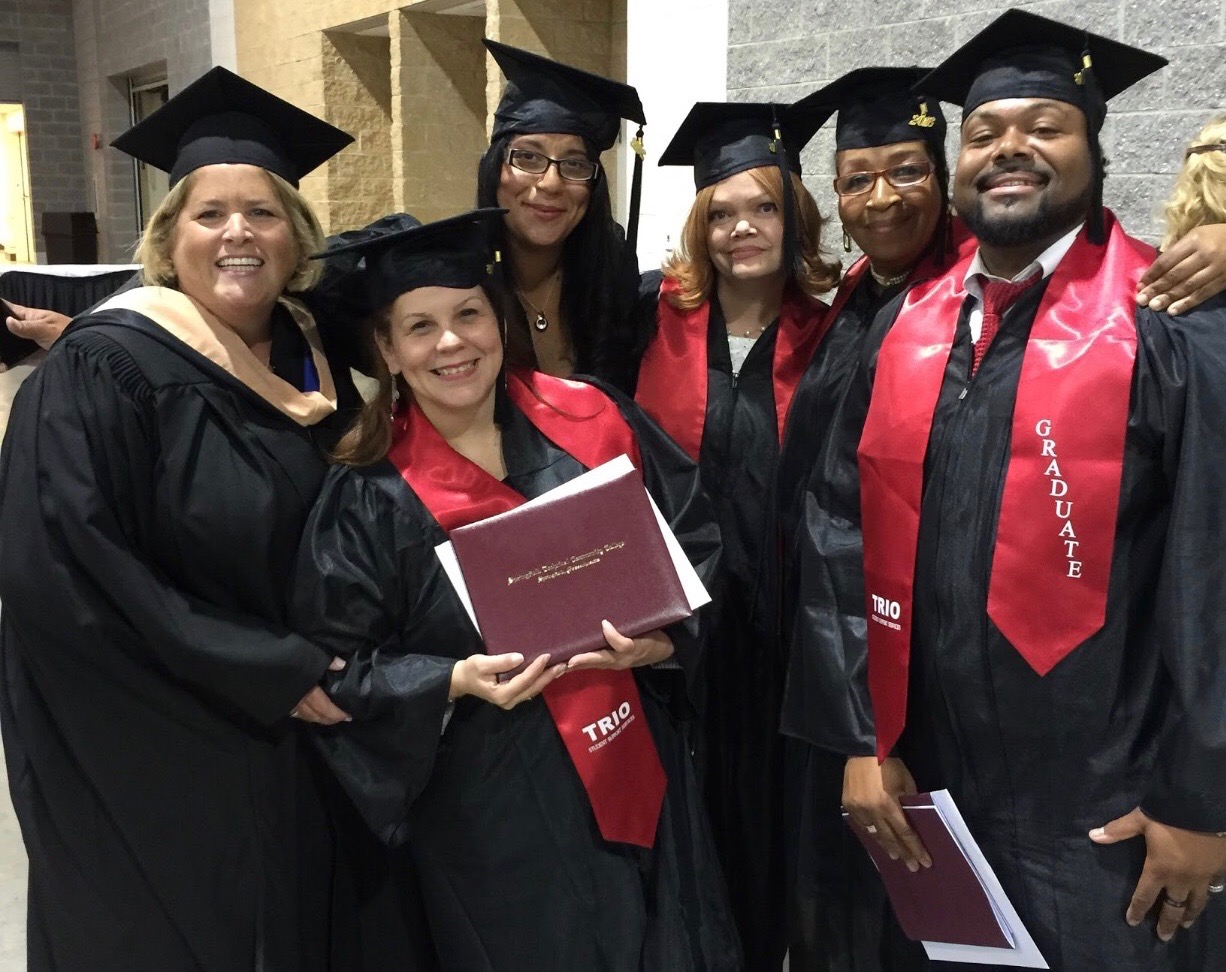 Professor Christina Atwater, left, joins students who completed an earlier Customer Service Essential Fast Track Certificate program, at a graduation ceremony.
SPRINGFIELD, Mass. – Springfield Technical Community College will offer "fast track" courses for a customer service training program that begins Monday, Oct. 23.
The accelerated 14-week program prepares students to become employable, strong candidates for advanced customer service and sales support positions. Students who successfully complete the program will earn a Customer Service Essentials Certificate.
Requested by area industry partners, the customer service fast track program reduces the time it takes to earn a certificate from 30 weeks to 14 weeks. Fast track customer service classes run Monday-Friday, 8 a.m. to 2 p.m., providing intense focus for faster completion. Four classes are offered for each seven-week semester.
Customer service requires a solid foundation in many areas to support the needs of both the customer and the organization. While employers welcome entry-level candidates for their customer service positions, a need exists for more prepared candidates who can achieve at higher levels.
"Customer service employees are critical to the success of the organization they work for," said Christina Atwater, Assistant Professor, School of Business and Information Technologies. "They are on the front lines of the company. They not only must have strong personal skills, but excellent problem-solving skills. With the certificate from STCC, they will have these skills and be prepared to take on advanced customer service roles."
Courses in the fast track program will provide a broad range of knowledge that will assist customer service professionals in many aspects of their future positions. –
English courses focus on written and verbal communication—the cornerstone of the customer service professional. Math and computer applications courses will help provide the tools needed to evaluate data and execute reports. Psychology, management, and marketing courses will provide foundational information to understand the people, organizations and functions that surround the customer service professional. The customer service and sales course, designed specifically for the certificate, will teach the craft of supporting customers and organizations, using customer-centric service techniques and trust-based selling techniques.
An STCC fast track customer service certificate allows students to become eligible for jobs in a number of different industries, including call center operations, financial services, sales, hospitality, customer service for manufacturing operations and retail and other organizations.
The program will include speed interview networking sessions and job placement assistance. Students will hear from guest speakers and go on company tours.
To enroll in the program, visit the STCC Admissions Office in Garvey Hall, Room 121. For more information, contact Christina Atwater: (413) 755-4062 or cratwater@stcc.edu. Space is limited.
Requirements to enroll in this program include having a high school diploma/GED/HiSET and a commitment to attend the program
Students enrolled in the fast track option will earn 24 college credits over two seven-week sessions that start Oct. 23 and end March 20. Students can apply these credits directly to an associate degree in business administration.
About Springfield Technical Community College
Founded in 1967 and located on 35 acres of the Springfield Armory National Historic Site, STCC is a major resource for the economic vitality of Western Massachusetts. As the only technical community college in Massachusetts, STCC, a designated Hispanic Serving Institution and an Achieving the Dream Leader College, offers a variety of career programs unequalled in the state. STCC's highly regarded transfer programs in business, engineering, liberal arts, science and technology continue to provide the most economical options for students pursuing a four-year degree. With an annual enrollment of more than 8,500 day, evening, weekend and online students, STCC is a vibrant campus rich in diversity.
For more information about STCC, visit www.stcc.edu. Follow us on Facebook and Twitter (@S_T_C_C).
Media Contact: