STCC receives significant donation in lead up to major gifts campaign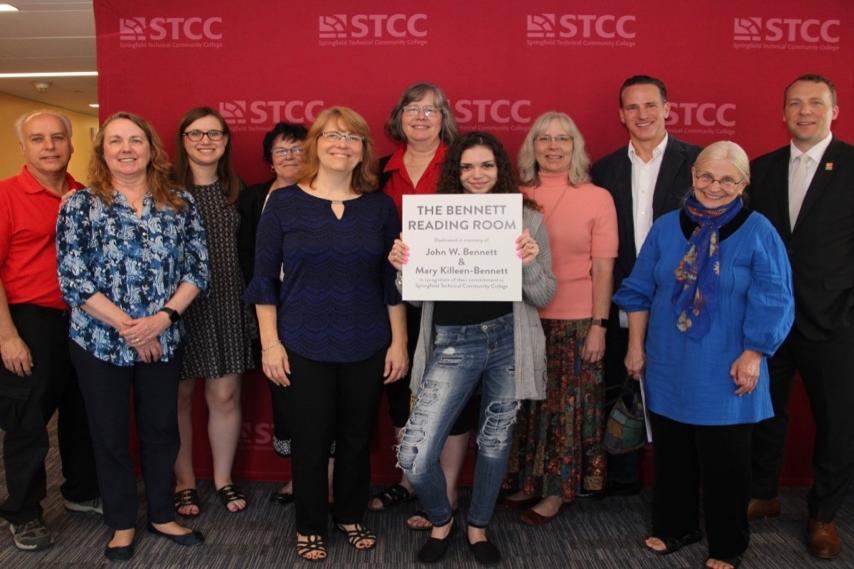 Family and friends joined in a dedication of the Bennett Reading Room. From left: John Willemain of Monson, Anne Kusekoski of Springfield, Abbie Kusekoski of Springfield, Jane Donovan of Springfield, Jeanie Couvillon of League City, TX, Ann Westra of Englewood, Colorado, Catherine Kusekoski of Springfield, Beth Aparicio of Littleton, Colo., William Bennett of London, England, Corinne Wingard of Agawam and STCC President John B. Cook.
SPRINGFIELD, Mass. – Springfield Technical Community College dedicated the reading room in the library in memory of John W. Bennett, who named STCC the beneficiary of his life insurance policy.
During a ceremony on June 14, STCC President John B. Cook thanked Bennett family members and friends who were on hand for the formal dedication of the Bennett Reading Room. STCC received $250,000 from the Bennett estate.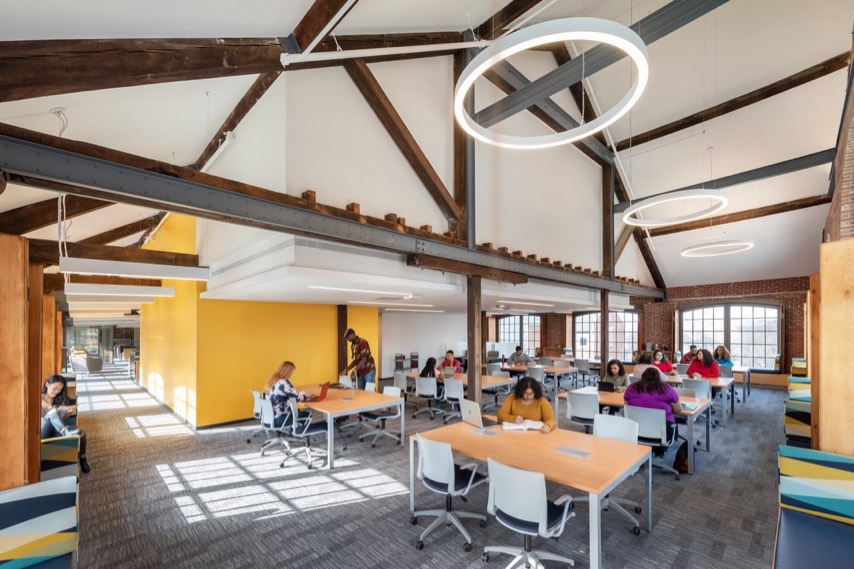 The significant donation comes as the STCC Foundation prepares for a major gifts campaign this fall. The Foundation, a nonprofit organization, helps the college meet its goals and commitment to provide superior educational opportunities in the community. The goal of the upcoming major gifts campaign is to raise money to build scholarships and enhance support services for STCC students.
Cook said donations like the one from the Bennett estate help create an affordable pathway to the college, with debt a key consideration for many families. "Despite the fact that STCC is one of the most affordable options, each year our students take out $4 million in federal student loans," Cook said. "When we receive a gift like this, it has tremendous impact for us and our students. We are tremendously grateful."
Cook told the family the reading room – designed with attention to historic detail – is one of the most inviting spaces in the newly renovated Ira H. Rubenzahl Student Learning Commons.
"When people now visit campus, this is one of those places we are sure to show. When our trustees hold a meeting in the Learning Commons, this reading room is the place they gather," Cook said. "We just don't have a space quite like this on campus, and we are thrilled to now identify this as the Bennett Reading Room."
When we receive a gift like this, it has tremendous impact for us and our students. We are tremendously grateful. John B. Cook,

STCC President
STCC Vice President of Advancement and External Affairs Denise M. Hurst said the gift will support the college's mission to transform lives of students.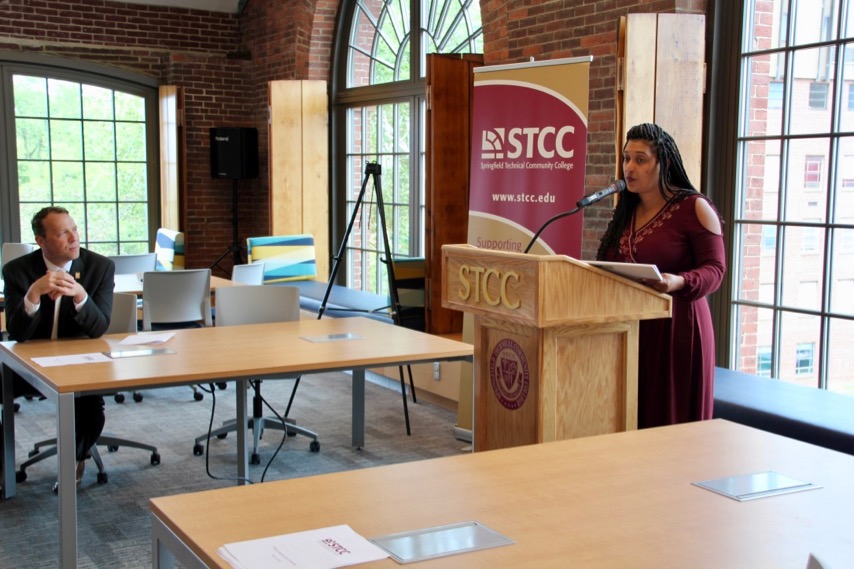 "The gift from the estate of John Bennett is a significant commitment and will have a direct, positive impact on the high quality of library resources available to our students," Hurst said. "Dr. Bennett's philanthropic planning directed his life insurance policy to the STCC Foundation which allowed the college to establish the Bennett Reading Room and the resources within. We are grateful to Dr. Bennett and his forward-thinking planning to ensure his legacy at Springfield Technical Community College."
The library reading room on the second floor of the Student Learning Commons includes large windows with a scenic view of the campus and city of Springfield. The Student Learning Commons opened in December following a major renovation.
Bennett's wife, the late Mary Killeen-Bennett, served as a faculty member in STCC's Human Services Program. The couple established the Killeen-Bennett scholarship at STCC.
Born in Holyoke, Bennett was a staunch advocate for education. He earned degrees from the University of Massachusetts in Amherst, Yale University, University of Pittsburgh and did graduate work at Brown University.
An Army veteran, Bennett taught at Springfield's High School of Commerce and served as president of the Springfield Federation of Teachers.
Interested in making a gift to support STCC students? Contact STCC Vice President of Advancement and External Affairs Denise M. Hurst at (413) 755-4197 or dhurst@stcc.edu.
About Springfield Technical Community College
Founded in 1967 and located on 35 acres of the Springfield Armory National Historic Site, STCC is a major resource for the economic vitality of Western Massachusetts. As the only technical community college in Massachusetts, STCC, a designated Hispanic Serving Institution, offers a variety of career programs unequalled in the state. STCC's highly regarded transfer programs in business, engineering, liberal arts, science and technology continue to provide the most economical options for students pursuing a four-year degree. With an annual enrollment of 5,000 day, evening, weekend and online students, STCC is a vibrant campus rich in diversity.
For more information about STCC, visit www.stcc.edu. Follow us on Facebook, Twitter (@S_T_C_C) and Instagram (@stccpics).
MEDIA CONTACT:
Jim Danko, (413) 755-4812, jdanko@stcc.edu