STCC respiratory care students helping at hospitals
SPRINGFIELD, Mass. – Several respiratory care students from Springfield Technical Community College's senior class are seeking limited permit licenses to help meet the demand to help patients during the coronavirus pandemic.
Esther Perrelli Brookes, director and department chair of the Respiratory Care program, said three students from STCC already are working at Baystate Medical Center after applying for and receiving respiratory care limited permit licenses.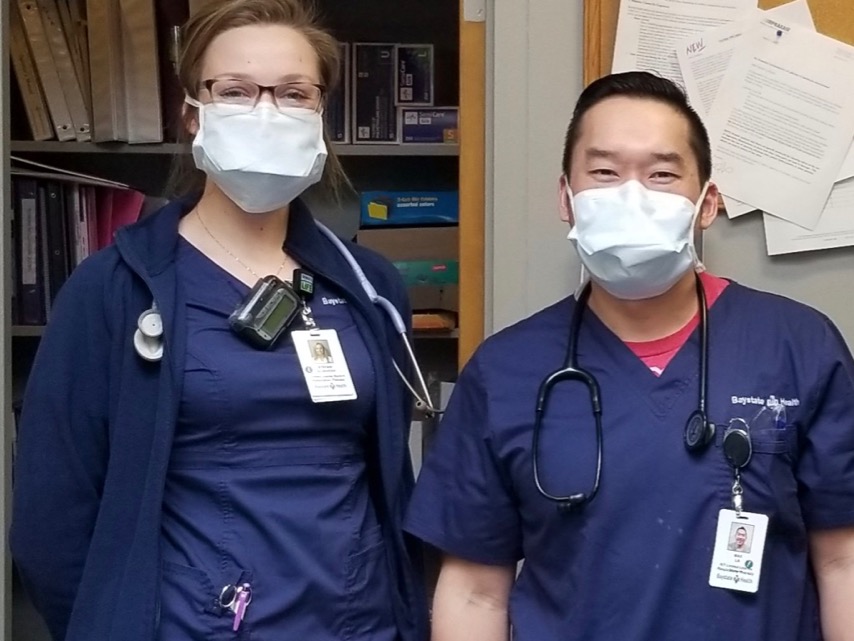 She said eight other students have applied for limited permit licenses so they can work in the field. In total, 13 students are enrolled as seniors.
"Students chose to study respiratory care because they want to help people. They want to make a difference," Perrelli Brookes said. "I'm extremely proud of my students who are stepping up during this unprecedented health crisis. I've had many students reach out to say they want to find out what they can do now. I've been helping them get their limited permit licenses."
In a phone interview, student Max La of Agawam said he received his limited permit license in October and started working at Baystate. "I was one of the first in my class to do it. It's a good learning experience, because other respiratory therapists are there and you can learn from them," he said.
The limited permit license means he can perform certain tasks but not everything a fully licensed respiratory care therapist would do. "We can't touch the ventilators," La said, referring to the devices that some seriously ill COVID-19 patients use in hospitals.
La received his limited permit license last fall, before the first COVID-19 case was even reported in China. At Baystate, he does not work with COVID-19 patients, but must wear gowns, masks and other personal protective equipment (PPE).
I'm extremely proud of my students who are stepping up during this unprecedented health crisis. I've had many students reach out to say they want to find out what they can do now. Esther Perrelli Brookes,

Director, Respiratory Care Program at STCC
La said Baystate takes strong precautions to protect him and others from contracting the coronavirus. "There's always concern," he said. "But Baystate has a good policy. Everyone has masks and they do temperature checks when everyone is walking in."
La's classmate Stefani Glukhova of Russell started working at Baystate in March, which she describes as "an amazing experience."
"All the staff here are very kind and generous and are always willing to help you," she said. "As it gets busier at the hospital with fighting COVID-19, the registered respiratory therapists work around the clock to help fight the virus. My fellow classmates and I do our very best to be available and help out with treatments, floor therapies such as chest physical therapy and much more. This is an amazing learning experience that I would recommend."
STCC's respiratory care program trains students skills in treatment, management, diagnosis and care of patients with breathing problems associated with diseases such as COVID-19.
Training at STCC includes the use of therapeutic gases, ventilator support, breathing exercises, aerosol administration, medications, humidification and maintenance of airways.
According to the U.S. Bureau of Labor Statistics, respiratory therapists will continue to be in high demand at hospitals and medical facilities. Projected job growth is 21 percent between 2018 and 2028, which is much faster than the growth rate for all occupations (5 percent).
Interested in applying to the respiratory care program at STCC? Visit stcc.edu/apply. If you have questions about the program, please email Esther Perrelli Brookes, department chair, at eperrelli@stcc.edu
About Springfield Technical Community College
Founded in 1967 and located on 35 acres of the Springfield Armory National Historic Site, STCC is a major resource for the economic vitality of Western Massachusetts. As the only technical community college in Massachusetts, STCC offers a variety of career programs unequalled in the state. STCC's highly regarded transfer programs in business, advanced manufacturing, healthcare, liberal arts, and STEM fields continue to provide the most affordable options for students pursuing a four-year degree. With an annual enrollment of about 7,000 day, evening, weekend, and online students, STCC is a vibrant campus rich in diversity.
For more information about STCC, visit www.stcc.edu. Follow us on Facebook, Twitter (@S_T_C_C) and Instagram (@stccpics).
MEDIA CONTACT:
Jim Danko, (413) 755-4812, jdanko@stcc.edu