STCC steers student toward internship at MIT Lincoln Laboratory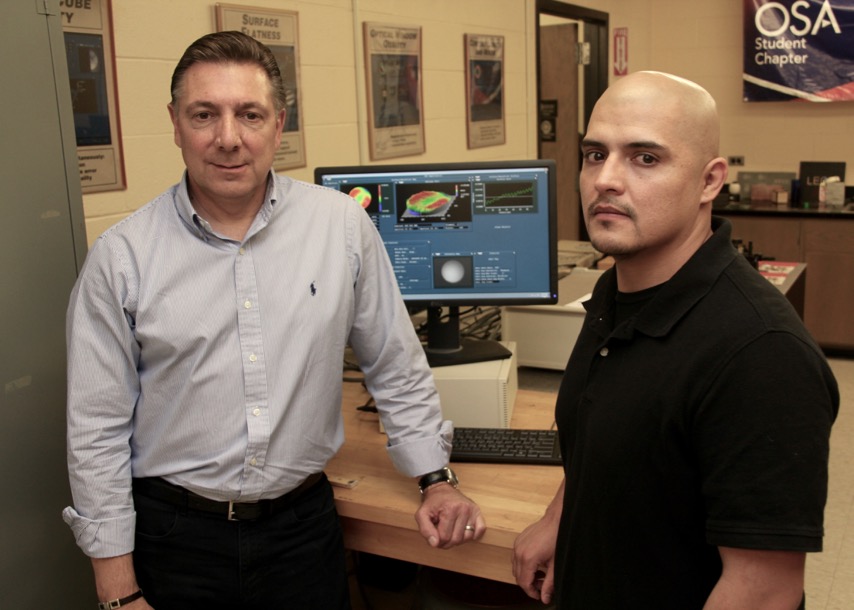 SPRINGFIELD, Mass. – Growing up in south Texas, Gerald Gagnon never dreamed he'd be working in a premier research laboratory affiliated with the Massachusetts Institute of Technology.
But this summer, a week after receiving his certificate in Optics and Photonics Technology from Springfield Technical Community College, Gagnon started working as an intern at the MIT Lincoln Laboratory, a Department of Defense research and development lab in Lexington.
"I come from a humble background. I'm the oldest and the first to go to college in my immediate family," said Gagnon, 32. "Now, I'm this guy from south Texas who's right here on the East Coast, going to MIT. I say that to my family, and they can't believe it. These types of accomplishments were not in the cards for a lot of people I know."
Gagnon credits STCC with helping him build his confidence to reach for the stars. He moved from Texas to Western Massachusetts because he thought there were better educational opportunities in the Northeast. He enrolled at STCC where he received his associate degree in liberal arts. A professor mentioned the Optics and Photonics Technology program, which piqued his interest.
"He said a lot of students weren't taking advantage of this great program that deals with cutting-edge technology and can lead to a lucrative career," Gagnon said. "I was thinking back about what I used to do that would make me happy. When I was younger, I used to take things apart and try to find out how they work and discover the science and math behind it."
Gagnon enrolled in the program and received his one-year certificate. He returns to STCC in the fall to pursue his associate in science degree in Optics and Photonics Technology. The associate degree program typically takes two years, but since Gagnon completed the certificate program, he can earn his A.S. degree in just one more year.
"STCC is the only college in the region to offer a two-year degree program in optics and photonics technology," said Dr. John B. Cook, STCC president. "This gives area students like Gerald a tremendous opportunity to receive the specialized training they need to start an exciting career in advanced manufacturing."
By the end of the one-year certificate program, I was amazed at how much I knew and how much knowledge I gained Gerald Gagnon,

Optics and Photonics Technology student
Gagnon said he recommends the program to anyone who wants to work with lasers and cutting-edge technology. He said students should not be intimidated by thoughts that the program will be too difficult.
"For me, math is hard. It takes time, but you get help at STCC," Gagnon said. "However much you put into your studies is what you're going to get out of it. At first, I had doubts and anxieties, but by the end of the one-year certificate program, I was amazed at how much I knew and how much knowledge I gained."
Dr. Nicholas Massa, department chair for Optics and Photonics Technology at STCC, encouraged Gagnon to apply for the internship at MIT Lincoln Laboratory.
"Gerald is one of the hardest working and focused students I have had in a long time," Massa said in a letter of recommendation. "He takes his studies very seriously and produces work products that are exemplary and exceedingly professional. He is very focused on achieving his career goals and views his time in the Optics and Photonics program as life changing. He loves the field, is intellectually curious and a solid problem-solver and team player."
The internship was created through a collaboration between MIT Lincoln Laboratory, the Commonwealth of Massachusetts, and AIM Photonics (American Institute for Manufacturing Integrated Photonics), a Manufacturing USA institute established to promote the manufacturing of photonic integrated circuits (PICs) in the United States for academic, commercial and government applications.
A key component of AIM Photonics is AIM Academy, which is dedicated to educating and training scientists, engineers and technicians who will constitute the workforce needed for the PIC manufacturing ecosystem.
The Commonwealth of Massachusetts is supporting several Manufacturing USA institutes, including AIM Photonics, through the $100 million Massachusetts Manufacturing Innovation Initiative (M2I2) administered by the Executive Office of Housing and Economic Development.
A member of AIM Photonics, MIT Lincoln Laboratory has received a $1.9 million M2I2 grant to procure a germanium (Ge) material deposition reactor to augment its existing 200-mm-wafer silicon fabrication toolset. The addition of this reactor will enable the Laboratory to establish the nation's first Department of Defense (DoD) Trusted PIC foundry. The Laboratory plans to use this enhanced capability to develop advanced photonics fabrication processes, provide internship and apprenticeship opportunities and engage with companies in Massachusetts and throughout the nation.
As part of the paid internship, Gagnon will live in a Northeastern University dormitory for the summer. He will return home to Springfield on the weekends to spend time with his wife and three children.
"If it wasn't for the Optics and Photonics Technology program, I wouldn't have had this opportunity," Gagnon said. "This program made possible something I thought was unattainable."
To enroll in STCC's Optics and Photonics program, visit the Admissions Office in Building 16, Room 121 or visit www.stcc.edu/apply. If you have questions, call the Admissions Office at 413-755-3333 or send an email to admissions@stcc.edu.
To see jobs in this field, click here.
Two more Optics and Photonics students were selected as interns at MIT Lincoln Laboratory. Read about them and an update about Gerald Gagnon here.
About Springfield Technical Community College
Founded in 1967 and located on 35 acres of the Springfield Armory National Historic Site, STCC is a major resource for the economic vitality of Western Massachusetts. As the only technical community college in Massachusetts, STCC, a designated Hispanic Serving Institution and an Achieving the Dream Leader College, offers a variety of career programs unequalled in the state. STCC's highly regarded transfer programs in business, engineering, liberal arts, science and technology continue to provide the most economical options for students pursuing a four-year degree. With an annual enrollment of more than 7,700 day, evening, weekend and online students, STCC is a vibrant campus rich in diversity.
For more information about STCC, visit www.stcc.edu. Follow us on Facebook and Twitter (@S_T_C_C).
MEDIA CONTACT:
Jim Danko, (413) 755-4812, jdanko@stcc.edu