STCC student helping to stage PodCamp, a social media 'unconference'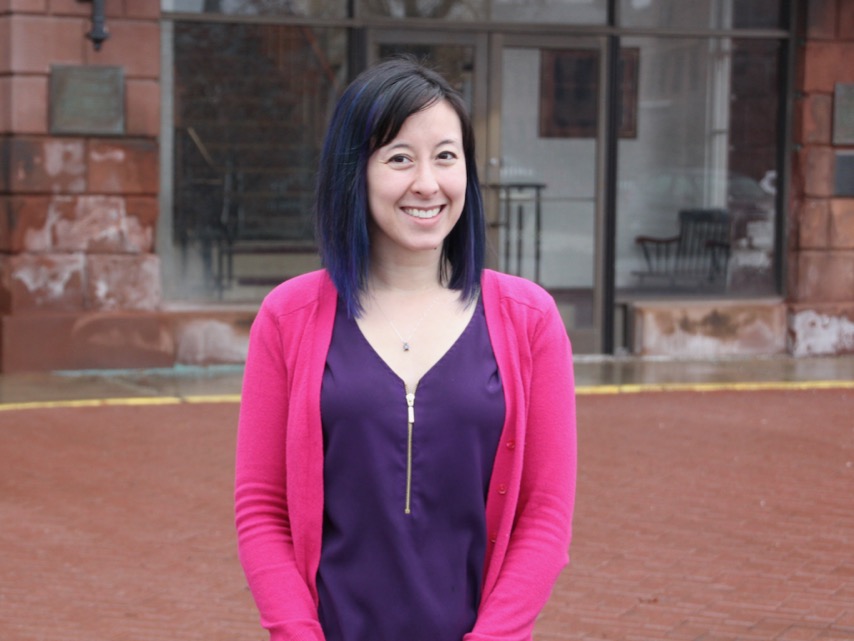 SPRINGFIELD, Mass. – Springfield Technical Community College student Robyn Miller likes to keep busy.
The parent of a 2-year-old child, Miller is pursuing her second degree at STCC while running her own business. What's more, she's organizing a major social media conference in Western Massachusetts.
Called PodCamp WesternMass, the event is sold out for the general public, but students can purchase tickets for $19, discounted from $59 thanks to a sponsor of the event.
The 12th annual PodCamp will be held at Valley Venture Mentors, 276 Bridge St., on Feb. 29, from 9 a.m. to 4 p.m. The ticket price includes the conference, food, afterparty and panel keynote. To purchase tickets and find more information, visit www.podcampWM.org.
Miller describes PodCamp as an "unconference," which means the schedule isn't set until the attendees arrive.
"It's based on what the particular audience wants to learn," Miller said. "You walk in. The group gathers, and we make a schedule together. It's an opportunity to learn about things that are trending now."
The event, which was first held in Western Massachusetts in 2008, draws hundreds of area bloggers, business people, artists and academics together to make connections. Attendees can learn how social media can enhance their business, cause or organization, according to Miller.
I love the digital photography program at STCC. I'm here to continue educating myself and staying current with all the trends. Robyn Miller,

STCC student and PodCamp organizer
"This area doesn't have a strong social media or digital media conferences. You have to go to New York or Boston to get anything like it," Miller said. "We're really aiming to make it one of the biggest social media conferences in the area."
Miller said the event will feature talks by local personalities including Brian Lapis, the meteorologist for WWLP.
Miller is organizing PodCamp with Aimée Boettcher of Two Moons Creative and Jamie Cocco of Empowered Social Media.
Miller, a Longmeadow resident, is hoping to grow her business, MorningBird Media, one of the sponsors of PodCamp. MorningBird assists companies with social media campaigns. She began the enterprise after working in radio and holding corporate jobs.
When Miller first came to STCC, she didn't think her future would be in communications. She earned a biotechnology degree from STCC and then transferred to the University of Massachusetts, where she obtained a degree in biochemistry and molecular biology.
Miller, however, moved away from a science career after finding her passion working at a radio station, 94.7 WMAS in Springfield. From there, she went on to join a Social Media Team of the Year from PR News.
After starting a family, she left her full-time job and created MorningBird Media. She enrolled part time at STCC to pursue a digital photography degree.
"I love the digital photography program at STCC," Miller said. "I'm here to continue educating myself and staying current with all the trends."
Miller said she enjoys STCC in part because it's a small campus that allows students to work closely together.
"We have a really solid group in the photography department. It's very diverse with ages ranging from 18 to 75. I loved the relationships we've built," she said.
STCC offers students like Miller opportunities to build out their own businesses. Miller participated in the Valley Ventures Mentors collegiate accelerator program through STCC, which she said was a valuable experience.
"She is a great student who is active in entrepreneurship initiatives," said Diane Sabato, an STCC professor who teaches an entrepreneur class. "We encourage anyone who is considering starting a business or looking to expand their business to enroll in classes at STCC. Many students have been able to take their businesses to the next level, or turned their ideas into enterprises, after enrolling at STCC."
After Miller receives her degree in digital photography, she may be back at STCC to explore another program. She's not sure what that might be, but she looks forward to the next adventure.
"I think I'm a lifer," she said with a smile. "I'll never run out of classes to take at STCC."
Interested in applying to STCC? Visit stcc.edu/apply or call Admissions at (413) 755-3333.
About Springfield Technical Community College
Founded in 1967 and located on 35 acres of the Springfield Armory National Historic Site, STCC is a major resource for the economic vitality of Western Massachusetts. As the only technical community college in Massachusetts, STCC offers a variety of career programs unequalled in the state. STCC's highly regarded transfer programs in business, advanced manufacturing, healthcare, liberal arts, and STEM fields continue to provide the most affordable options for students pursuing a four-year degree. With an annual enrollment of about 7,000 day, evening, weekend, and online students, STCC is a vibrant campus rich in diversity.
For more information about STCC, visit www.stcc.edu. Follow us on Facebook, Twitter (@S_T_C_C) and Instagram (@stccpics).
MEDIA CONTACT:
Jim Danko, (413) 755-4812, jdanko@stcc.edu