STCC student Lineisha Rosario recognized as one of state's '29 Who Shine'
SPRINGFIELD, Mass. – Springfield Technical Community College student Lineisha Rosario has been named one of the state Department of Higher Education's "29 Who Shine," a program that recognizes one outstanding graduating student from each public college and university in Massachusetts.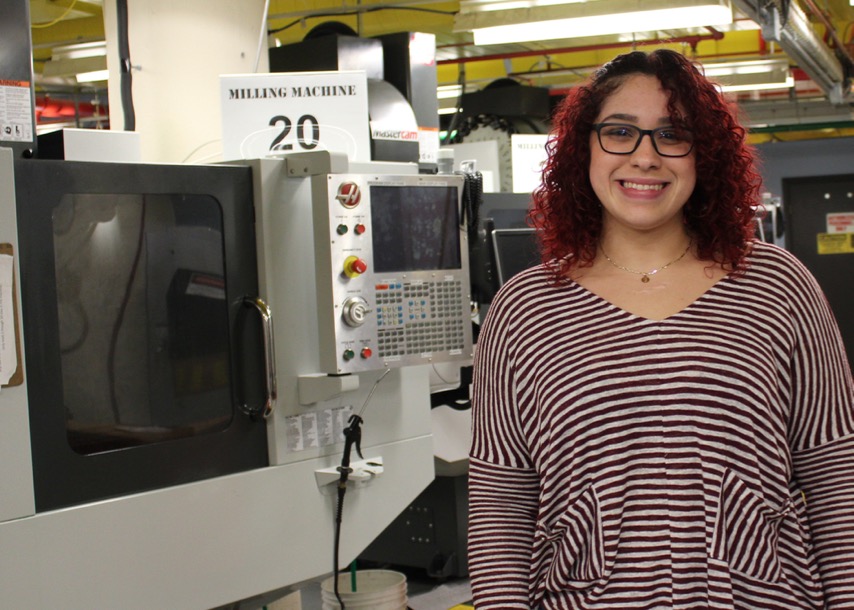 Rosario, of Agawam, and her faculty mentor, physics professor Beth McGinnis-Cavanaugh, will represent STCC during a ceremony on Friday, May 4, at the State House in Boston. Rosario is a member of the Society of Women Engineers Chapter at STCC, and McGinnis-Cavanaugh serves as faculty advisor to the SWE STCC chapter.
Each year, the state honors outstanding students who show promise as future leaders and demonstrate a strong record of academic achievement. Students also are chosen based on their intent to pursue a career in a field where there is a demonstrated need in Massachusetts, among other criteria.
Rosario, who will graduate in May with an associate degree in mechanical engineering technology, has excelled not only in the classroom, but also in her internship with a software company in Connecticut. She remains passionate about science, technology, engineering and math (STEM).
"I have always been interested in how things made," Rosario said. "When I was a child in Puerto Rico, I used to enjoy spending time with my father while he worked on cars. I wanted to know how things like cars were created."
"We are thrilled to recognize Lineisha, and having sat with her, I know she represents all of the unique talents of our students – and in a critical STEM field," said STCC President John B. Cook.
Her potential is limitless, and I look forward to the contributions she'll make as an engineer Beth McGinnis-Cavanaugh,

physics professor and Rosario's faculty advisor
McGinnis-Cavanaugh and Gary Masciadrelli, professor and chair of the Mechanical Engineering Technology program at STCC, submitted Rosario's name for the award.
"Lineisha is very dedicated to the MET profession," Masciadrelli said. "In the MET courses, she consistently submits excellent work. She has shown the ability to balance work and college, and I am confident she will have a successful career in manufacturing engineering."
McGinnis-Cavanaugh added: "Lineisha is an advocate for women in engineering and community colleges and serves as a mentor to members of STCC SWE. She embodies the community college​ mission. Her story is compelling, and she has excelled in spite of challenges and obligations that might deter others. Her potential is limitless, and I look forward to the contributions she'll make as an engineer."
As a member of STCC SWE, Rosario attended the organization's annual conferences in both Philadelphia and Austin, Texas. With SWE, she worked with McGinnis-Cavanaugh to produce a series of video profiles about community college women in engineering.
Passionate about inspiring girls to major in engineering, Rosario will continue to volunteer her time with STCC SWE after graduation. She hopes to work full-time while she pursues a bachelor's degree in advanced manufacturing systems on site at STCC through the college's new partnership with Northeastern University.
"As I keep growing as a mechanical engineer, I realize there is so much more to learn as the doors in the world of engineering open for me," Rosario said. "Not only do I want to keep growing professionally, I also want to keep encouraging other women to become engineers."
Rosario and her family left Puerto Rico in 2015 and settled in Agawam, where she finished high school and then applied to STCC. She attended STCC's STEM Starter Academy, a summer program for new students interested in science, technology, engineering and math.
Her curiosity about machines, and experience with the STEM Starter Academy, proved to be a good match with STCC's Mechanical Engineering Technology Program.
When she receives her associate degree at STCC commencement on May 31, she will become the first member of her family to graduate from college.
Rosario plans to bring her parents and younger brother to the "29 Who Shine" ceremony, where Gov. Charlie Baker will honor her and the 28 other students.
"One of my biggest passions is to share my story with women who need encouragement to continue their pursuit of an engineering education and career," Rosario said. "I also want to tell the elementary and middle school girls who, like me, are curious about how things are made and how they work, that in the 21st century women will be engineering the world."
Are you interested in a STEM field? Visit www.stcc.edu to learn more about the college's programs or call Admissions at (413) 755-3333.
About Springfield Technical Community College
Founded in 1967 and located on 35 acres of the Springfield Armory National Historic Site, STCC is a major resource for the economic vitality of Western Massachusetts. As the only technical community college in Massachusetts, STCC, a designated Hispanic Serving Institution and an Achieving the Dream Leader College, offers a variety of career programs unequalled in the state. STCC's highly regarded transfer programs in business, engineering, liberal arts, science and technology continue to provide the most economical options for students pursuing a four-year degree. With an annual enrollment of more than 7,700 day, evening, weekend and online students, STCC is a vibrant campus rich in diversity.
For more information about STCC, visit www.stcc.edu. Follow us on Facebook and Twitter (@S_T_C_C).
MEDIA CONTACT:
Jim Danko, (413) 755-4812, jdanko@stcc.edu