STCC student Mohamed Gabriel recognized as one of state's '29 Who Shine'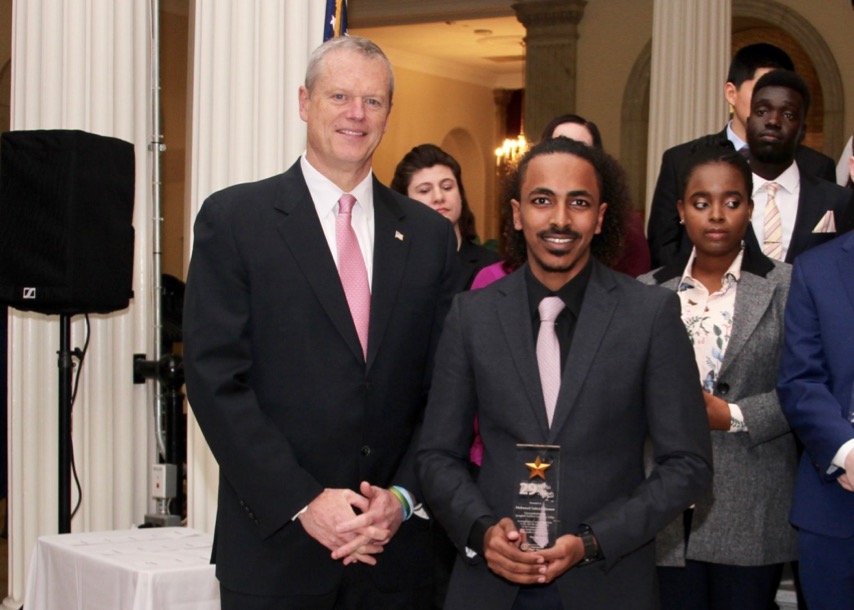 SPRINGFIELD, Mass. – Springfield Technical Community College student Mohamed Gabriel has been named one of the state Department of Higher Education's "29 Who Shine," a program that recognizes one outstanding graduating student from each public college and university in Massachusetts.
Gabriel, 25, of West Springfield, and his mentor, Title III and Supplemental Instruction (SI) Director Jane Lerner, represented the college during a ceremony on May 3 at the State House in Boston that included Gov. Charlie Baker, members of the legislature, and university and college presidents.
Gabriel, who is studying engineering science transfer, will graduate this spring and plans to enroll at a four-year institution this fall and major in engineering. Gabriel was thrilled to learn he was selected to receive the 29 Who Shine Award.
"It's exciting," Gabriel said. "To be the one student selected from this big campus with such great students is definitely a huge honor."
Each year, the state honors outstanding students who show promise as future leaders and demonstrate a strong record of academic achievement. Students also are chosen based on their intent to pursue a career in a field where there is a demonstrated need in Massachusetts, among other criteria.
It's exciting. To be the one student selected from this big campus with such great students is definitely a huge honor. Mohamed Gabriel,

STCC student
Gabriel has excelled in and out of the classroom. He has served as president of the Student Government Association and worked as a Supplemental Instruction leader. Lerner directs the SI program, which is a type of academic support in which peer tutors, or SI Leaders, assist students both in and outside of the class in primarily science, technology, engineering and mathematics (STEM) classes with high enrollment and lower-than-average pass rates.
"Jane has been crucial to my time at STCC," Gabriel said. "Through her mentorship, I have learned many things that helped me navigate my way through higher education."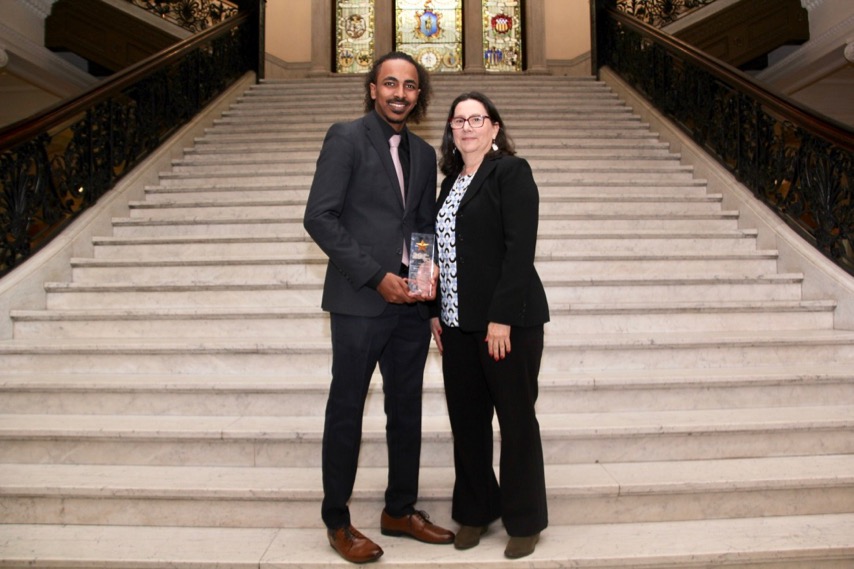 Added Lerner: "Mohamed has been an invaluable resource to everyone he has worked with. He has given back to the school and the community for many years, in both his work within the institution, and his numerous volunteer activities within Springfield and the surrounding areas. Mohamed came into these roles with grace, maturity, and boundless enthusiasm. He is committed to social justice and giving voice to those individuals who at times are not always heard."
From Sudan, in East Africa, Gabriel and his family left their home in 2007 to Malaysia, where Gabriel graduated from high school in 2010. In 2015, Mohamed and his family resettled in the United States.
With his dream of becoming an engineer, Gabriel visited STCC, an institution with a technical mission. He knew a college focused on science, technology, engineering and mathematics (STEM) would be a great fit. And, attending STCC was a family affair. Both parents and one of his brothers took courses at the college.
He loved getting involved as a student leader. During his first year, in 2016, he applied for as many scholarships as possible and won six. He has maintained a 3.5 grade point average.
"I like the affordability of STCC," he said. "The classes are small and more personal than they are in bigger colleges or universities. There's a good support system as a whole with staff and faculty and a variety of programs. I also like the diversity in the student body."
STCC President John B. Cook joined Gabriel and Lerner at the ceremony in Boston.
"We are very proud of Mohamed, who has distinguished himself in so many ways during his time at the college," Cook said. "Mohamed wonderfully reflects the talents and humanity of STCC students."
Gabriel's long-term goal is to find a career that will allow him to combine his love of engineering with his passion for social justice.
"I want to help underserved, underrepresented and underdeveloped communities," he said. "With my skills as an engineer, I want to help build communities that are struggling and make a difference."
Are you interested in a STEM field? Visit www.stcc.edu to learn more about the college's programs or call Admissions at (413) 755-3333.
About Springfield Technical Community College
Founded in 1967 and located on 35 acres of the Springfield Armory National Historic Site, STCC is a major resource for the economic vitality of Western Massachusetts. As the only technical community college in Massachusetts, STCC, a designated Hispanic Serving Institution and an Achieving the Dream Leader College, offers a variety of career programs unequalled in the state. STCC's highly regarded transfer programs in business, engineering, liberal arts, science and technology continue to provide the most economical options for students pursuing a four-year degree. With an annual enrollment of more than 6,400 day, evening, weekend and online students, STCC is a vibrant campus rich in diversity.
For more information about STCC, visit www.stcc.edu. Follow us on Facebook, Twitter (@S_T_C_C) and Instagram (@stccpics).
MEDIA CONTACT:
Jim Danko, (413) 755-4812, jdanko@stcc.edu