STCC student wins entrepreneurship competition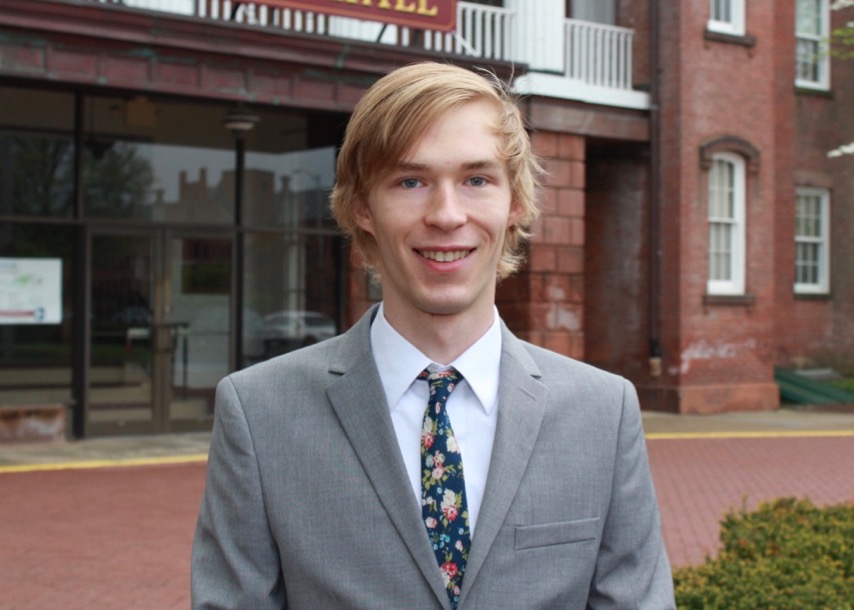 SPRINGFIELD, Mass. – Before he stepped on stage, Edward McLeavy's heart was racing.
Reserved by nature, McLeavy felt he was outside of his comfort zone. He was about to face an audience of 500 at the Grinspoon Entrepreneurship Initiative Annual Banquet, which included college presidents and bank representatives who would judge his presentation.
But the Springfield Technical Community College student was confident about the business idea he was about to pitch for 90 seconds.
"I walked up on stage, took a couple of seconds, and as soon as I started, I grabbed the attention of the whole entire room," said McLeavy, of Russell. "Everybody was feeding out of the palm of my hand. It was a good feeling."
McLeavy ended up as one of three winners of the 16th annual Live Elevator Pitch Competition. His business idea is called "E-Z Salter," which he describes as a fun and convenient tool for salting driveways and walkways. He and the other two winners received $750.
"I'm honored and humbled to receive the award and recognition for my business idea," he said. "I'm thrilled with the way it turned out. It couldn't have gone better."
The Awards Ceremony and Banquet on April 24 at the Log Cabin in Holyoke featured a student representative from each of the 14 participating local colleges. Judges also named six students as best exhibitors for their businesses. Their businesses were selected from a pool of 65 unique companies during a "trade-show" type portion of the evening which featured the 2019 Grinspoon Entrepreneurial Spirit Award winners.
I'm honored and humbled to receive the award and recognition for my business idea. Edward McLeavy,

STCC student
McLeavy enrolled at STCC three years ago. He had been taking classes at another college, but felt it wasn't working out.
"I decided to start over. I transferred over to STCC and loved it here," he said.
McLeavy, who is passionate about entrepreneurship, is on track to graduate from STCC in May. He plans to transfer to a four-year institution in the fall and study a business-related major. This summer, he wants to focus on turning his "E-Z Salter" idea into an actual product. He's working with his brother, who is a mechanical engineer.
His winning business idea came out of his desire to figure out an easier way to salt his driveway at his home in Russell. "I had to do it every day to get to school," he said. "I think 'E-Z Salter' will be a big hit."
McLeavy said he was grateful to his professors at STCC who have offered guidance, including Diane Sabato, who motivated him to get involved with the competition, and Christina Atwater, who helped him think about business ethics.
Atwater described McLeavy as a "serial entrepreneur" with innovative ideas and an enthusiasm for creativity.
"He recently had to prepare an oral presentation about a leadership experience and was able to choose from several previous leadership roles – either as a life guard, a swimming coach, or an Eagle Scout," Atwater said. "I'm not surprised he won this competition."
Interested in applying to STCC? Visit stcc.edu/apply or call Admissions at (413) 755-3333.
About Springfield Technical Community College
Founded in 1967 and located on 35 acres of the Springfield Armory National Historic Site, STCC is a major resource for the economic vitality of Western Massachusetts. As the only technical community college in Massachusetts, STCC, a designated Hispanic Serving Institution and an Achieving the Dream Leader College, offers a variety of career programs unequalled in the state. STCC's highly regarded transfer programs in business, engineering, liberal arts, science and technology continue to provide the most economical options for students pursuing a four-year degree. With an annual enrollment of more than 6,400 day, evening, weekend and online students, STCC is a vibrant campus rich in diversity.
For more information about STCC, visit www.stcc.edu. Follow us on Facebook, Twitter (@S_T_C_C) and Instagram (@stccpics).
MEDIA CONTACT:
Jim Danko, (413) 755-4812, jdanko@stcc.edu